How to set up and administer an SFTP integration
If we don't have a one-click integration with your HRIS (Human Resources Information System), often you can still automate your user management with SFTP (SSH File Transfer Protocol). Rather than updating your employee data manually, you can set up a recurring data transfer of your employee information from your HRIS to Lattice. SFTP can be used to add new users, deactivate former employees, and update user attributes.
Please note: Lattice does not offer SFTP with Paycom.
About SFTP with Lattice
Using SFTP is very similar to uploading your employee information via CSV, except it happens on an automated schedule. Many HRIS solutions can be configured to automatically generate a CSV of your employee data and send it to our SFTP server. If you don't know if your HRIS has this capability, please reach out to your HRIS account manager. They can often set this up on their backend. Otherwise, if you have an engineering or IT team, they may be able to write a script to upload CSVs to Lattice's SFTP server.
There is not a maximum limit to the number of rows that SFTP supports.
The max limit on data read for images is 150,00,000 characters.
Please note: while Lattice does not charge additional fees for SFTP, your HRIS may. Additionally, the SFTP integrations need to use a client that supports either DSA or ECDSA key algorithms - these are required by our SFTP server. For more information, please refer to these links:
If you want to set up an SFTP integration, please reach out to your Lattice Customer Success Manager (CSM). If you do not have a CSM or are unsure who your CSM is, contact Customer Care to receive our SFTP credentials and put Lattice in touch with a technical contact at your company. We will then work with your technical contact to provision you an account on our SFTP server, and give them instructions on how to set up the integration.
After the first file is transferred, a technical contact at your company will need to reach out to us and let us know so that we can ensure that the file is in the correct format (the CSV should be UTF-8 encoded). Once this is done, the SFTP set up is complete, and the integration will be active. From then on, the process will be completely automated. You can control how often you send us the file to auto-upload.
Initiating the SFTP Connection
What we need from you: the email address of an Admin or IT Admin who will be responsible for facilitating the SFTP flow. This person should have Admin permissions both in Lattice and in your HRIS software.
Lattice's Customer Experience team will initiate the connection to our SFTP server on the back-end, and you'll receive an email that looks like the screenshot below. Click the blue "Set your password" button to finalize the connection in Lattice.
After clicking the button, you'll be redirected to the Integrations page in Lattice to set your password: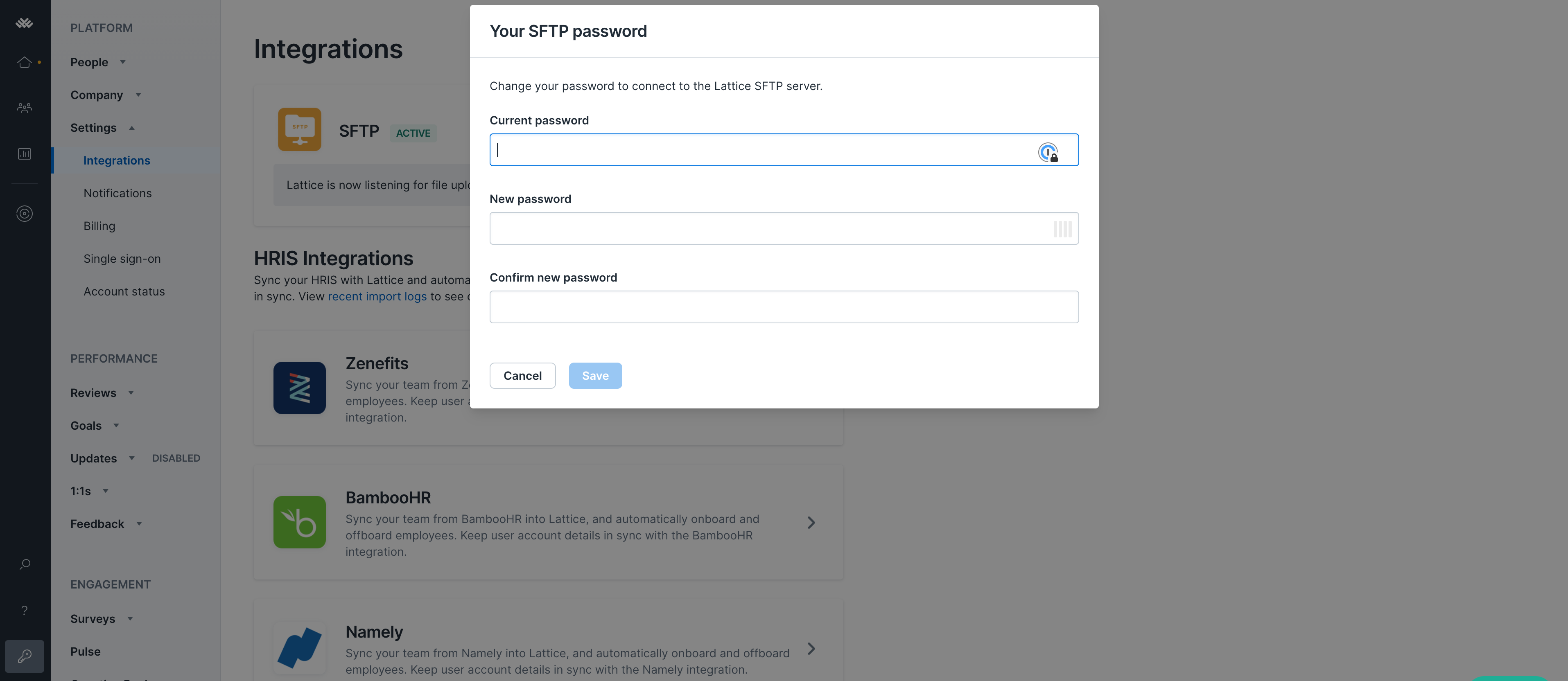 Create a secure password, click "Save", and your SFTP connection is complete.
Note: the SFTP sync will automatically set to active upon connection.
SFTP Settings in Lattice
After SFTP is configured, you'll have access to some settings on the Integrations page in Lattice.
Step 1: Navigate to your Admin section -> Settings (on the left) -> Integrations (below Settings)

You can use the "Pause sync" button to stop SFTP file uploads, and prevent any future automated changes to your user data. After pausing your sync, the button will change to allow you to "Resume sync" whenever you'd like SFTP to start updating your user data again.
You can use the "..." button to update your SFTP password.

The Import Log
If you want to confirm that your SFTP file was synced successfully, you can check in the import log by following the steps below
Step 1: Navigate to your Admin section on the Discovery Navigation to the left.
Step 2: Click "People" on the left-hand side, followed by "Import Log" below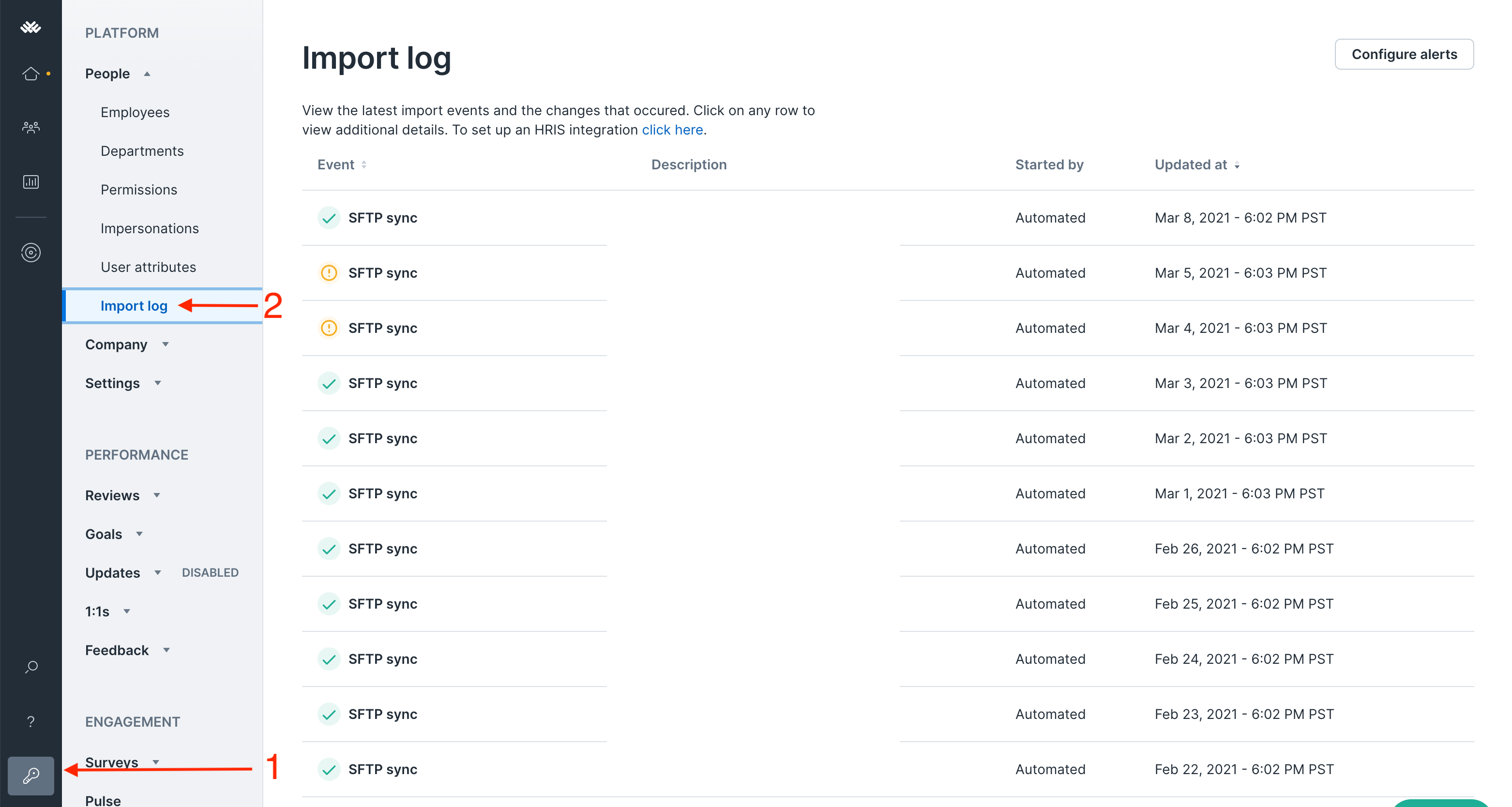 Within the Import Log you can view what information synced successfully, and if there were any errors. You can view what occurred within Lattice by looking at the "Description" column.
There are three statuses in the import log:
The green check mark indicates that your SFTP synced successfully with Lattice.
The orange exclamation point indicates that the SFTP sync was successful (the CSV reached our SFTP server), but that there were issues updating some user data that need a closer look.
If you want to view each status in more detail, click directly into the event that you would like to view.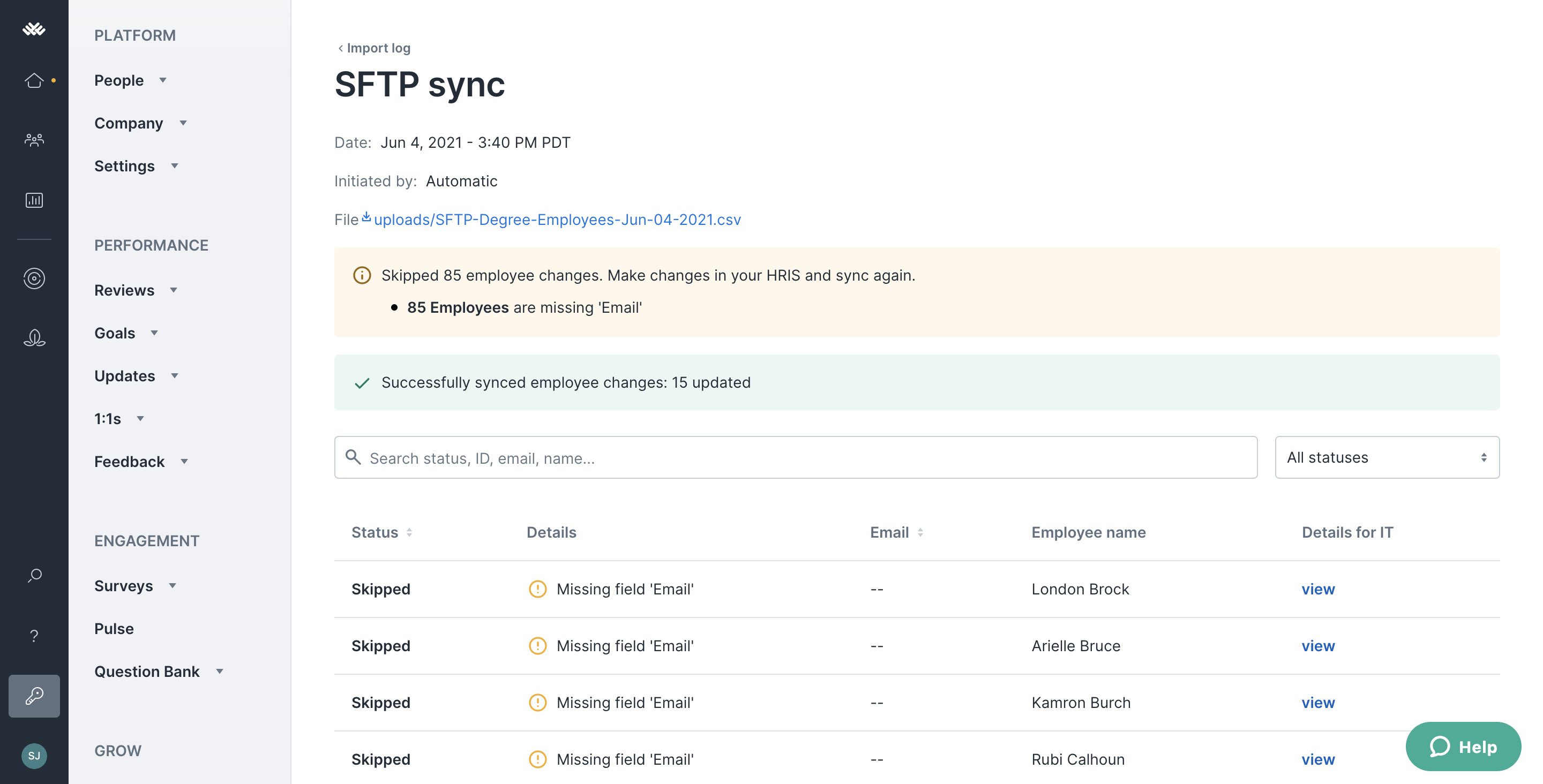 The red "X" indicates that the SFTP sync failed (your CSV was unable to reach our server), and no changes were made in Lattice.
If you want to view each status in more detail, click directly into event that you would like to view.
From here, you will have more of a high-level overview of what updated or what failed to update within your SFTP sync.
Frequently Asked Questions
Q: Is the SFTP formatting case sensitive?
A: No, headers are not case sensitive. For example, the column header could be "Email" or "email" and function properly.
Q: What are the credentials for SFTP and SFTP2?

A:
For SFTP:
hostname: sftp.lattice.com
port: 22
destination path: /uploads
For SFTP2:
hostname: sftp2.lattice.com
port: 22
destination path: /uploads
Q: Can I sync employee IDs into Lattice via the SFTP sync? And if so, is there a character limit?
A: Yes, you can! You can upload employee IDs into Lattice either using the SFTP sync, or the CSV upload. There is no character limit on employee ID, and they can be alphanumeric.
Q: When setting up an SFTP sync to pull in an Employee ID, do you first need to set up a corresponding custom attribute for Employee ID?
A: No, you can create this field in the SFTP sync without creating a user attribute for Employee ID.
Q: Is there a way to set up a dotted-line manager relationship that is updated with an SFTP sync?
A: Yes! First, you would need to set up a dotted-line manager user attribute and configure the permissions in Lattice. Then, you can pair that field with the dotted-line manager email with a field in your HRIS.
Q: I've sent a file through SFTP but I don't see the changes in Lattice. Additionally, there were no errors in the import log.
A: Confirm that the file is formatted as .csv.
Q: What format must my file be formatted in?
A: Files will need to be formatted as .csv in order to be uploaded into the system.