A guide to integrating your ADP account with Lattice
When you integrate ADP with Lattice:
We automatically sync your employees from ADP
We mirror your reporting structure from what's in ADP
When employee data changes in ADP, resyncing will update Lattice with those changes
We can sync custom attributes from ADP to Lattice
What employee information will come over to Lattice from ADP? If synced, Lattice will pull the following information from ADP:
External ID
Email
Job Title
Name
Preferred Name
Status
Gender
Start Date (not public to employees)
Birthdate
Department
Manager ID
Manager Email
Phone number
Before you integrate
Make sure that all of your employee data in ADP Workforce Now is accurate. When you integrate, ADP will become your source of truth for user profile information and reporting relationships, so make sure everything is updated before you kick the integration off.
If you need to disconnect the ADP integration at any time, you will be presented with two options with which to disconnect: now and future date.

If you choose to disconnect the integration now, ADP will charge a $360 integration fee to reconnect.
If you choose to disconnect the integration for a future date, ADP will charge a $360 integration fee to reconnect after the future date set when disconnecting.

To make changes to users that are in Lattice that don't exist in your ADP instance once ADP has been integrated, export the employee CSV, update the employee's fields and re-upload the CSV. Learn more in Mass Updating Employees by CSV.
Custom attributes in ADP must be added to the Personal Profile section before they can be pulled into Lattice. Custom attributes in other sections will not sync over.
Ensure that the employee's email address is listed under "Work Email."
Setup
Buying Lattice the ADP Marketplace Data Connector
To set up the integration between ADP and Lattice, first head to the integrations page in Lattice and click ADP to begin setting up the integration.
It will then bring up a modal that will inform you that you will want to have your information in ADP up to date and direct you to the Lattice Data Connector in the ADP marketplace.
Click into the listing, and click "Buy now". Note this screenshot says free but this will incur an additional cost.
You will then need to confirm the Lattice subdomain that you would like to integrate with. Note: The subdomain does not include spaces.
You will need to input your credit card information and place the order.
Upon your receipt, you will see an option to "Go To My Apps".
Which will take you into the applications section within ADP.
Note, that when logging in for the first time you will need to approve consent requests. You must log in to Lattice through APD at least once in order to complete the consent request before assigning users.
Optional: Adding IT Admin Users
As an additional optional step you can add IT admins directly from ADP. IT admins in Lattice will be able to administer the integrations and SSO. To add IT admins to administer the ADP integration to your Lattice account, head back to the My Apps section of your ADP Apps portal and click the gear on the top right of the Lattice app icon and select "Assign Users".
From here, you can add or remove these IT admin users from the Lattice app.
Syncing
To sync your Lattice user data with ADP, go to the Integrations section of the Admin Panel, and click on "Sync". This will pull in any changes that you've made in ADP into Lattice. Make sure that everything's updated! You can also select whether you would like to sync automatically each night or whether you would like to manually push syncs yourself.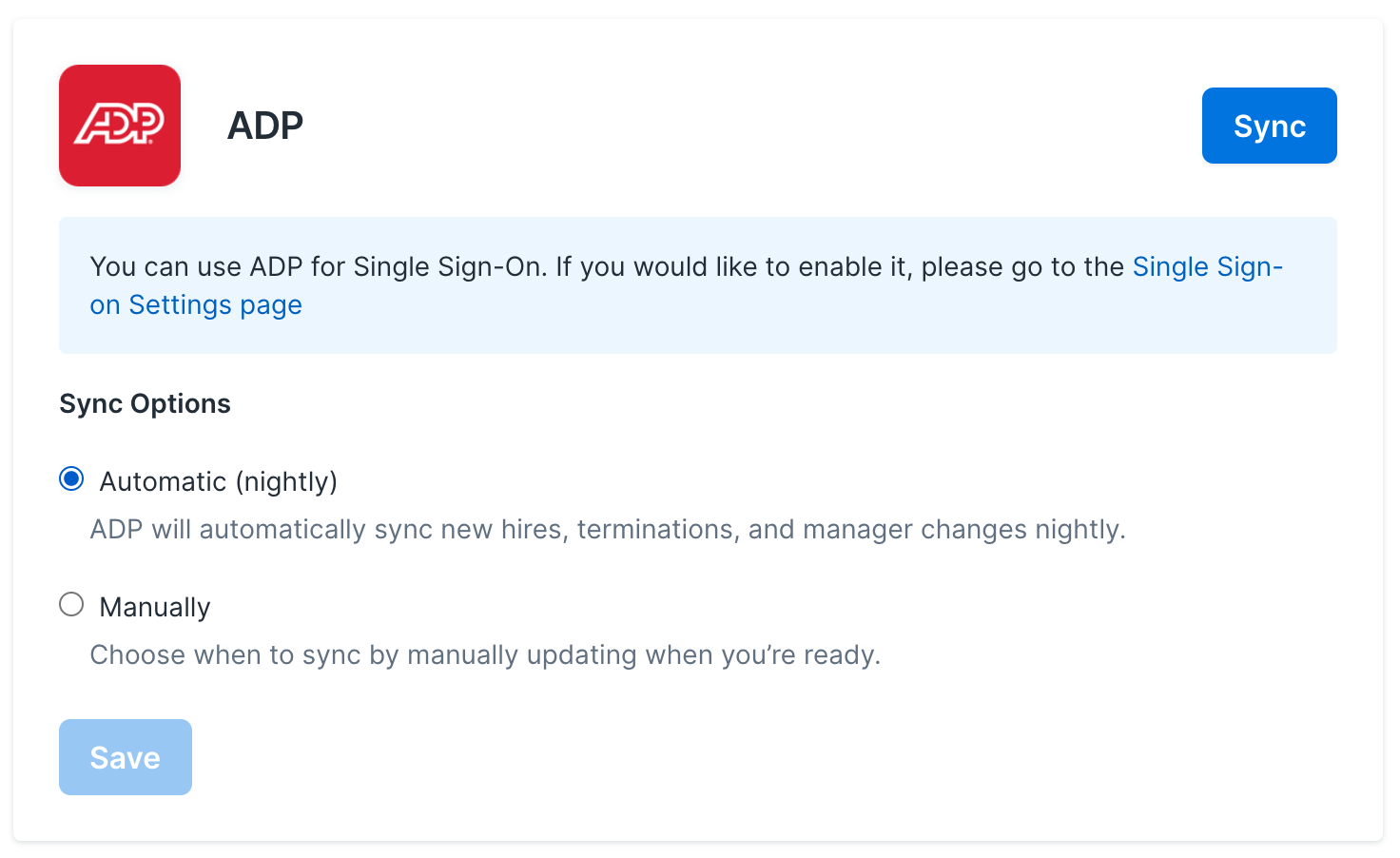 SSO
Once ADP is enabled you will be able to use it's Single Sign-On service as part of the integration. As seen in the sync page above there will be a banner that will direct you to the "Single Sign-On Setting page" picture below.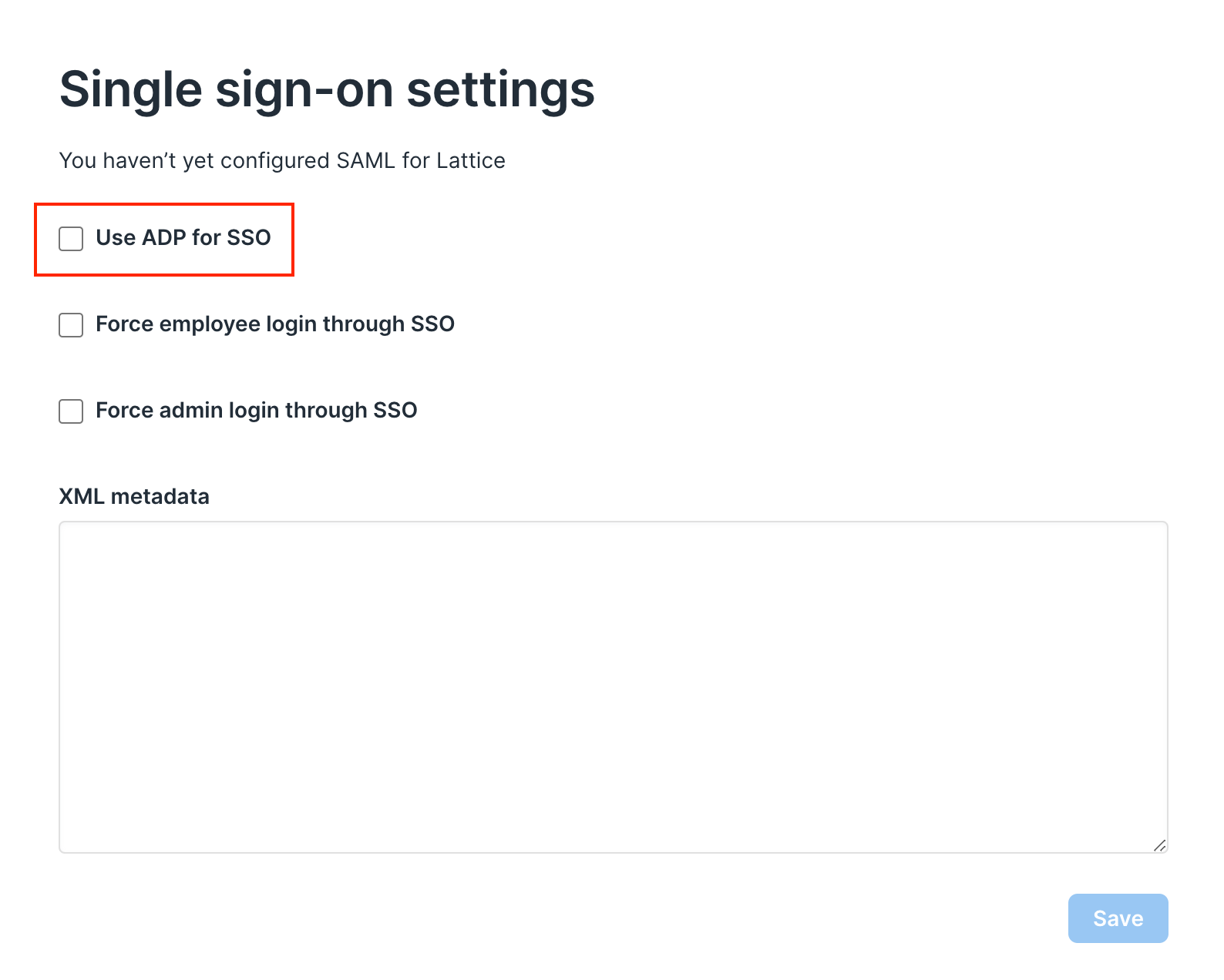 From the SSO settings page you will have an option to use "Use ADP for SSO". You would select the box and hit save to enable. Once enabled it will force all of your users to login through ADP SSO, meaning all of your users will need to be logged into ADP to access Lattice. If at any time you would like to disable you would have the option to do so from the same page: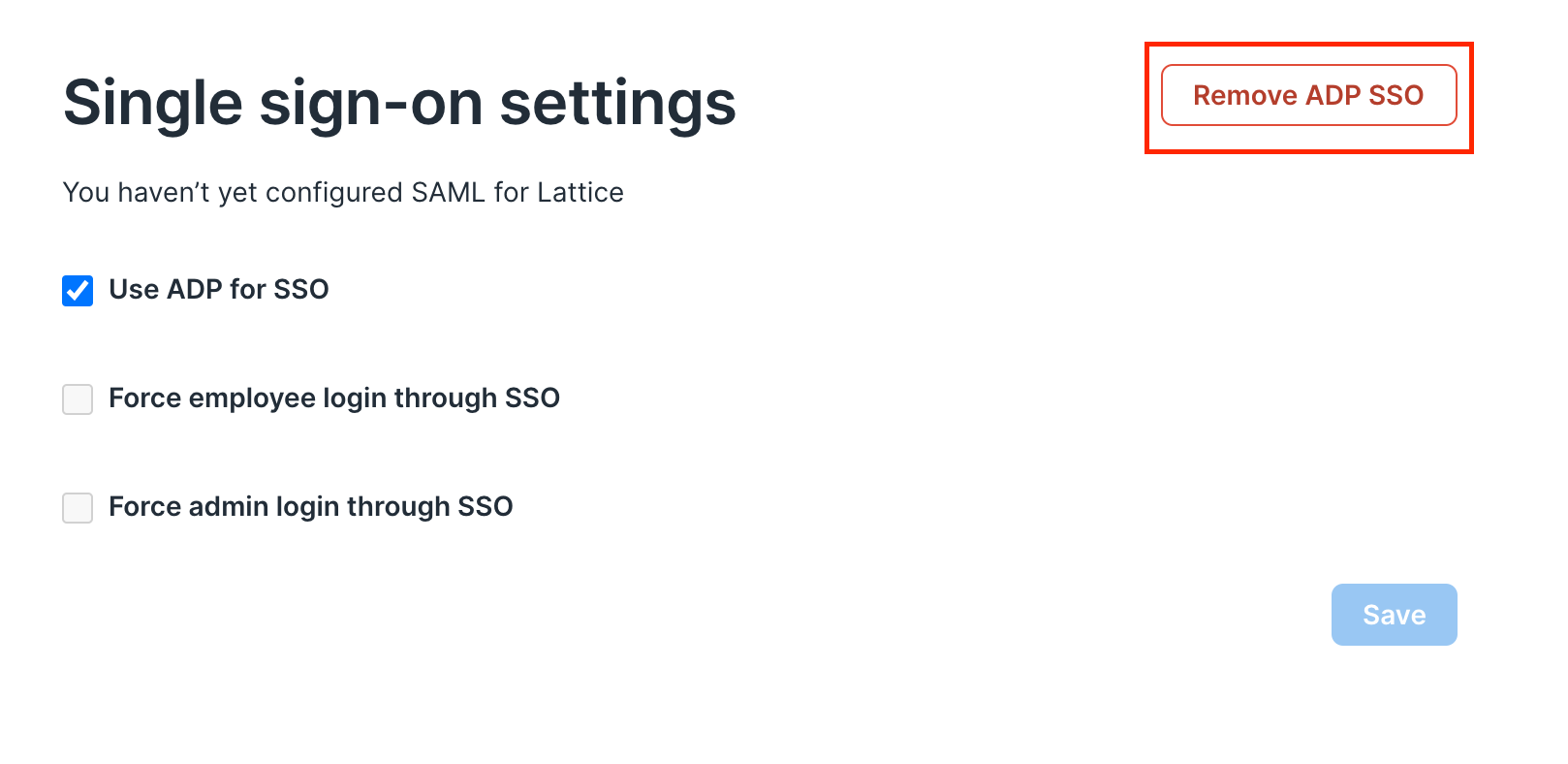 Accessing Lattice from ADP Workforce Now®
Employees with the Lattice ADP connector can access Lattice using SSO within ADP Workforce Now®.
Step 1: Navigate to Admin > People > Settings > Single Sign-On.
Step 2: Check Use ADP for SSO and Save.
Step 3: In ADP, click the dropdown menu on the top-right and select My Apps > Lattice Connector for ADP Workforce Now®.


The ADP Import Log
If you want to confirm that your ADP integration has synced successfully, you can check in the integration log. Here's how you access your integration log:
Step 1: Navigate to your "Admin" page.
Step 2: Under "People" on the left-hand side, click on "Import Log".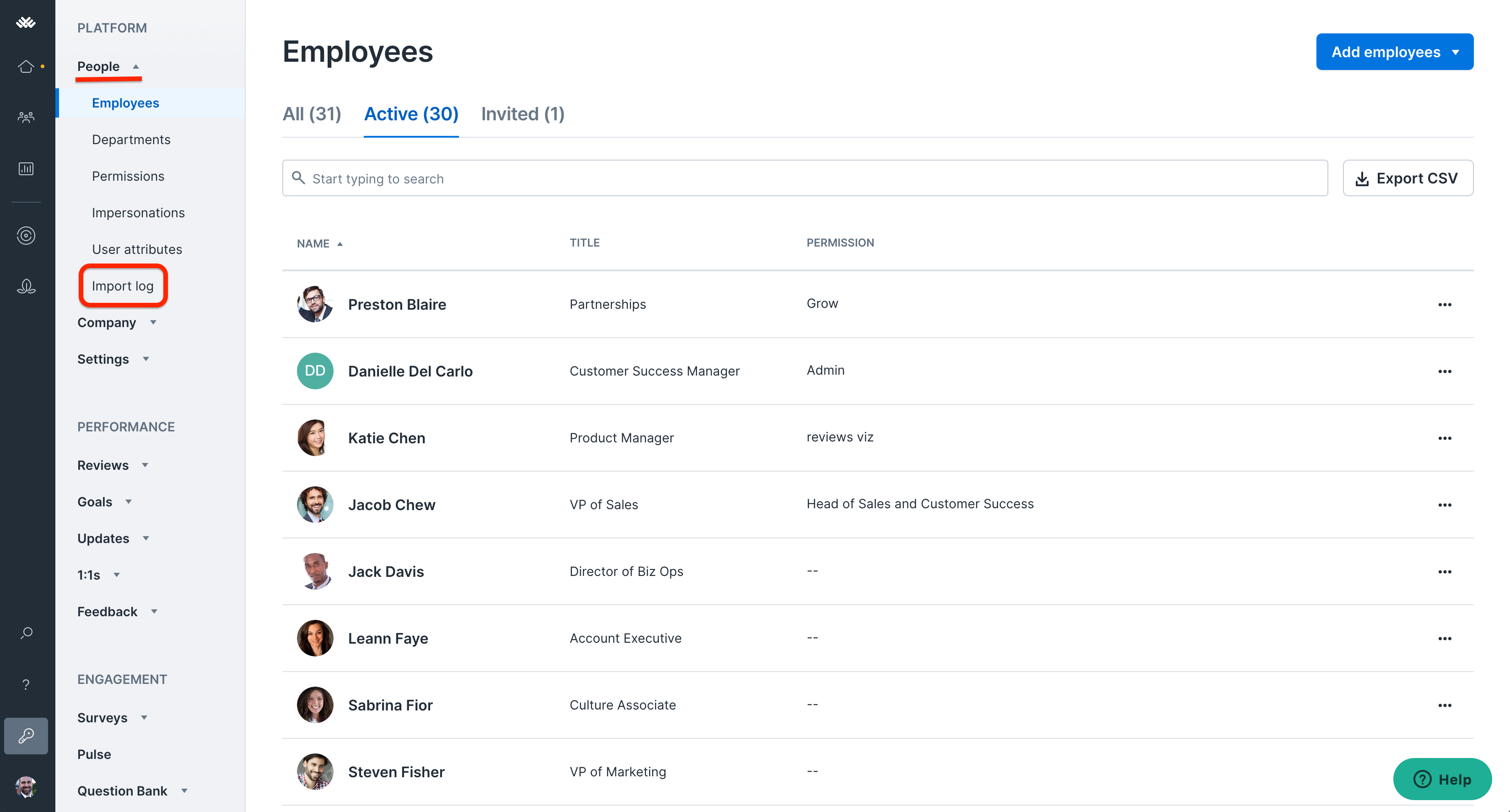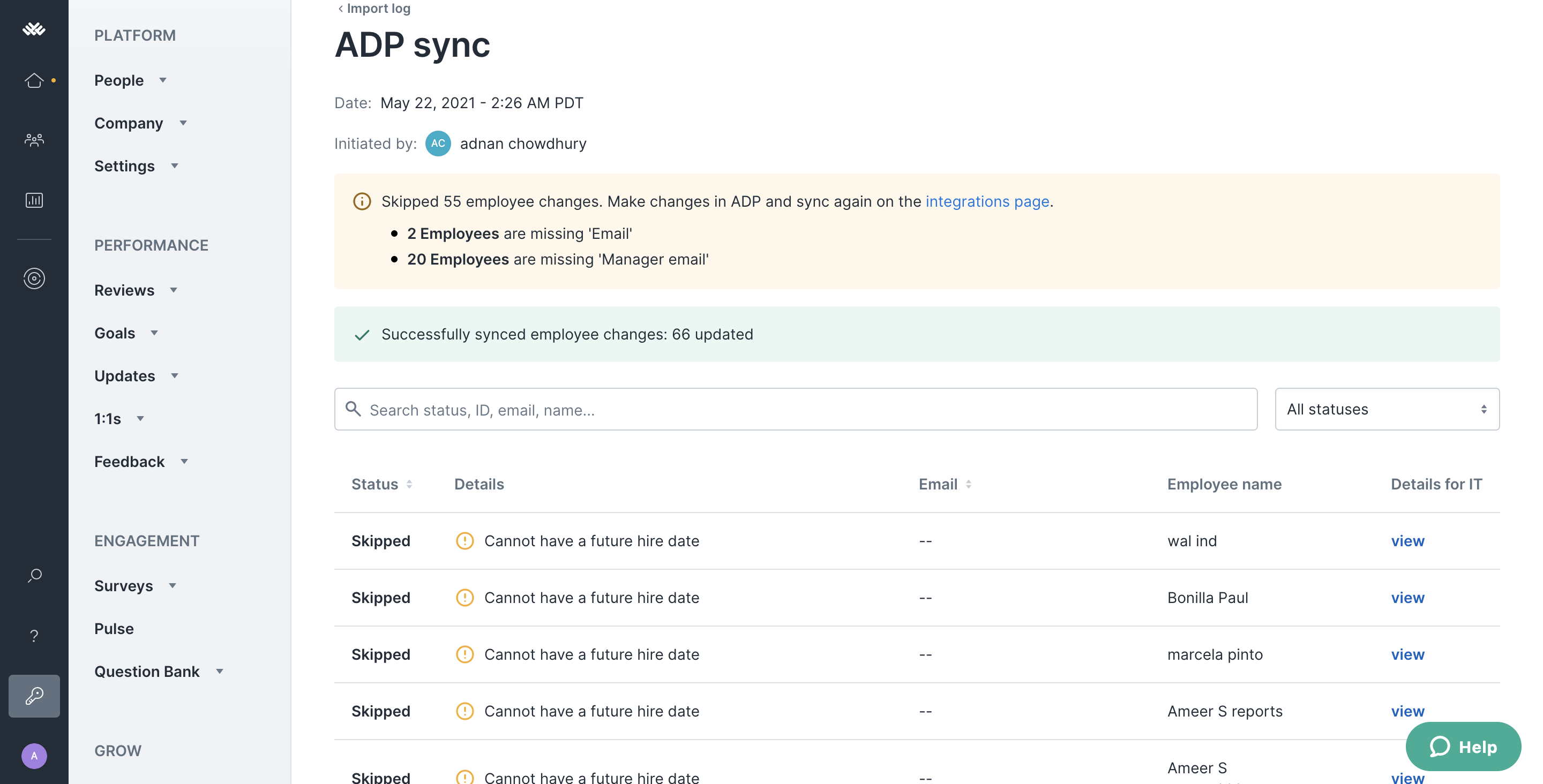 From here, you can view what synced successfully, and what needs to be troubleshot. You can view what occurred within Lattice by looking at the "Description" column.

If you want to view each status in more detail, click directly into the event that you would like to view.

Disconnecting
To disconnect Lattice and ADP, click on the "My Apps" and locate the icon for Lattice. Click the gear icon and then "Manage app". On the next page, click "Cancel Subscription" to disconnect Lattice and ADP. Unlike other HRIS integrations you will not be able to clear external IDs upon disconnecting. If you plan on integrating with a different system after disconnecting ADP please reach out to customer care to have your external IDs cleared so that the next integration is successful.
Frequently Asked Questions
Q: I'm seeing a "Missing field 'Business communication email" error message in the import logs.


A: The employee's work email address is missing from ADP's "Work Email" field. Please ensure that the "Work Email" address field is filled out for each employee.