Introduce your team to Lattice surveys
Below is an email that you can use to introduce your team to Lattice Engagement Surveys and why they are so important. You can change the information in the email to align more with your team's launch, but make sure to answer three key points in your launch email:
What you are doing (Launching Lattice)
Why you are doing it (Running your Teams Engagement Survey)
Your expectations for the team (Create your account and complete your survey)
Check out our Change Management Hub for additional email and presentation deck templates.

Example launch email
Below is an example of what the launch notification looks like to employees: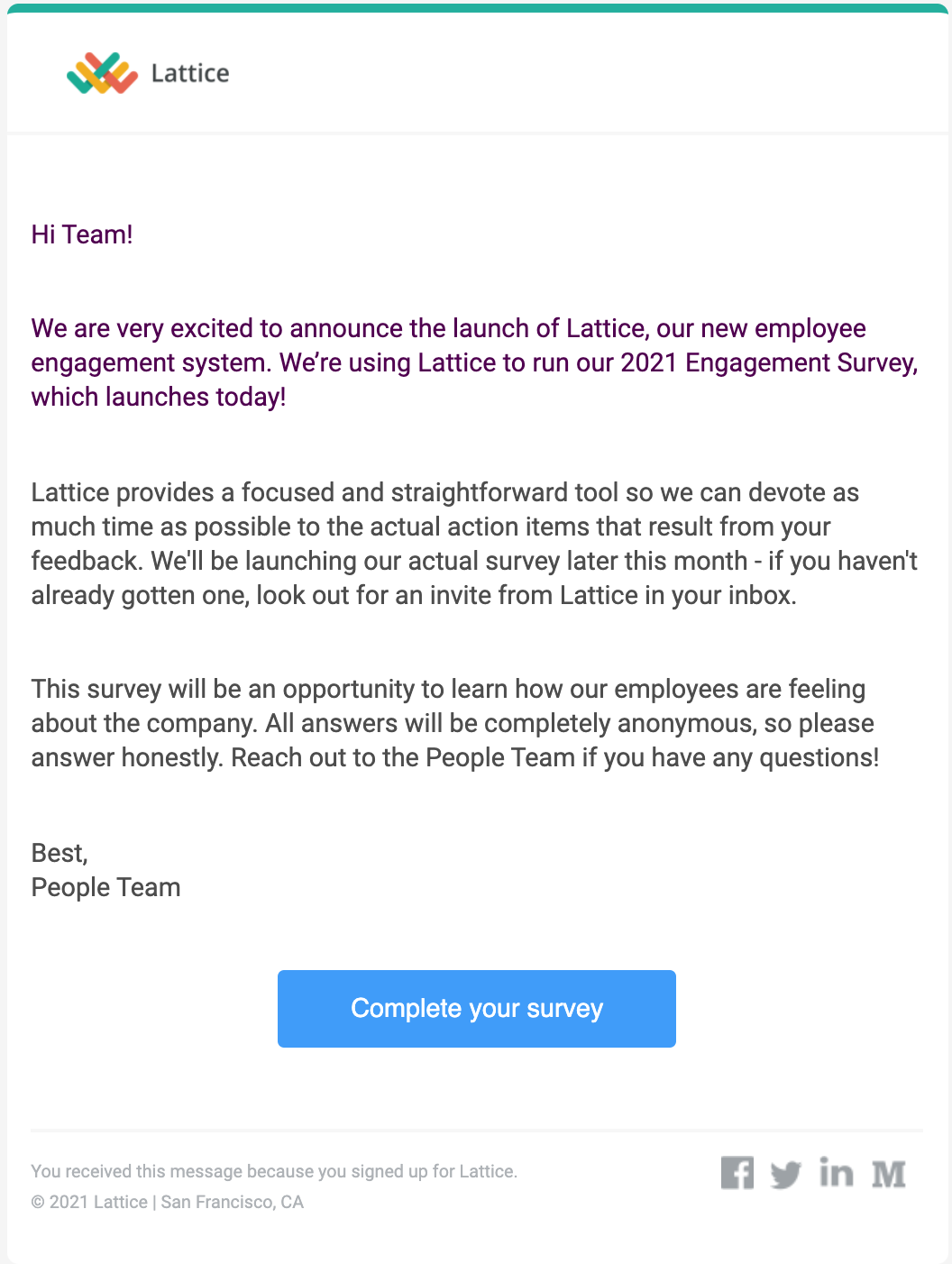 Example text
We are very excited to announce the launch of Lattice, our new employee engagement system. We're using Lattice to run our [SURVEY TITLE], which launches today!
Lattice provides a focused and straightforward tool so we can devote as much time as possible to the action items resulting from your feedback. We'll launch our survey later this month - if you haven't already gotten one, look out for an invite from Lattice in your inbox. Make sure to register for your account no later than [DATE].
This survey will be an opportunity to learn how our employees are feeling about [COMPANY]. All answers will be completely anonymous, so please answer honestly.
Why is an engagement survey important?
Engagement surveys are an important opportunity for management to understand how employees feel about their role, team, company, etc., by providing anonymous and honest feedback in the form of agree/disagree questions and comments. Your response to the survey will be analyzed to help us assess what we're doing well as a company and where we could improve. We'll share the findings with the company after the survey.
Filling out the survey
There will be a link to fill out the survey at the bottom of this email. Please set aside some time to answer these questions and leave some comments. The survey is closing on [survey end date], so please submit the survey before then!
A rough timeline for the process is:
[DATE] (today) - The survey launches!
[DATE] - Survey ends, and results are analyzed.
[DATE] - Results and a plan of next steps will be shared broadly at [COMPANY ALL-HANDS/TEAM MEETINGS, ETC.]
Survey confidentiality
The survey responses will be confidential throughout this process and will never be tied to employee names. The survey is administered by a third party (Lattice). Results are not stored on any person's computer here.
What happens after the survey is finished?
After the survey, [PEOPLE OR TEAM] will review the results and then share them at a company all hands. We will identify key themes of where [COMPANY] is doing well and where we can improve. For improvement areas, we will share action items that will be incorporated into our company goals. This will be a continuous process where we will run surveys [BI-ANNULLY/ANNUALLY] to check our progress and identify new areas to improve.
Thank you for your time and help in making [COMPANY] a better place to work. If you have any questions about Lattice or the upcoming survey, please reach out to your manager or me.