How to find your way around our elevated design as a Manager
Your role is only one part of your performance story. Lattice's elevated design now gives you a clear and complete picture of your impact, your career growth, and the relationships that will help get you where you want to be.
We've created a new Home page that brings together a high-level overview of your activity in Lattice as well as a helpful task to-do list. We've also introduced a new People page that puts all of Lattice's tools in the context of your relationships at your company.
You can find more information about the Home and People views in our navigation articles from the point of view of your employees here. In this article, we will focus on manager navigation.
Home Page
Lattice provides a clear and complete picture of employee roles, impact, career growth, and relationships. When a manager logs in, they are greeted with a fresh layout that makes it easy to find everything they need.
The Home page provides a quick snapshot of where the manager is today. They can see any upcoming tasks, updates, or 1:1 meetings and click to start taking action.
Find a summary of active goals
Keep up with tasks and upcoming meetings
The People Page
The People page gives employees and managers the power to control their path by providing the opportunity to dive deeper into Updates, 1:1s, Goals, and Reviews in the context of their work relationships.
Navigating the My Team section
Managers are a lifeline to people - Not only are they responsible for their own performance, but their team's also.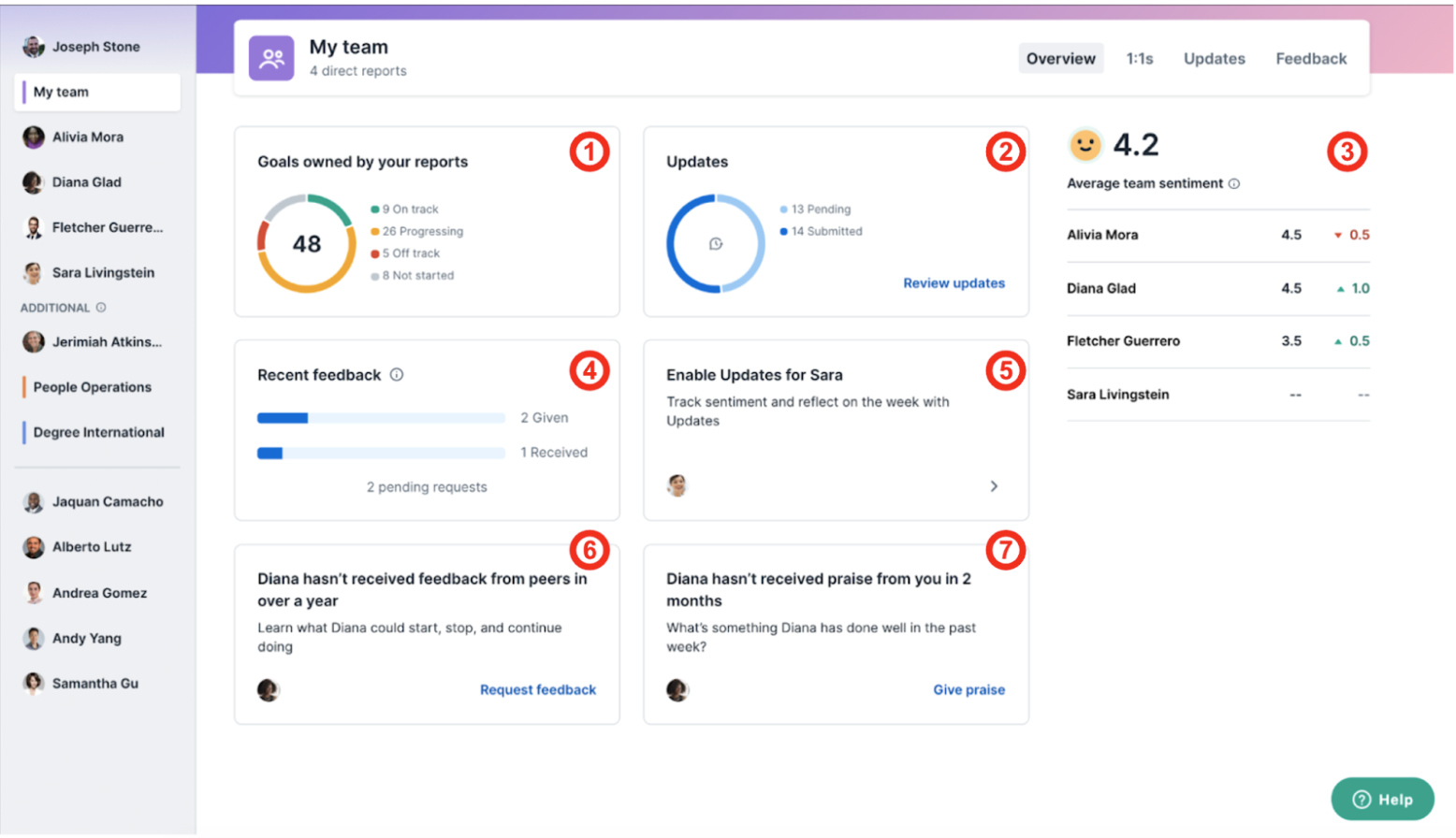 Lattice defaults to the My team section whenever a manager first enters the People page. The My team section contains a collection of important, high-level metrics about how the team is performing. The Overview gives managers a snapshot of how direct reports progress with their goals, a quick pulse check on team morale with the sentiment score, and a summary of recent feedback and update activity.
Managers can:
View

goals owned by your direct reports

or custom relationship reports.

This card only displays active goals with on track, progressing, off track, not updated statuses. It will not include drafted or ended goals. If you do not have Goals enabled you will not see this card.

View pending and submitted

updates.

Pending will count any current reports, submitted will count current reports and old direct reports until their openly submitted Updates have been reviewed. Clicking review updates will take you to all recent updates. Any custom relationship report Updates will be visible in a read only state here. If you do not have Updates enabled you will not see this card.

Average Team Sentiment.

I

t will display the average team sentiment of your direct reports over the most recent 4 updates submitted within the last 2 months. If you have Updates disabled this will not show.

View

recent feedback

given and received by your direct and custom relationship reports.

It will display data from the past 30 days on given and received feedback on my reports and the count of any open pending feedback requests on them. Lattice recommends each direct report give 2 pieces of feedback every 30 days, and receives 2 pieces of feedback every 30 days. Clicking on the card takes you to the Team Feedback tab.

Enable Updates for your Reports.

Shows you if some of your direct reports do not have updates turned on, and will allow you to turn them on from there.

Feedback

nudge for your team and your custom attribute.

Feedback will rotate between the following feedback nudges to foster a culture of continuous feedback within your direct and custom reports.

A 3 week new hire nudge - if a report has not received feedback within their first 3 weeks of their start date

A 60 day no peer feedback nudge - if a report has not received feedback of any kind from other people in the past 60 days

A 60 days no praise nudge - if you, as a manager, have not given a report praise in 60 days, ~2 months

An anniversary nudge suggesting feedback for reports who have an anniversary approaching. This card will be displayed during the entire work week of the anniversary date.
People Navigation
The People navigation allows managers to view their entire team front and center. Navigation includes access to:

The profile page

Direct & indirect reports' profile pages

Profile pages for custom relationships (e.g., dotted-line relationships)

Department and Company pages

Profile pages for any employee where a 1:1 relationship exists
The Profile page
Managers have the ability to click into individual reports to be taken to their profile pages. They will have the ability to access all of Lattice's tools in the context of their relationship with the report.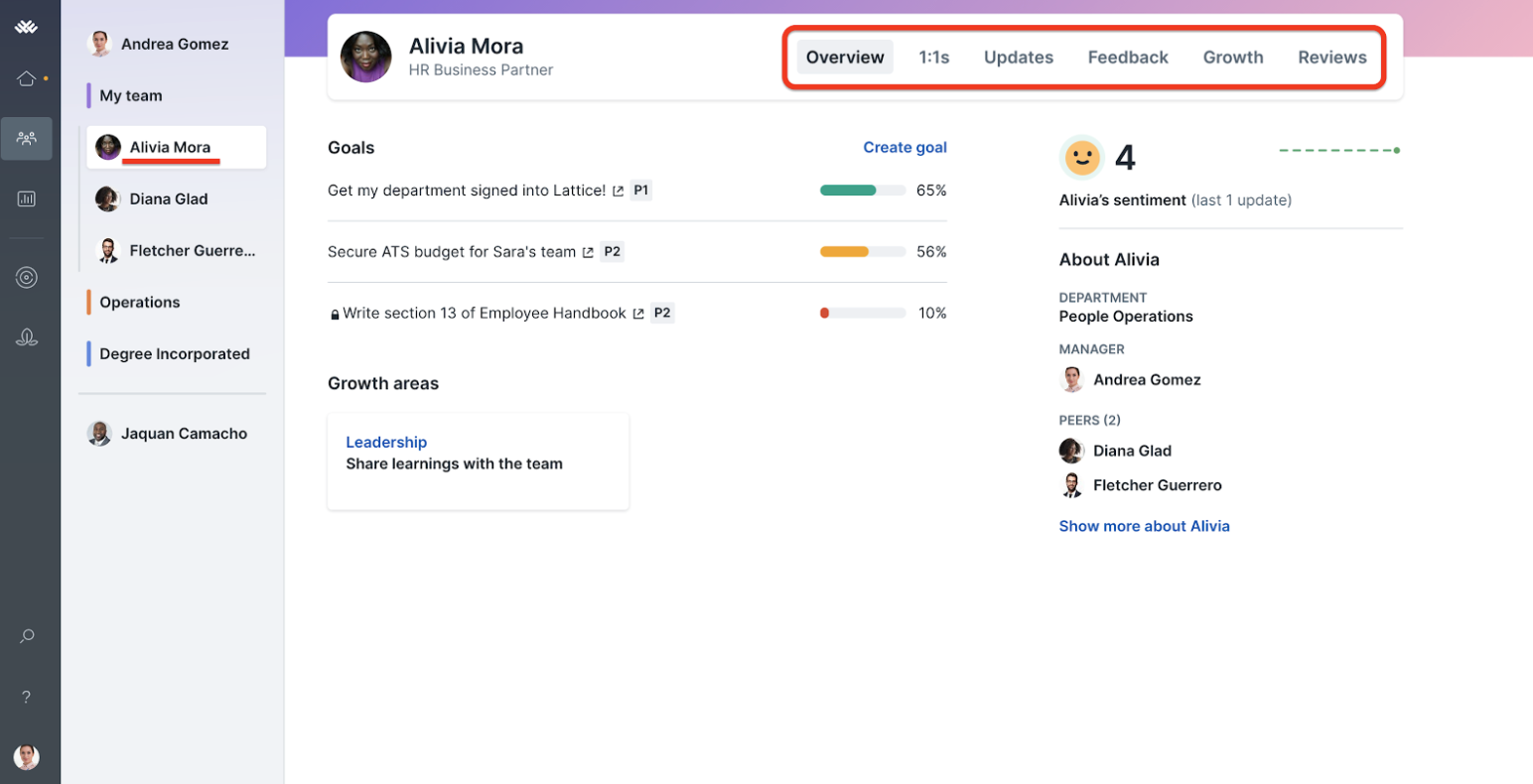 Managers can:
Reporting
Lattice puts people data and reporting in managers' hands so that they can help guide their employees. On the Reporting page, they can review their team's participation in each of Lattice's tools.
View active and completed reviews
View Goal participation and status
View how often Feedback is being submitted
View how often Updates are being submitted
View 1:1 participation
View Growth participation
Goal Explorer
The Goal Explorer page is an interactive space where employees and managers can view, edit, and update their personal goals and team goals and see any public goals and progress. It offers several visualizations that depict the structure between individual goals and key results and the relationship between cascading goals (if enabled).
View the employee's goals
View their team goals
View all public department and company goals
Create saved views for goals
Grow
After an Admin assigns a track, employees can access it directly from the Grow page. If published tracks are enabled for all employees to view, employees will also view all company tracks within this page.
The current level will be highlighted in blue. Potential future roles that the employee can level up to will be listed to the right of their current level (they may have to side-scroll to see all of the levels in their track). Scroll vertically to view all competencies and descriptions for the track and level.
General
The left-hand discovery navigation panel provides employees with additional resources they may need to be successful in Lattice.