How to use agenda items in 1:1s as a direct report
For direct reports, the employee can access past and future agendas from their employee Home page by clicking, "Plan next 1:1s", as seen below: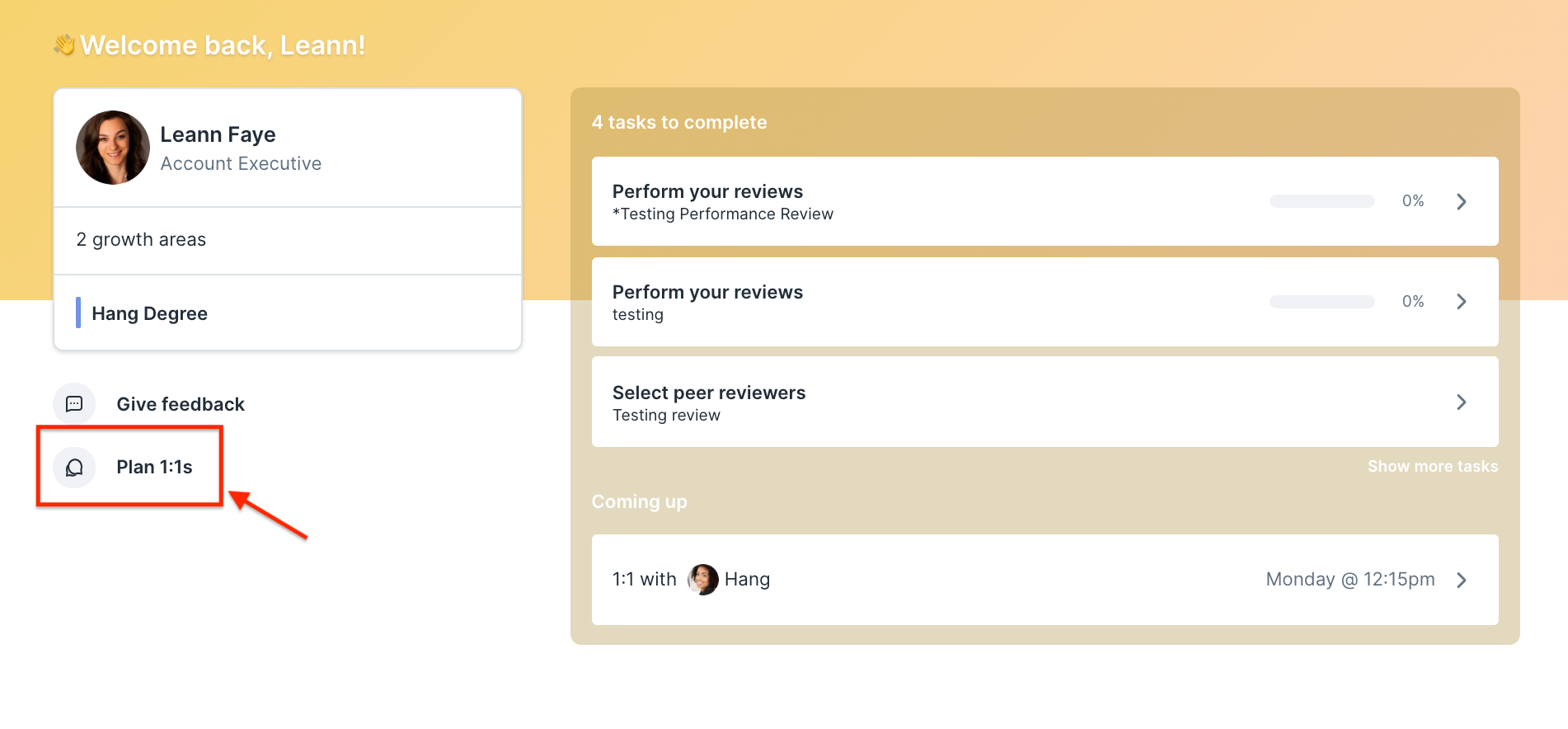 Once there, you will be prompted in your profile page to see your upcoming 1:1.

While in the 1:1, the employee will be able to do the following:
Add Agenda Items
Remove Agenda Items that the employee has added
Comment on all agenda items
Add incomplete Items from previous 1:1s to the Agenda
Mark Agenda Items complete
Re-Arrange Agenda Items
Add a note to be shared with the manager
Add a private note
Navigating the 1:1 Context Panel as a Direct Report
When you click into the 1:1s, you will also see a context panel on the right-hand side of the screen. Here, you will be able to view all of your past activity.
Please note: This activity will vary depending on the tools that your manager and your Admin have enabled for you.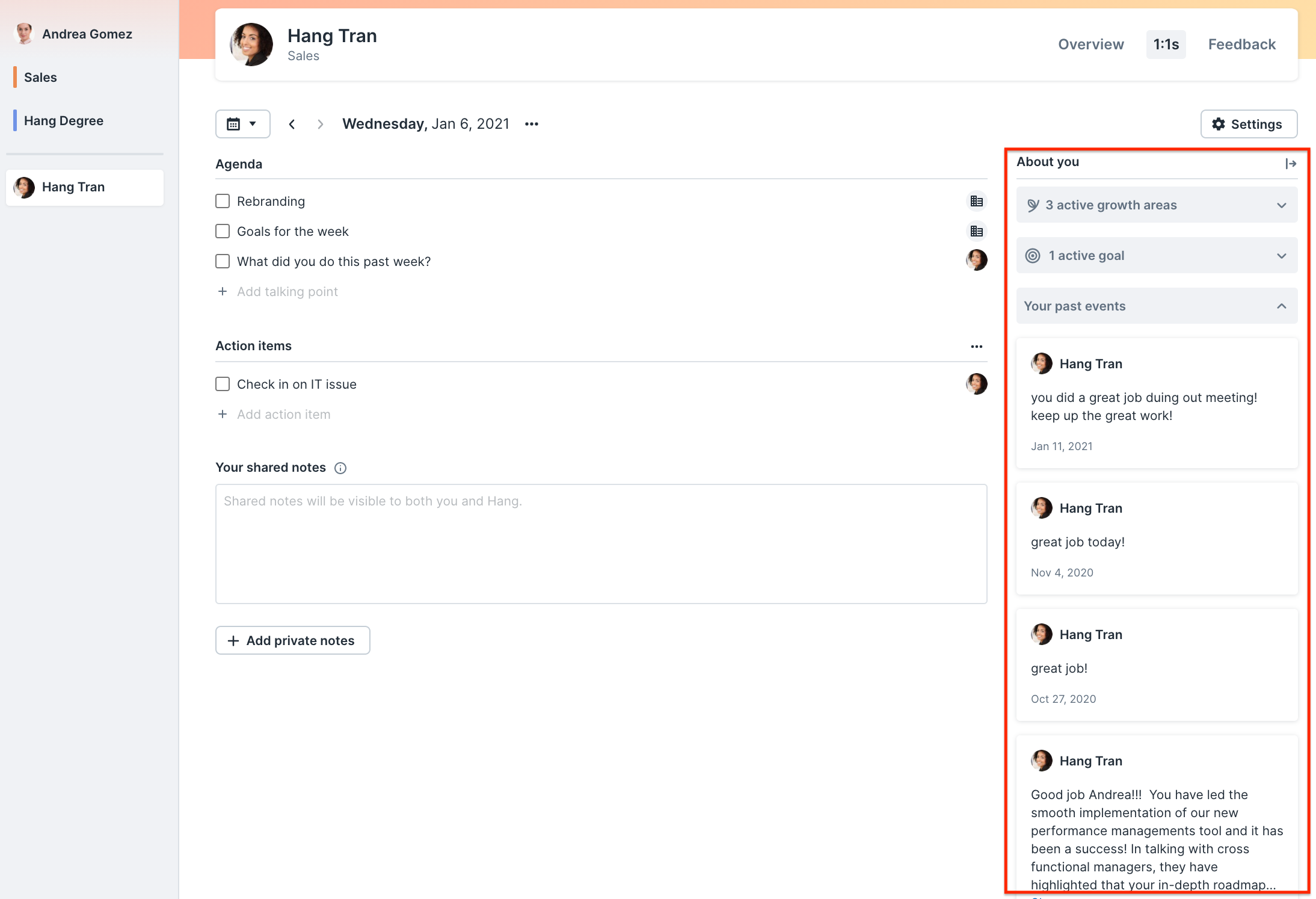 First, you will be able to click into your active growth areas (if applicable). By clicking on "View growth plan", you will be prompted to your growth plan to view your growth areas in greater detail.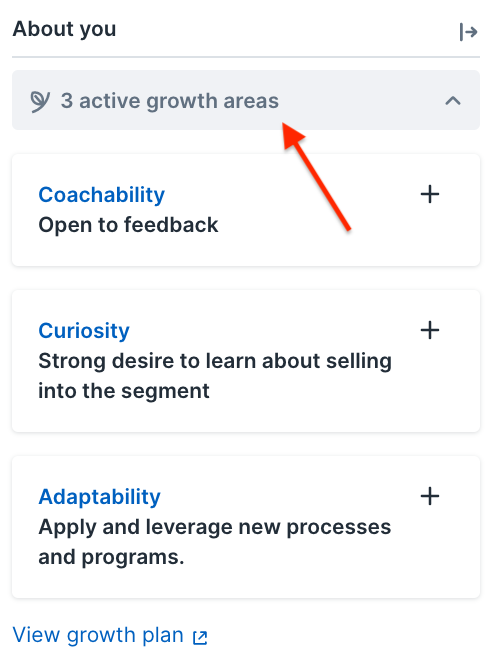 Next, you will see any active goals that you are currently an owner of. By clicking on these goals, you will be able to view these goals in greater detail.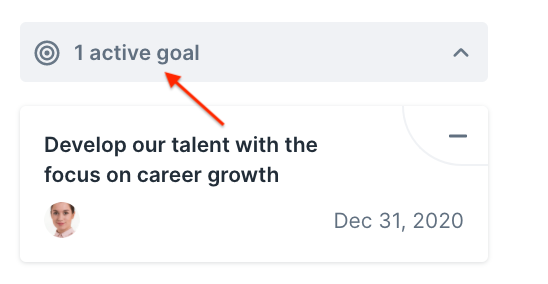 Finally, if you scroll down, you will see any of your past events. For example, if you have made an update to any of your Goals, you will be able to view this activity here.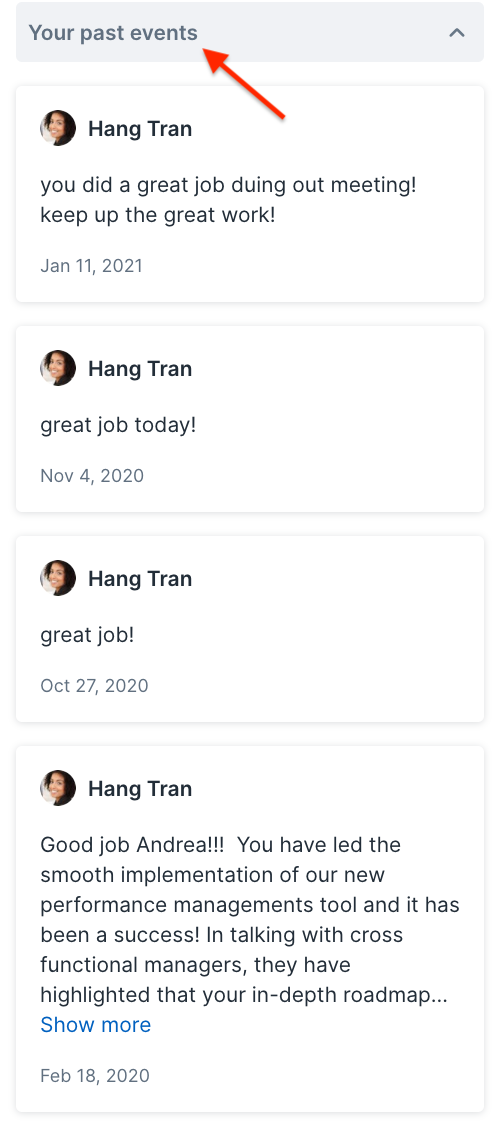 If you don't want to see the context panel, managers and direct reports have the ability to hide the context panel.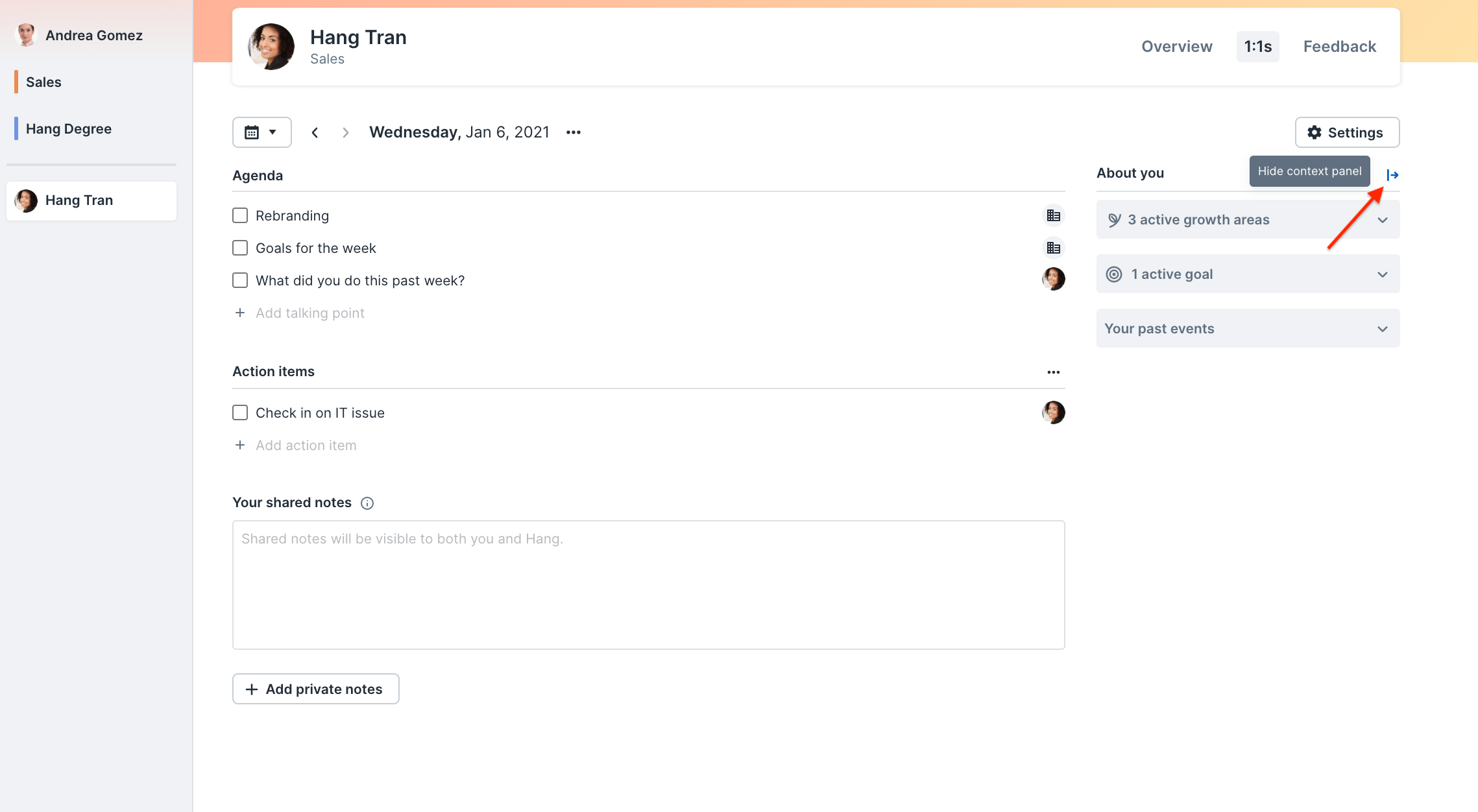 Viewing Past 1:1s
To view past 1:1s, click on the "Plan next 1:1" icon on your Home page and click on the Upcoming 1:1 event. While viewing the Upcoming 1:1, you are able to click on the calendar icon to search through past 1:1s. Here you will have access to all historical 1:1s, including any agenda items that were discussed and notes that were left.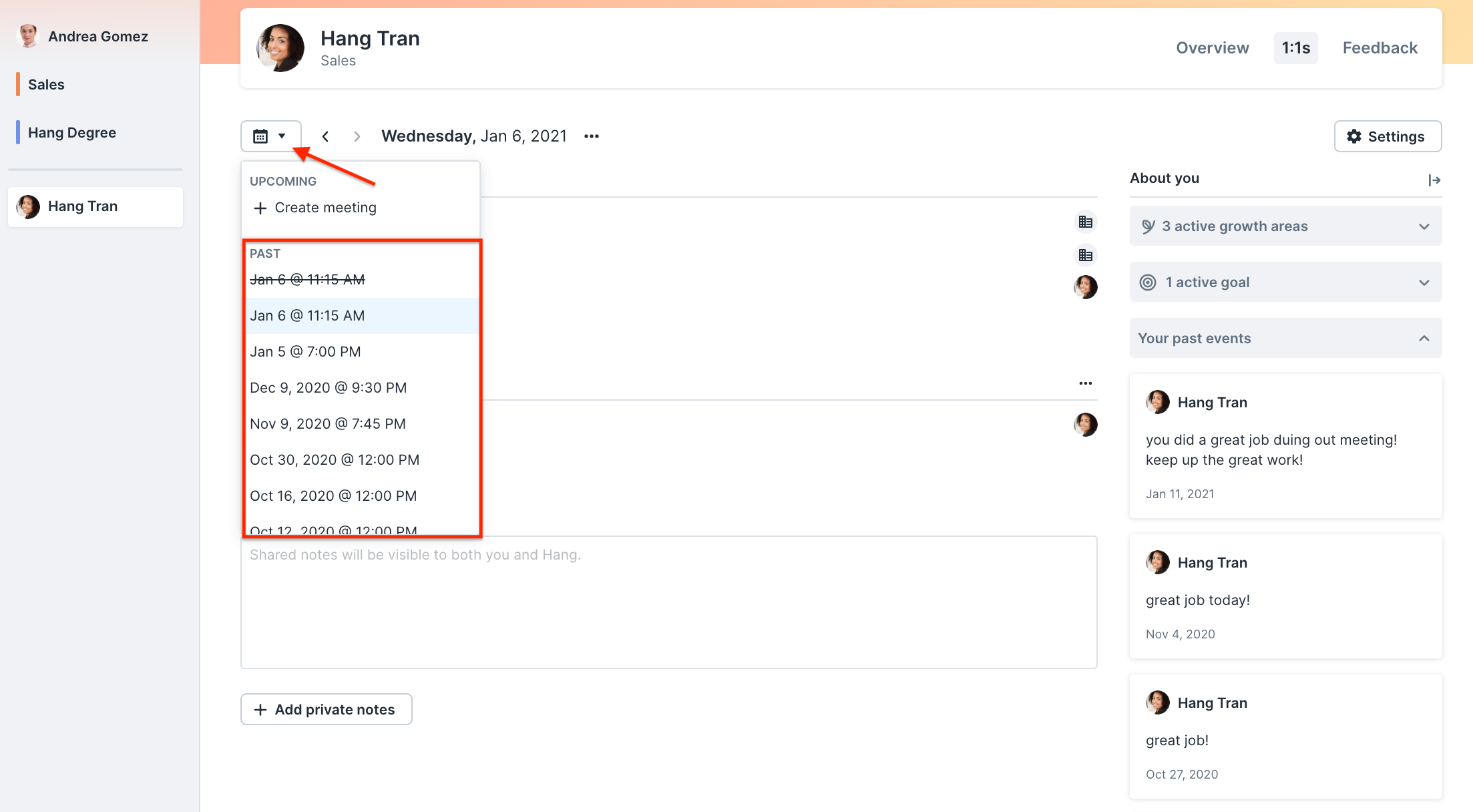 Navigating Historic 1:1s
You can have a 1:1 relationship with any other employee in your company's Lattice account. Inevitably, some people will cease to meet as work relationships change, someone leaves the company, or two people simply chose to stop meeting. However, you may want to reference talking points and notes that you have had from your prior 1:1s. The good news is you will still be able to!
Once you have disconnected a 1:1 it will still be present on your profile page but will be listed under the Inactive section.