Understanding the Lattice Goal Explore Page
The Goals Page is an interactive space called Goals Explore, where employees can view, edit, and update their personal goals and see any public goals and their progress. The Explore page offers several visualizations that depict the structure between individual goals and key results and the relationship between cascading goals (if enabled).
This article covers the following topics:
Navigate to the Goals Explore page
To enter the Goals page, select Goals on the discovery navigation.

The Goals Explore page
There are ten main features to the Explore page. These are shown in the list view below.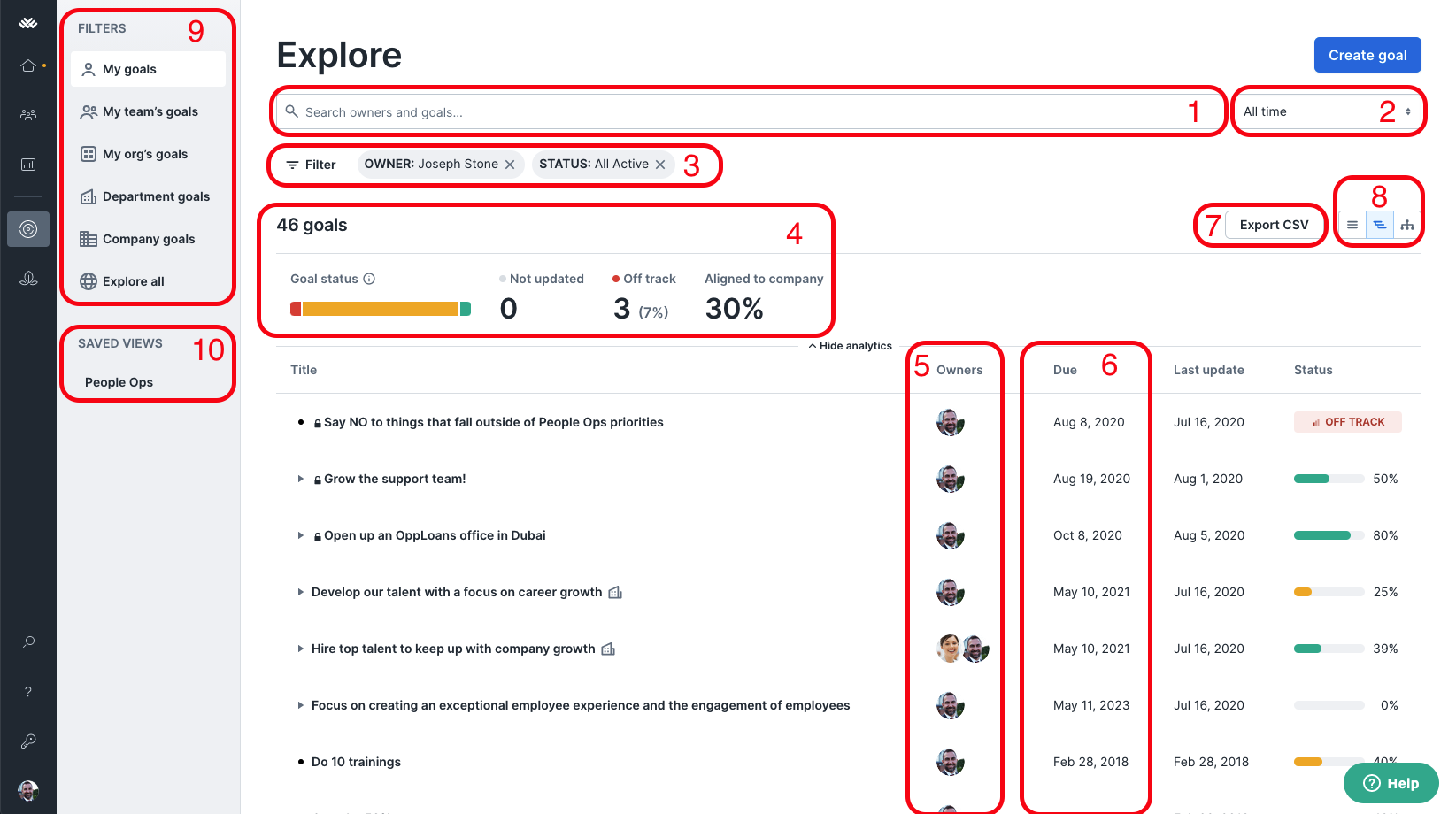 These features allow you to:
Search for a specific goal by owner or keyword
View goals within a certain time frame
Filter goals by the owner, type, priority, status, tags, and visibility
View goal analytics*
View goal owners
Sort by the due date
Export your goals to a .csv file
Visualize your goals as a list, cascade, or tree (cascade and tree views require cascading goals to be enabled)
View default saved views
View custom saved views
A note on analytics
Draft goals are not included in the analytics, even if a user has applied a filter for draft goals.
The count of goals represents unique goals, regardless of how many owners.
Archived users' goals will count only IF they are co-owned by an active employee or part of a cascade of active goals.
View an individual goal from the Goals Explore page
A context panel will emerge to the right with additional details when you click on an individual goal within the Goal Explore page.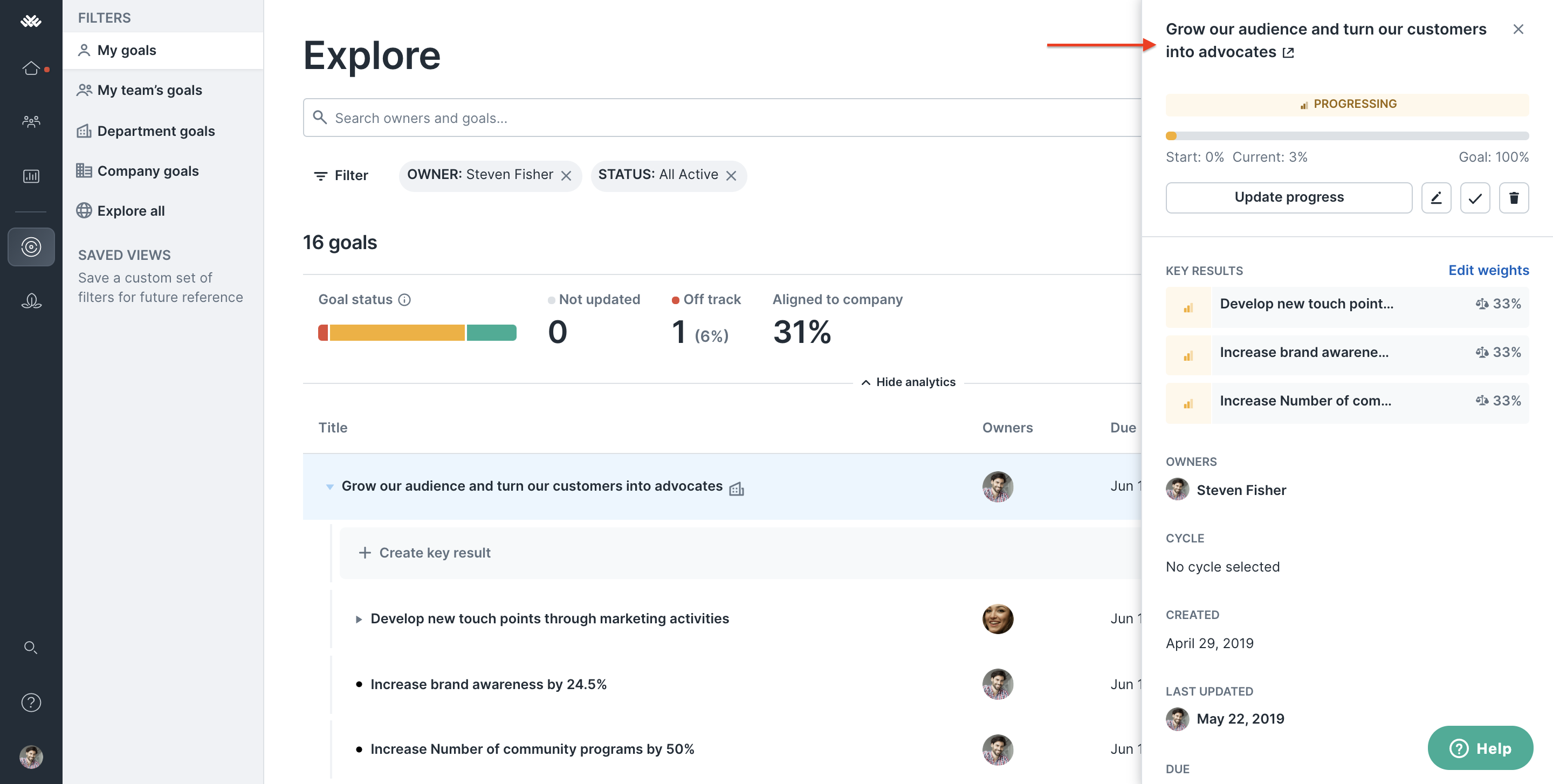 This context panel includes:
Key results
Alignment
Owners
Due date
Type
Tags
Priority
If you click on the goal's title, you will be redirected to the Goals Details page. From there, you can view a goal's progress timeline, check if it's on track, and see any notes that the goal owner has posted within the Audit Log. You can also edit, complete, or delete a goal from this page.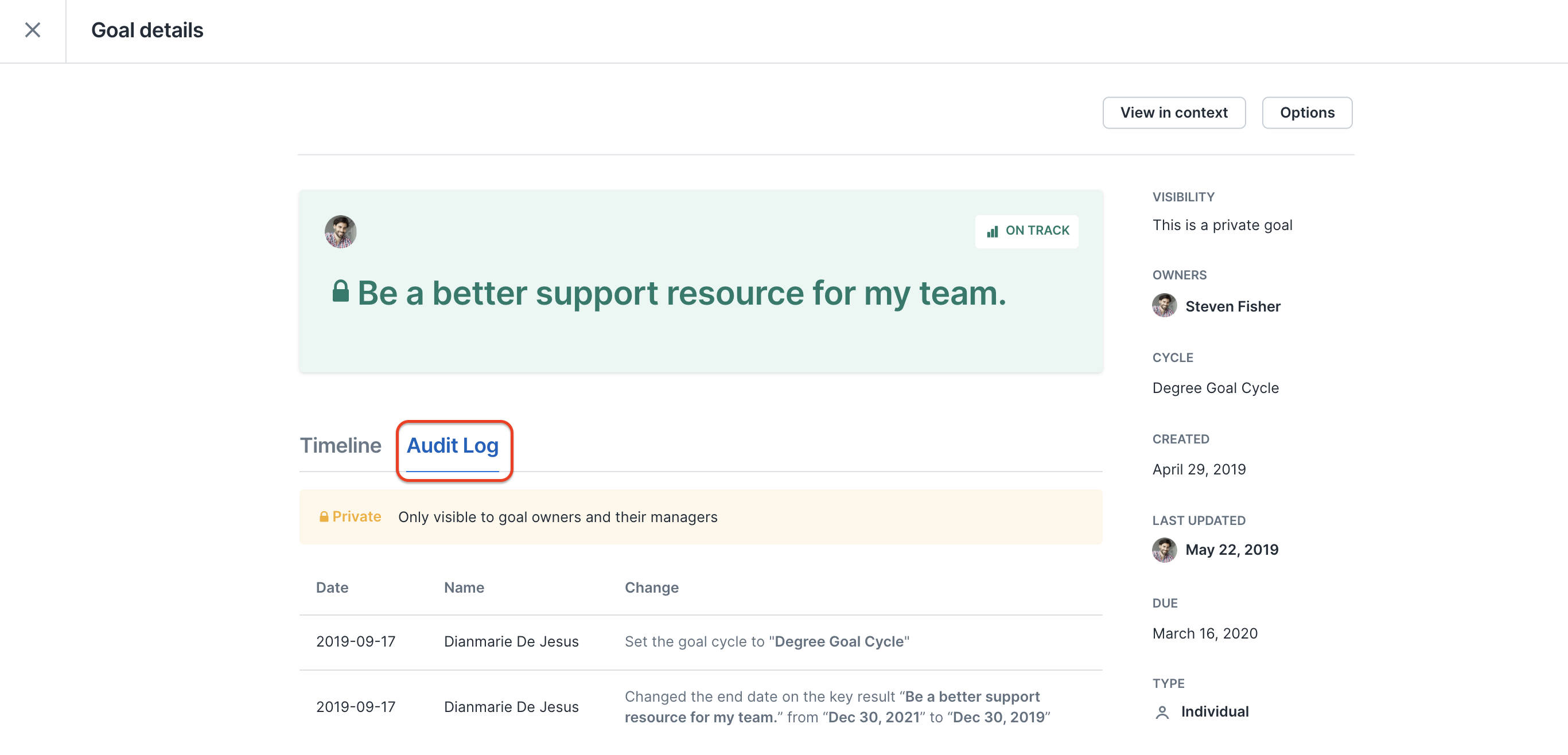 Cascading Goals
If you have cascading goals enabled, you will have two views in addition to the list view. Cascading goals allows for direct alignment where the progress of the child goal will impact the parent's progress.
To learn about the differences between non-cascading and cascading, check out The Differences Between Enabled and Disabled Cascading Goals.
Cascade View
When you enter the Cascade view, you will initially only see parent goals. Expanding the goal will display any aligned child goals. You can also use the search bar and filter to find a goal of any level without manually clicking through each layer.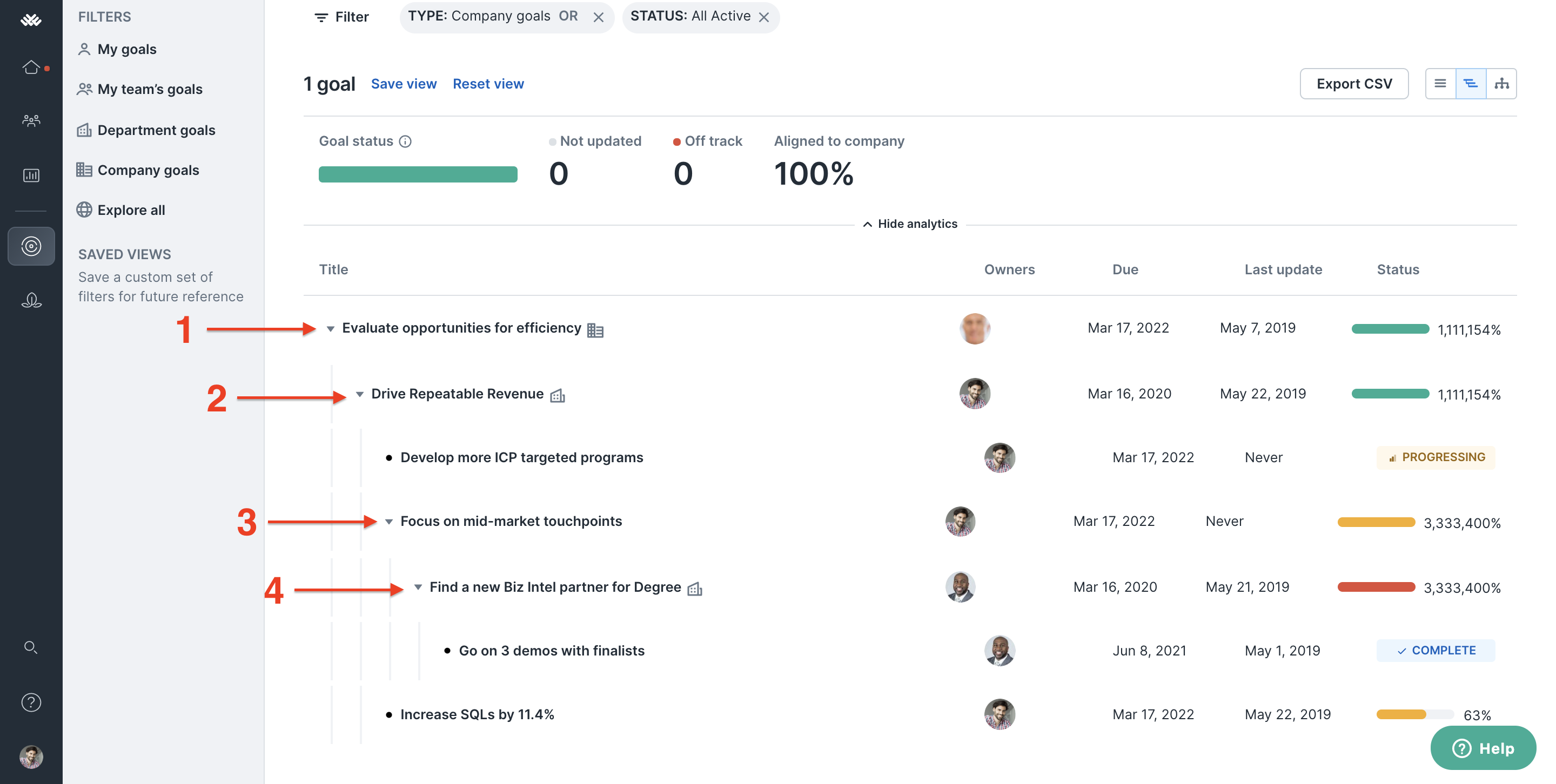 In the image above, the arrows show the structure between:
Company goals
Department goals
Individual goals
Key results for individual goals
You can continue to expand each goal until you reach the key results for individual contributor's goals. You can have as vast a network of interconnected goals based on your company's needs.
Tree View
When entering tree view initially, you will only see parent goals (1). By clicking the grey bubble, you will expand the goal structure to see a second layer (2). You can continue to expand these layers to display individual goals (3) and their key results (4).