This article will show you the different stages of a review cycle from the admin perspective. If you're interested in seeing how the notifications appear, check out review cycle email notifications and review cycle slack notifications.
This article contains the following topics:
Launching Peer Selection
Once the cycle is verified, you'll be prompted to kick off the peer selection phase with a notification. This notification will be sent to managers or employees (depending on whether managers or employees are set to nominate peer selection). If you don't want to send this message, you have the option to launch peer selection without notification.

After launching, you may be prompted with a progress bar and banner to give you visibility into how far along the review is generating. The progress bar only appears for larger review cycles; otherwise, the launch process is instantaneous.

Please keep in mind that no updates to the review settings can be made while the review is launching.

For more information on how the peer selection process works after launch, check out Administering Peer Selection.
Sending Reminders in Peer Selection
If you want to remind managers or employees to finish their peer selection, you can click Write reminder within the Progress tab. You will have the opportunity to customize the reminder notification.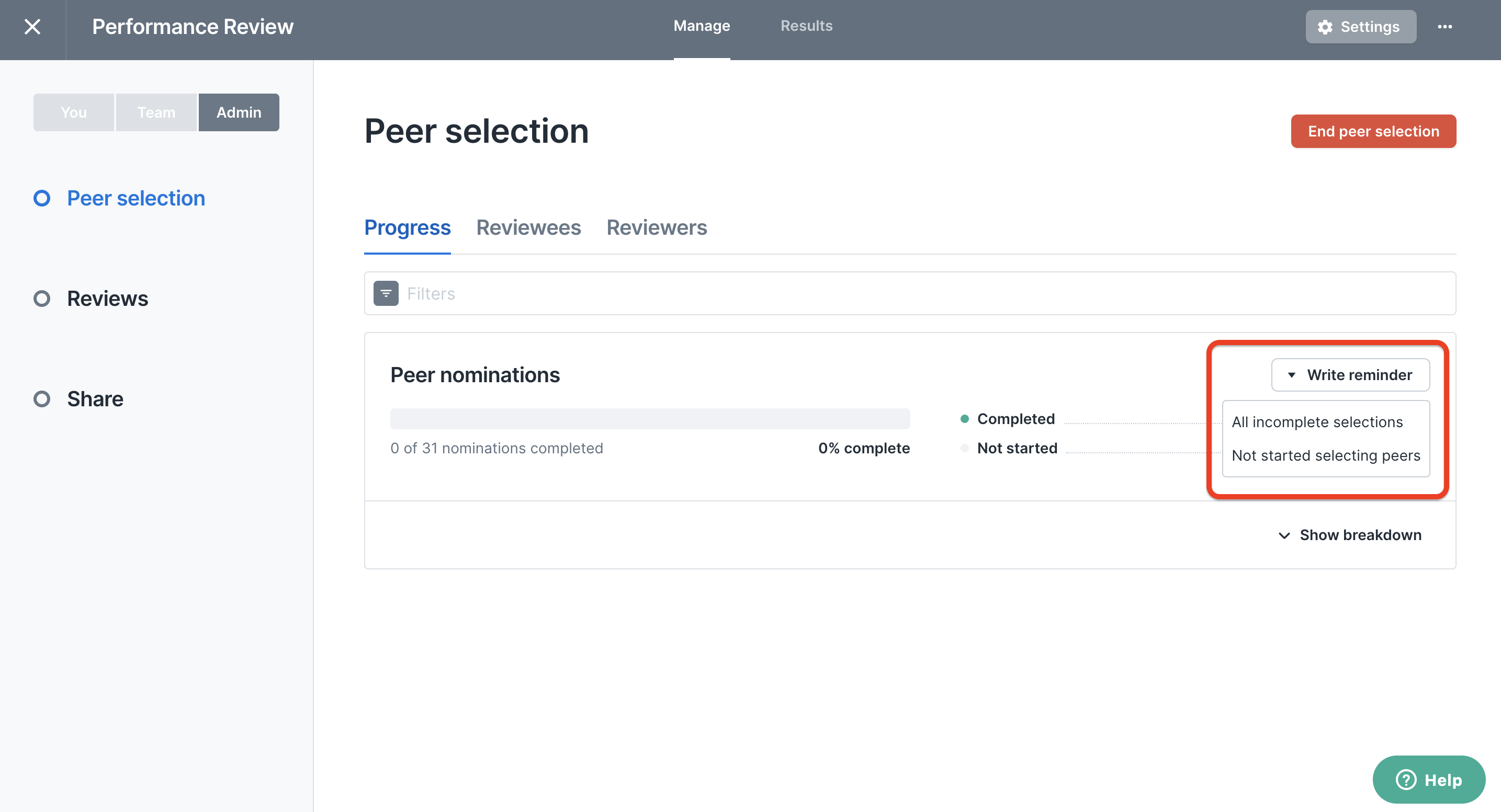 Peer Selection Completion
As an admin, you will be notified when peers have been selected and confirmed, and the review is ready to be kicked off. Once everyone has selected these peers, you're ready to end the Peer Selection phase. Click into the review cycle and click the red button End peer selection.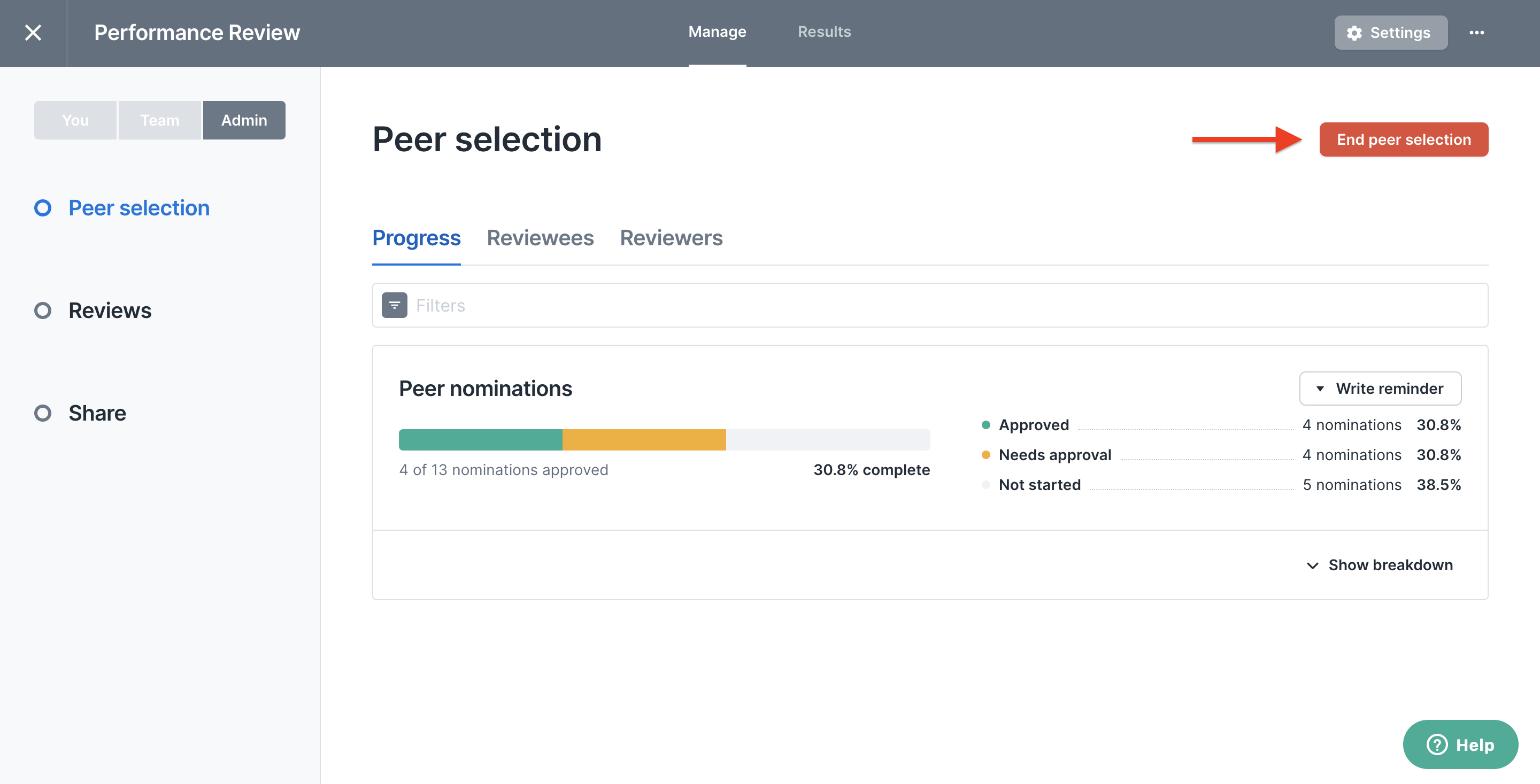 Perform Reviews
Launching Review Writing Phase
Once you end the peer selection process, you will not be automatically launched into the review. First, you will need to launch the review with or without a kick-off notification by clicking on the blue Launch reviews button. The notification is entirely customizable.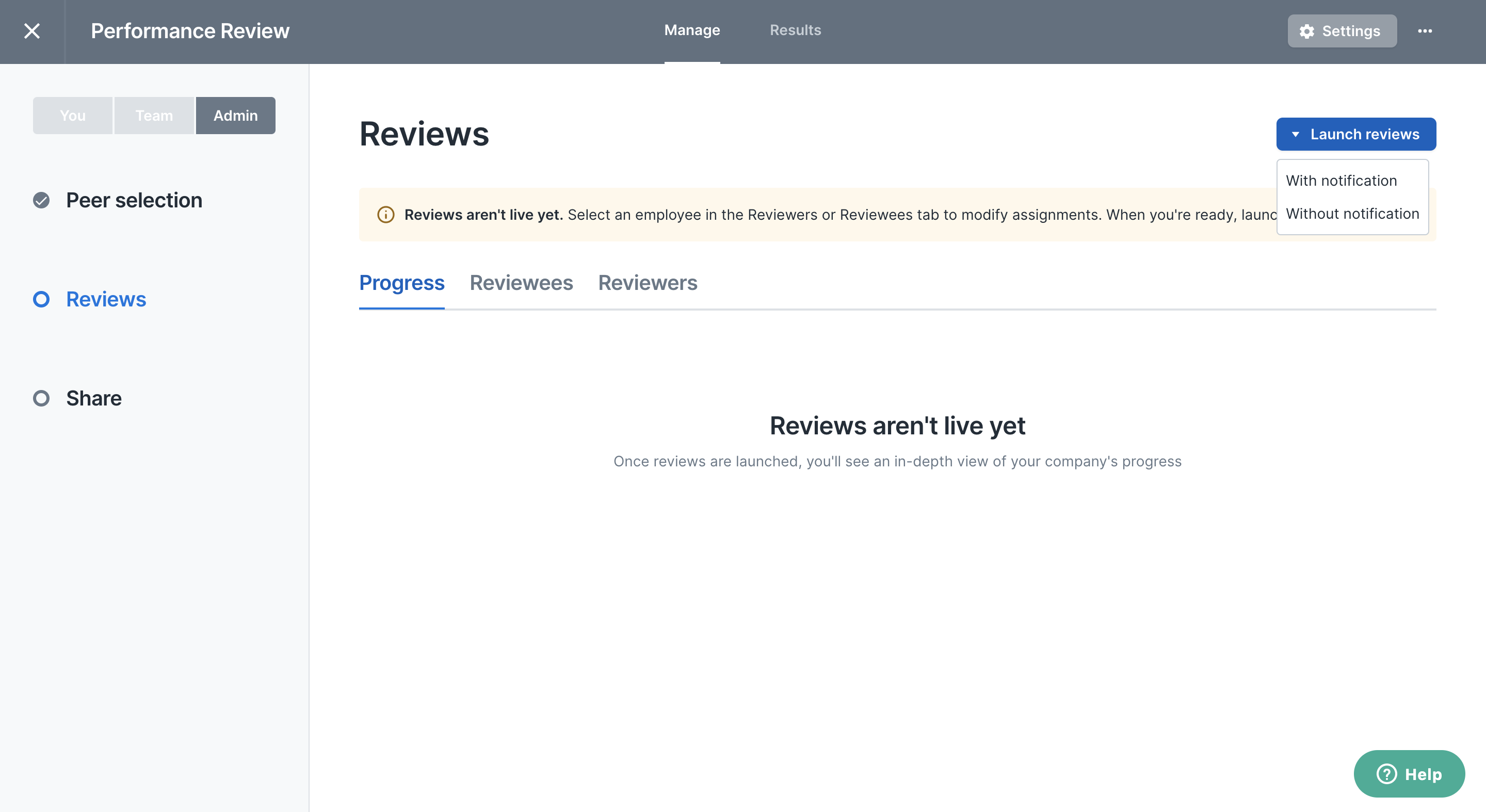 After this kickoff notification is either sent or skipped, everyone who needs to complete a review will see a task notification on their Home page, prompting them to fill out their reviews.

They'll click in to be taken to the review cycle where they can start submitting responses: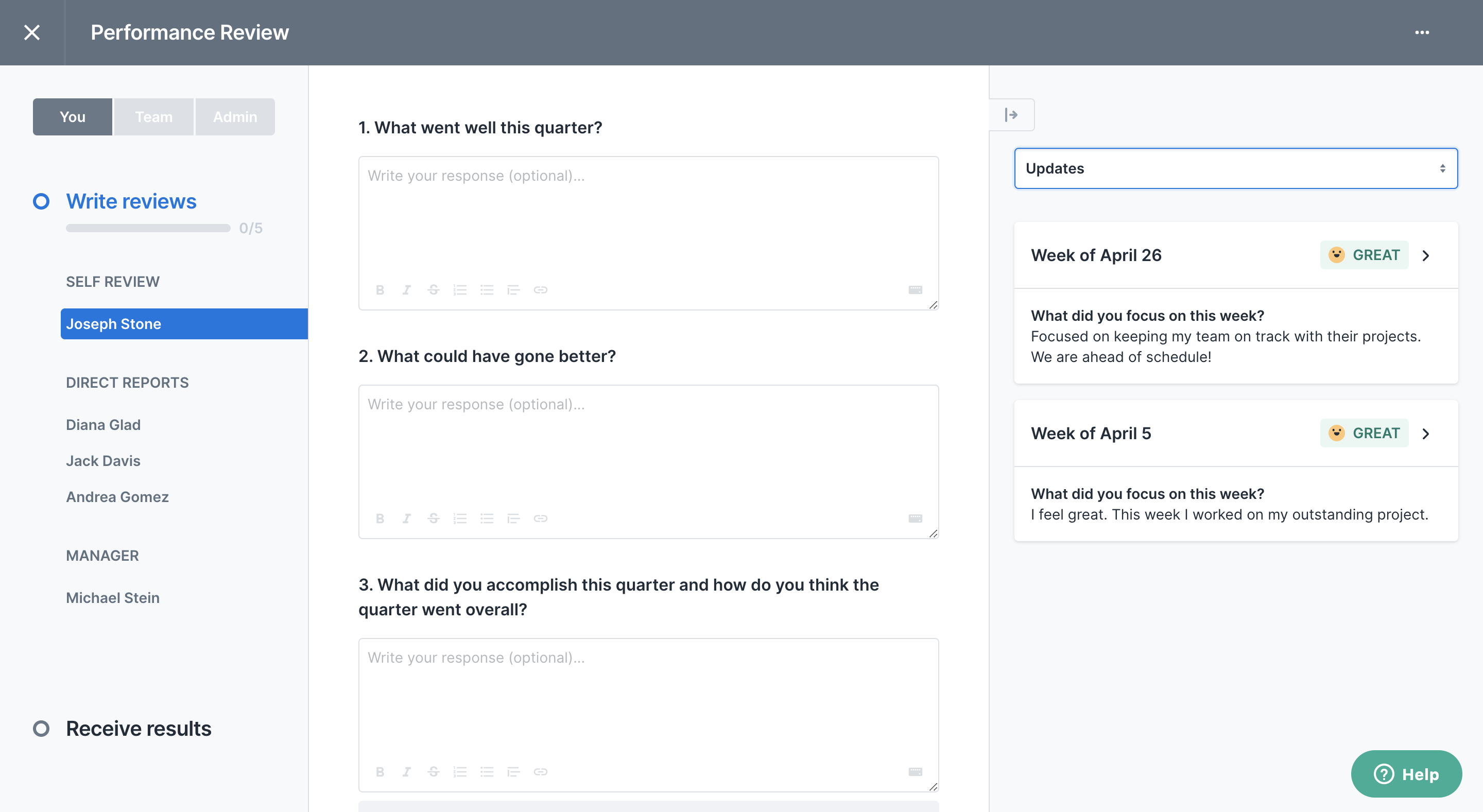 Reminding Reviewers
As employees submit their reviews, you might want to remind employees who have not yet completed their reviews to take time to do so. To send them a reminder notification, click into the Progress tab and then Write reminder. You can also send reminders for specific review types, like self-reviews. You can then customize a reminder notification that's sent to each reviewer!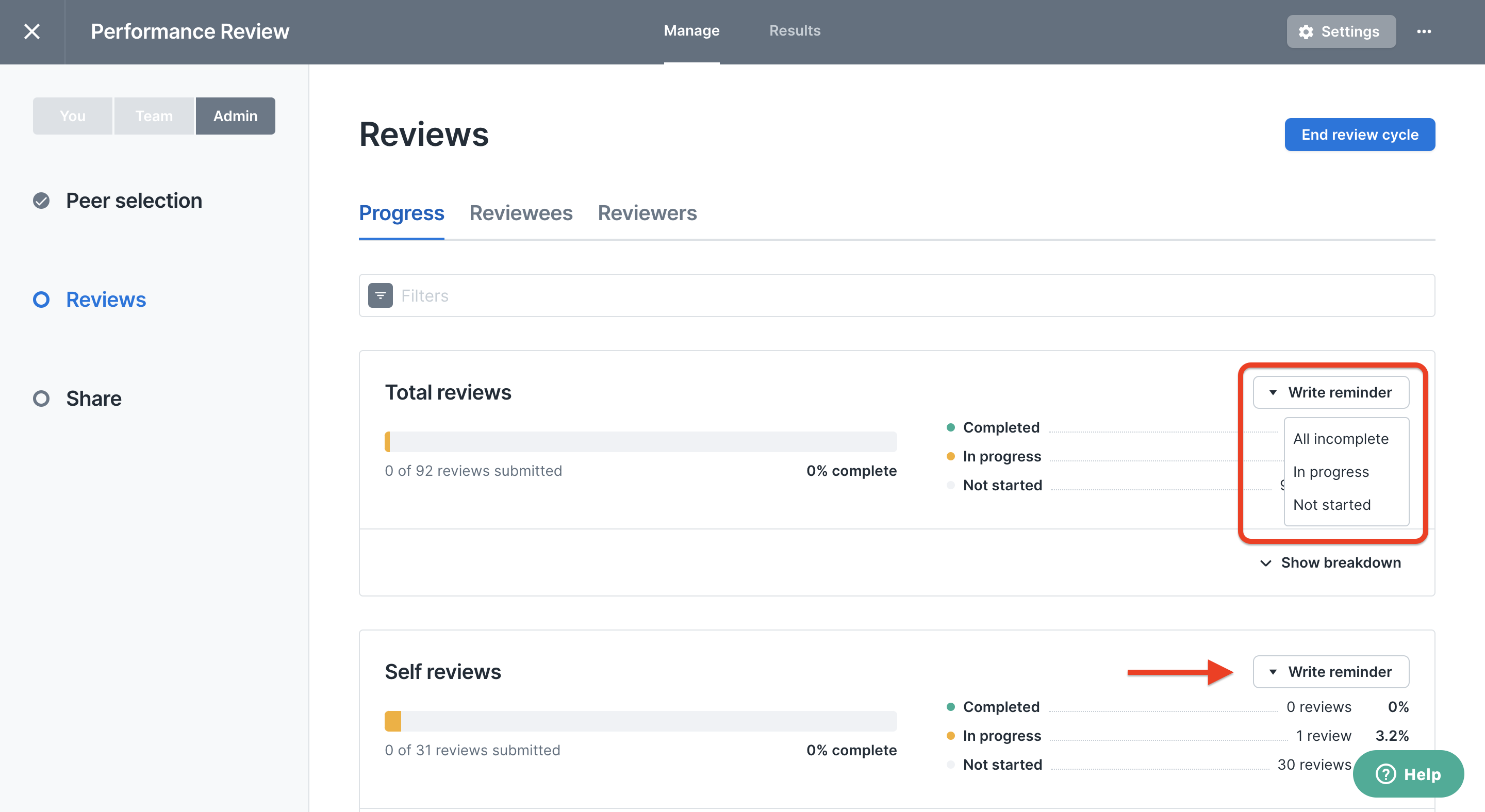 Adding a Late Reviewer
You also may have forgotten someone as a reviewer and want to add them into the review mid-cycle. Adding a Late Reviewer to a Review Cycle explains how that is done. The employee will also receive a notification letting them know they've been added as a late reviewer.
End Review Cycle
When everyone has written their reviews, click the blue End review cycle button to move the cycle to the next stage. Drafted reviews will automatically be submitted once the cycle is ended.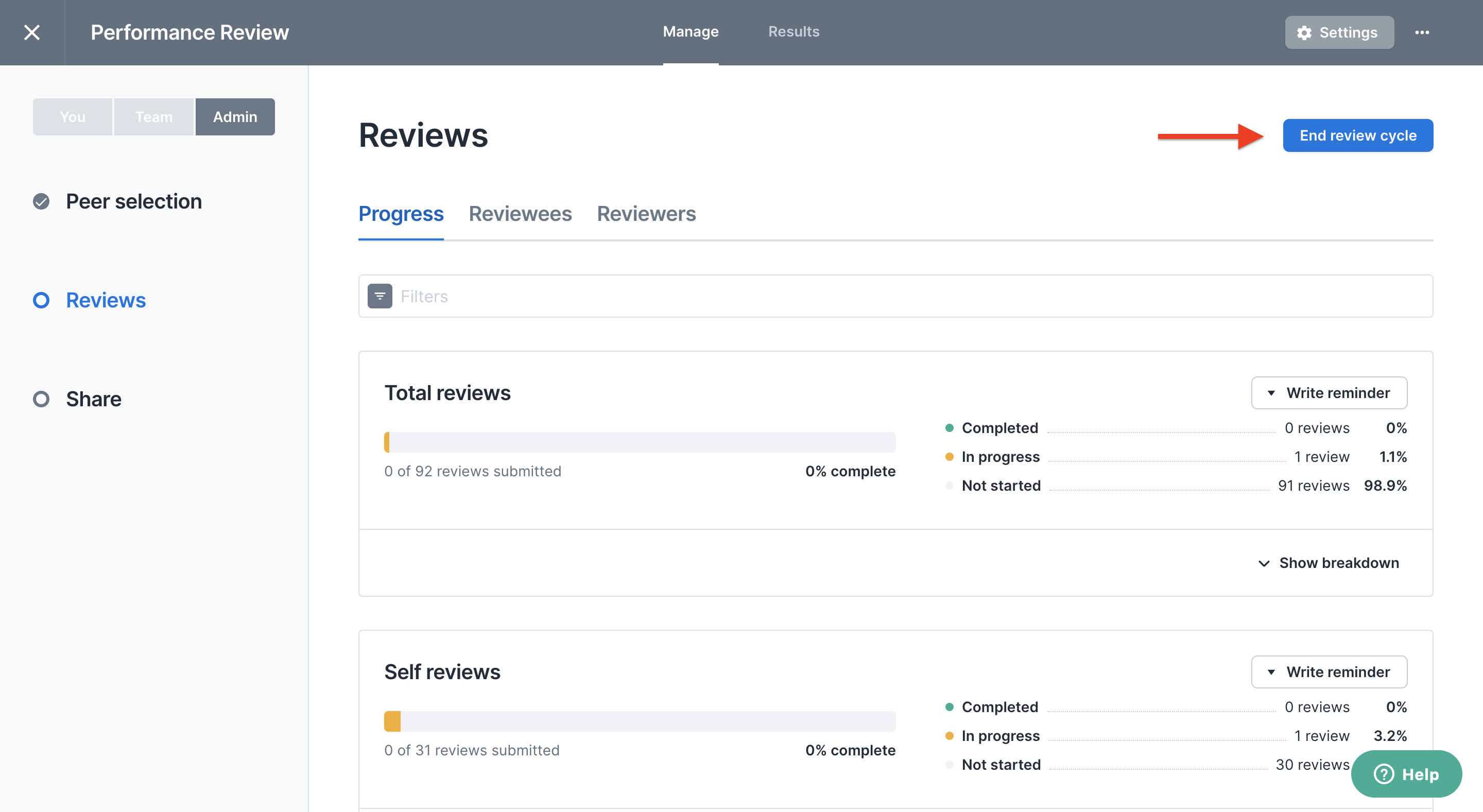 Managers Summarize Feedback and Share
Once you've ended the review cycle, managers receive a notification prompting them to view the responses/packets of their direct reports.
The manager will also receive a notification on their Home page prompting them to Finalize review packets.

The manager will click on the task and see the review packets of their direct reports. They'll be prompted to submit final scores (if they've been turned on) or final summary remarks. This might be a good time for managers and direct reports to meet and discuss the review packet contents. If the manager wants to write draft summary remarks and download the Employee view PDF, they can do so here *without* sharing the packet. When managers have completed their summaries and are ready to share with their direct report, they should click Share with (employee).
Note: If a reviewee has no manager, (CEO for example), the 'Summary writer and sharer' role defaults to Admin. Admins are responsible for sharing review packets in this case. Learn more in How to Share Review Packets as an Admin.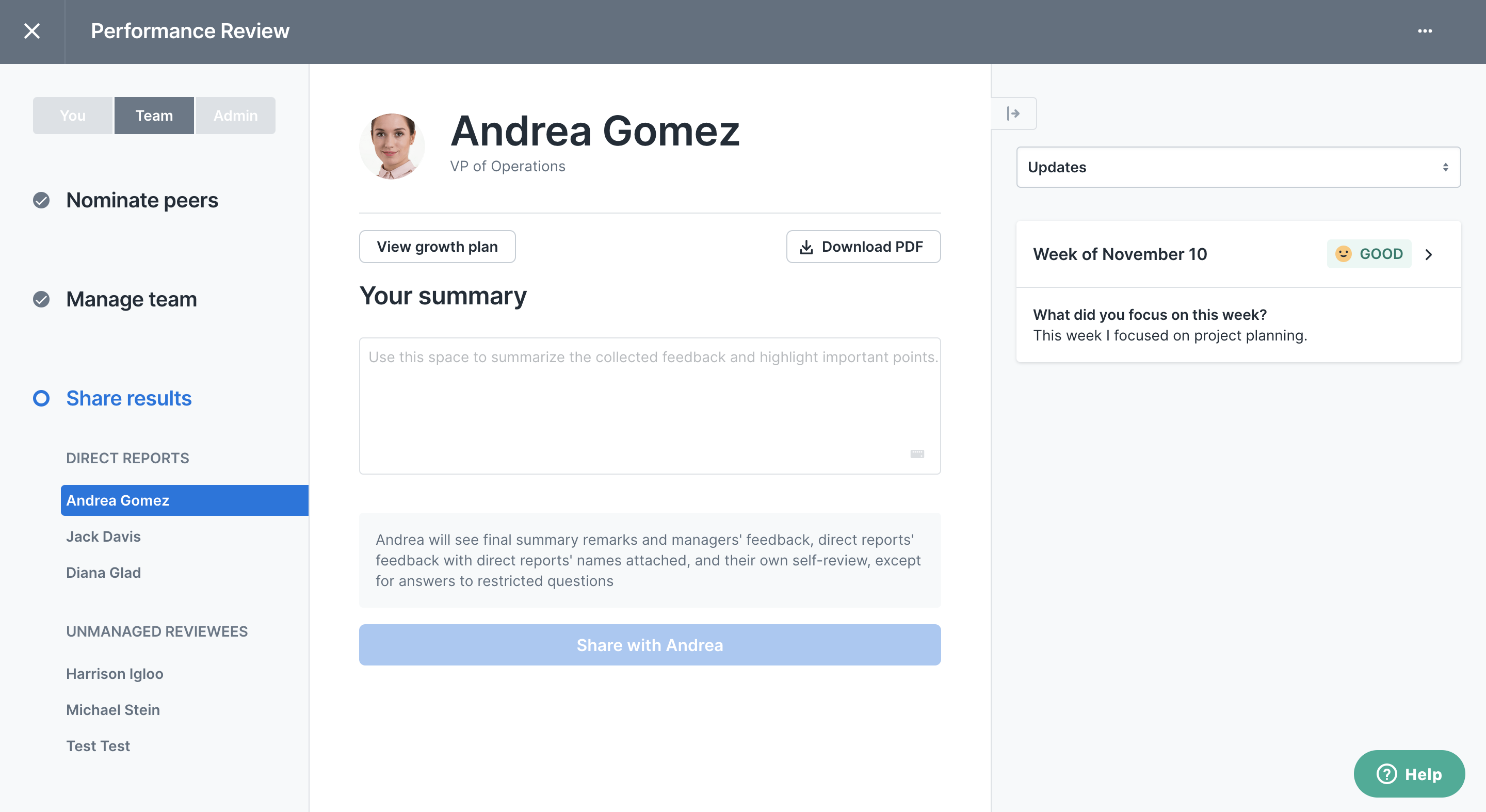 Direct report signs and confirms receiving review packet
When a manager decides it's time to share the packet with their direct report, the direct report will receive a notification to view their responses. They'll also see a task on their Home page.

Clicking into this task will bring them to an e-confirm page. The employee will need to enter their full name and select Confirm and view your results.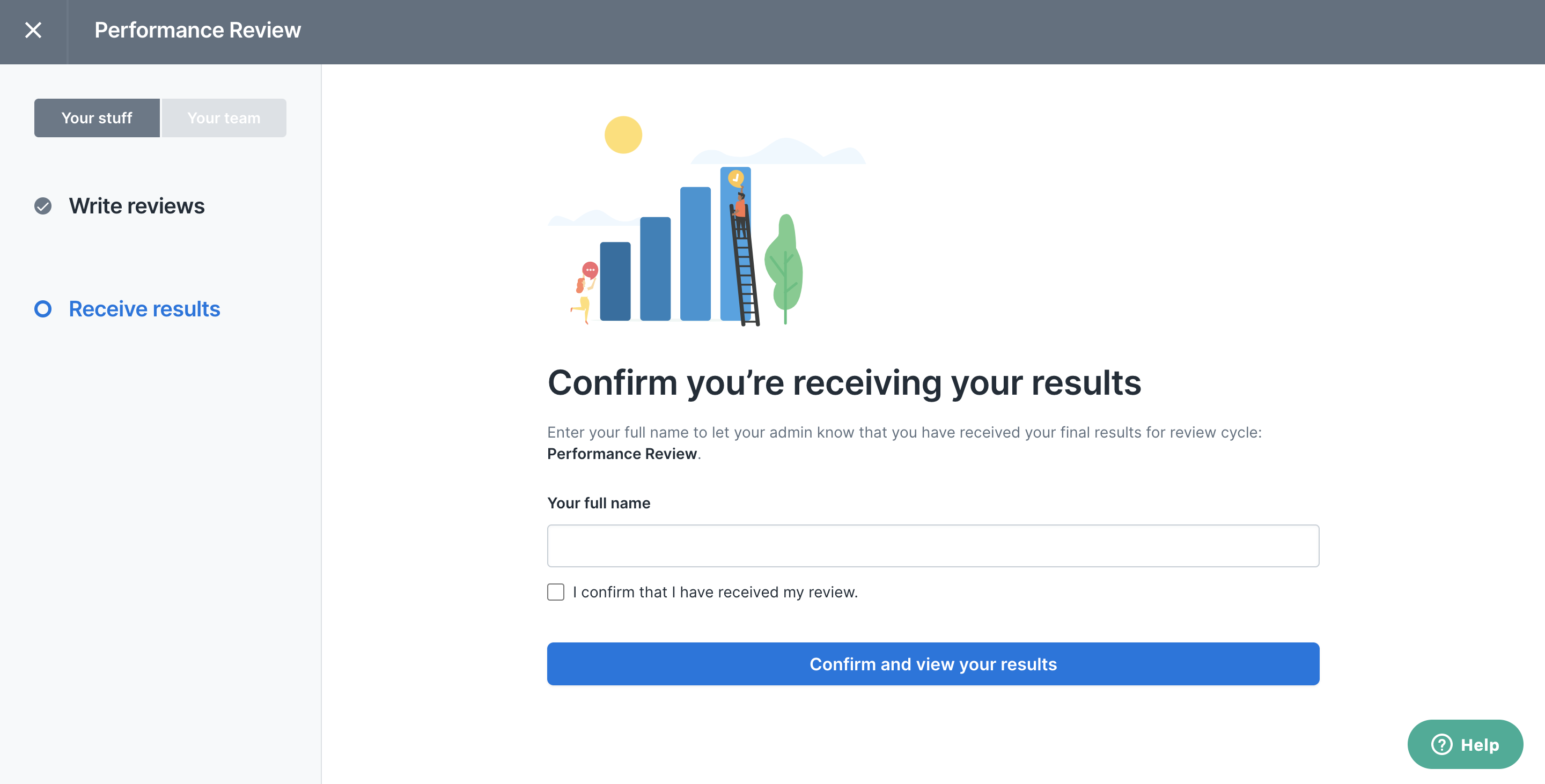 When the direct report opens and e-confirms, managers will receive a notification informing them that their direct report opened it.
Admin visibility to Sharing phase
During this entire process, admins will also have visibility into the reviews' status (which reviewees have had their reviews shared with them and who has e-confirmed receiving their reviews).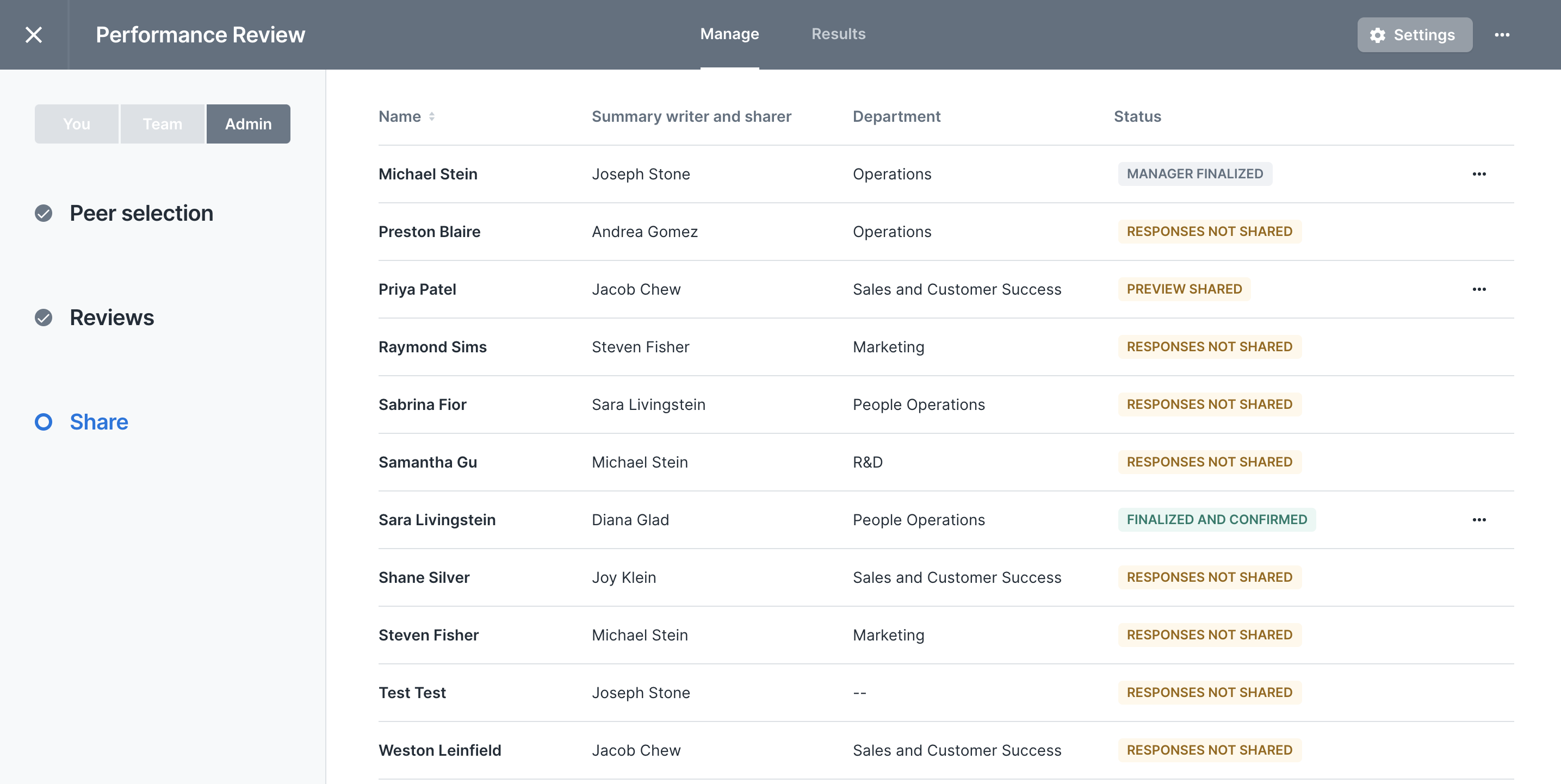 Admins can also share the review packet with employees by clicking Share all reviews. This will send the employee the review packet, and they'll go through the same steps in receiving it.
Lastly, the admin can export responses. However, it is important to note that admins and managers can only export these review packets on a person-by-person basis. There is no way in Lattice to export all review packets in bulk into a single zip file.
Review notifications
Refer to the table below or check out Review Cycle Email Notifications for more information on what notifications can be sent.