The different steps required in creating an Org Chart based review cycle
Lattice org chart reviews are customizable and easy to create. Org chart reviews utilize the employee reporting structure to auto-assign self, upward, and manager reviews. Let's walk through the complete process of creating your review cycle.
This article covers the following topics:
Before you create your review
Before you set up your cycle, you will need to create your review template and verify your org chart.
Create the Review Template: Review templates include the questions reviewers should respond to when completing their reviews for each review group. You can create your own template or use one of our defaults. To create a template, follow the steps in Creating Review Templates

.

Verify your Org Chart: Lattice will auto-assign reviewers based on the current org chart reporting structure. Therefore, the org chart and reporting relationships must be set before completing the review cycle setup.

Reviewers are locked at the time of cycle creation.
User attributes are locked at the time of cycle launch.
Updates made to the department, managers, or location after creation but before launch will impact the review cycle results, filters, exports, etc.
Create the review
We've set up those templates and now we can set up the cycle!
Step 1: Navigate to Admin > Reviews > Auditing.
Step 2: Start your new review cycle by clicking Create new cycle.
Name your review
The title of your review cycle should be clear and descriptive. This name will appear for reviewers and reviewees within the platform and the different notifications we send during the cycle.
Please note, if you have project-based reviews enabled, make sure that Org chart review (default) is selected.
Reviewees
Reviewees are the employees who will be reviewed and will receive a review packet in this review cycle. You can either select to review All employees or choose Specific employees. When choosing specific employees, you can filter to easily select reviewees by manager, department, start date, or custom user attributes.
To bulk-select a more significant subset, you can upload a CSV of reviewee email addresses. Learn how to select reviewees via CSV in How To Choose Specific Reviewees Using a CSV.
Please note: Selecting to review all employees will pull in users in the active, invited, and created states. Created users will not receive a notification for the review cycle until they have been invited to Lattice.
Reviewers
Toggle on which review groups you want to include in the cycle, along with the template each reviewer type will fill out. You may prefer to have a different template for each reviewer type or assign the same template throughout. Note that managers have an additional response option that includes a manager summary.
Review settings
Customize your review even further within the review settings.
Peer reviews: If you've chosen a review that includes peer selection

, you'll also be prompted to customize peer selection and additional advanced options.

For a deeper dive into peer review settings, check out

Set Up Peer Reviews in a Review Cycle

.

Upward reviews: To prevent new employees from reviewing their managers, you can choose only to allow direct reports that have started on or before a specific date to give upward feedback to their manager. Learn more about restricting upward feedback in Restricting Upward Reviewers by Start Date

.

Ordering: Choose whether managers should complete their review at the same time as their direct reports

or

only after all other reviews are submitted for their direct reports.

To learn more about managers submitting reviews last, check out

When Managers Submit Their Reviews Last

.

Visibility: Choose whether or not managers can view review responses written about their direct reports throughout the review cycle.
Scores
If you plan to include a calibration step for downward review rating questions, toggle on Calibration. Here, you can also assign an overall score by activating weighted scoring.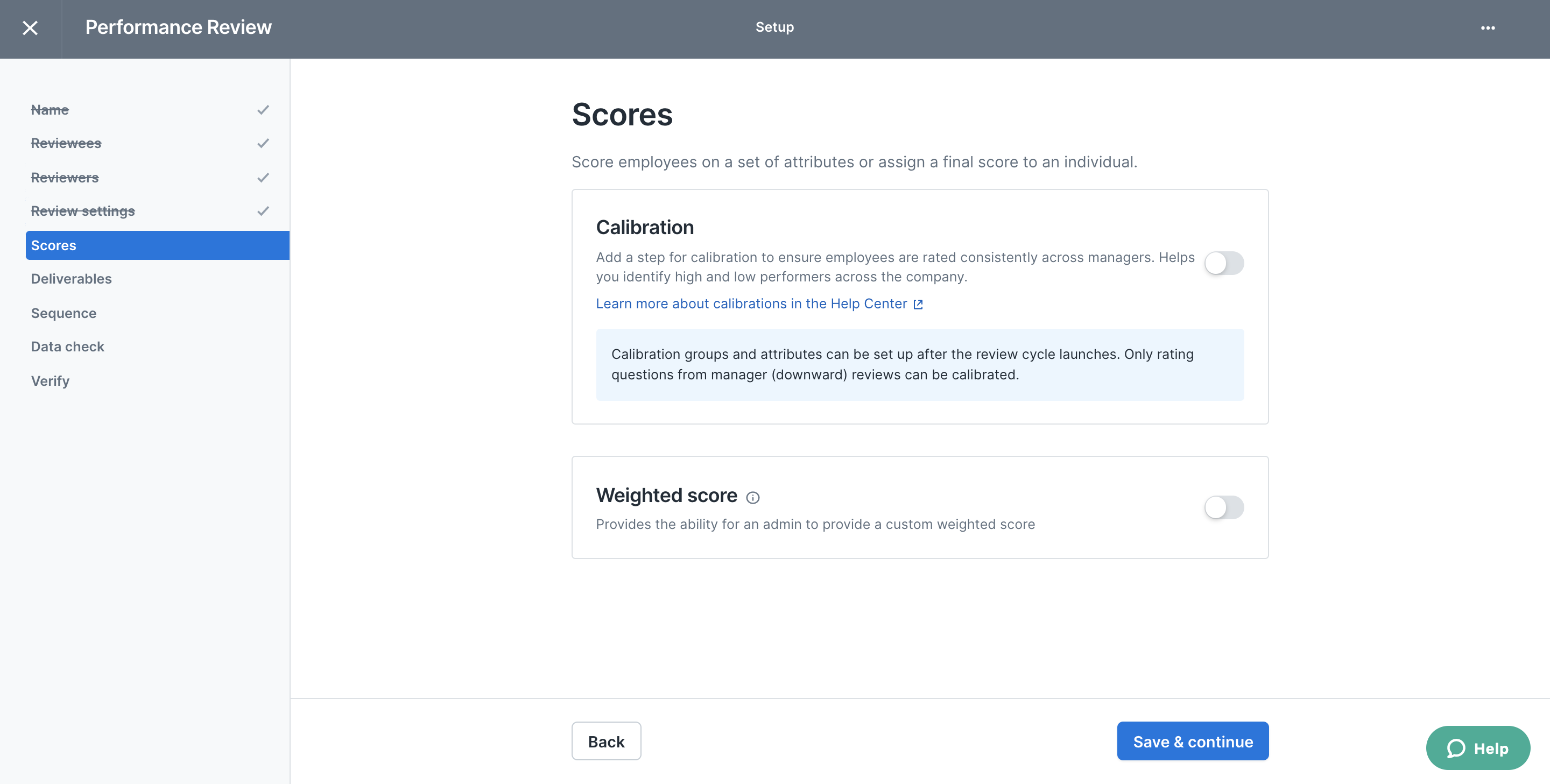 Deliverables
Now it is time to decide what each reviewee will see when they receive their review packet. There are a variety of different visibility options for the review packet. Learn more about customizing the deliverables in Review Cycle Deliverables.
Control: Choose whether or not you want to give access to managers to end review cycles for their direct report. Learn more in How To Allow Managers To End Their Direct Report's Review Cycle.
Weighted Scores:

If you have turned on Weighted Scoring, you can determine if you want the weighted score and description shared with the employee in their review packet.
Sequence
Tip: For the first review you set up, we suggest running it manually to have more flexibility and ensure your employees have completed all tasks before the review closes.
Data Check
Lattice will give you visibility into missing values in the data check step before finalizing the cycle. Learn how to address the errors in Review Cycle Data Check.
Verify and create
Once you are done setting up your review cycles, verify your settings, and when you are ready, hit Create Review Cycle. Creating the review cycle will not launch you into the review cycle. You will still need to launch the first phase.