How to use and set up 1:1 agendas as a manager and schedule these meetings with your direct reports
Enabling 1:1 for your Direct Report
Both managers and direct reports can enable a 1:1 relationship. Managers can enable 1:1s directly from the "My team" dashboard.
To turn on 1:1s for your direct report, you will need to complete the following steps:
Step 1: Navigate to the Navigation bar found on the left side panel and click on the People page.
Step 2: Click on "1:1s" from the Performance Toolkit at the top and find the direct report you would like to turn 1:1s for. Click on "Set up a 1:1" next to the direct report's name.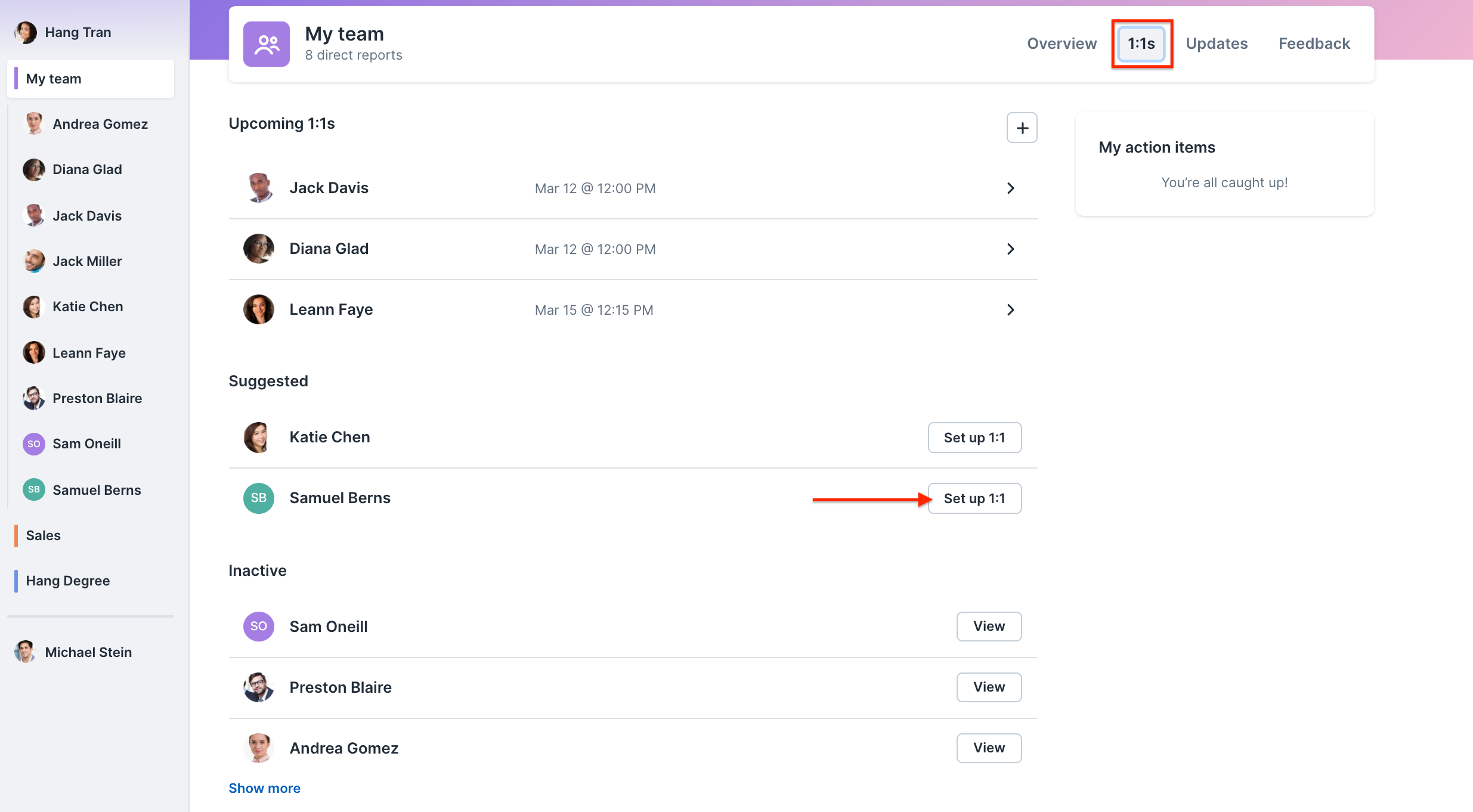 Step 3: If you wish to connect to your Google or Outlook Calendar, you can integrate here. Otherwise, manually set up a time.
Step 4: Determine the cadence you wish to meet. Toggle the "On/Off" switch.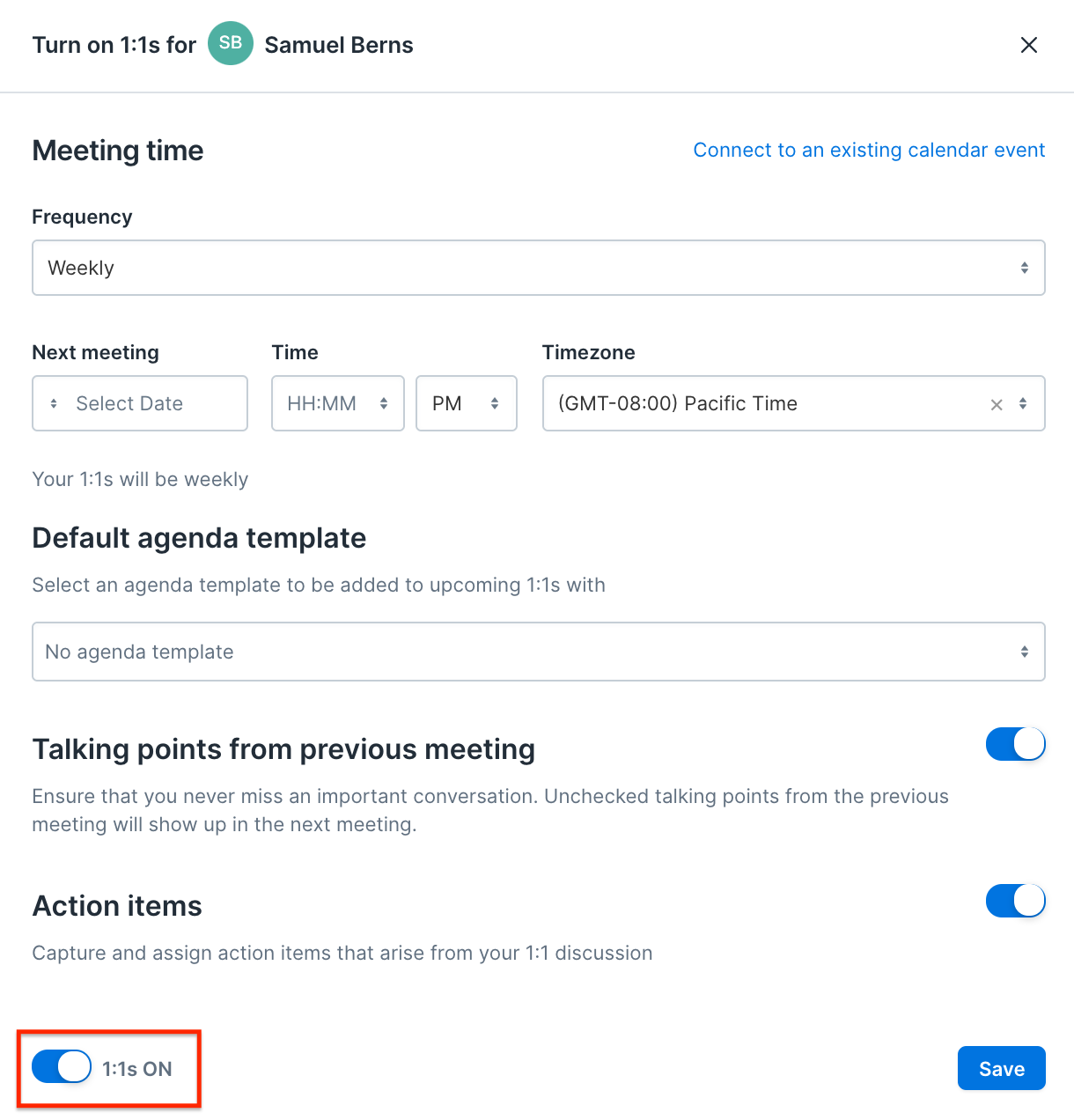 Step 5: Once you have set the date and time you'd like, click "Save," and 1:1s will be turned on for that direct report.
Using the 1:1 Agenda
To start filling out an agenda, click on the direct report's name under "1:1s" from the Performance Toolkit. This will prompt you to begin adding agenda items to the Next 1:1. Your employee will also be able to add agenda items as well.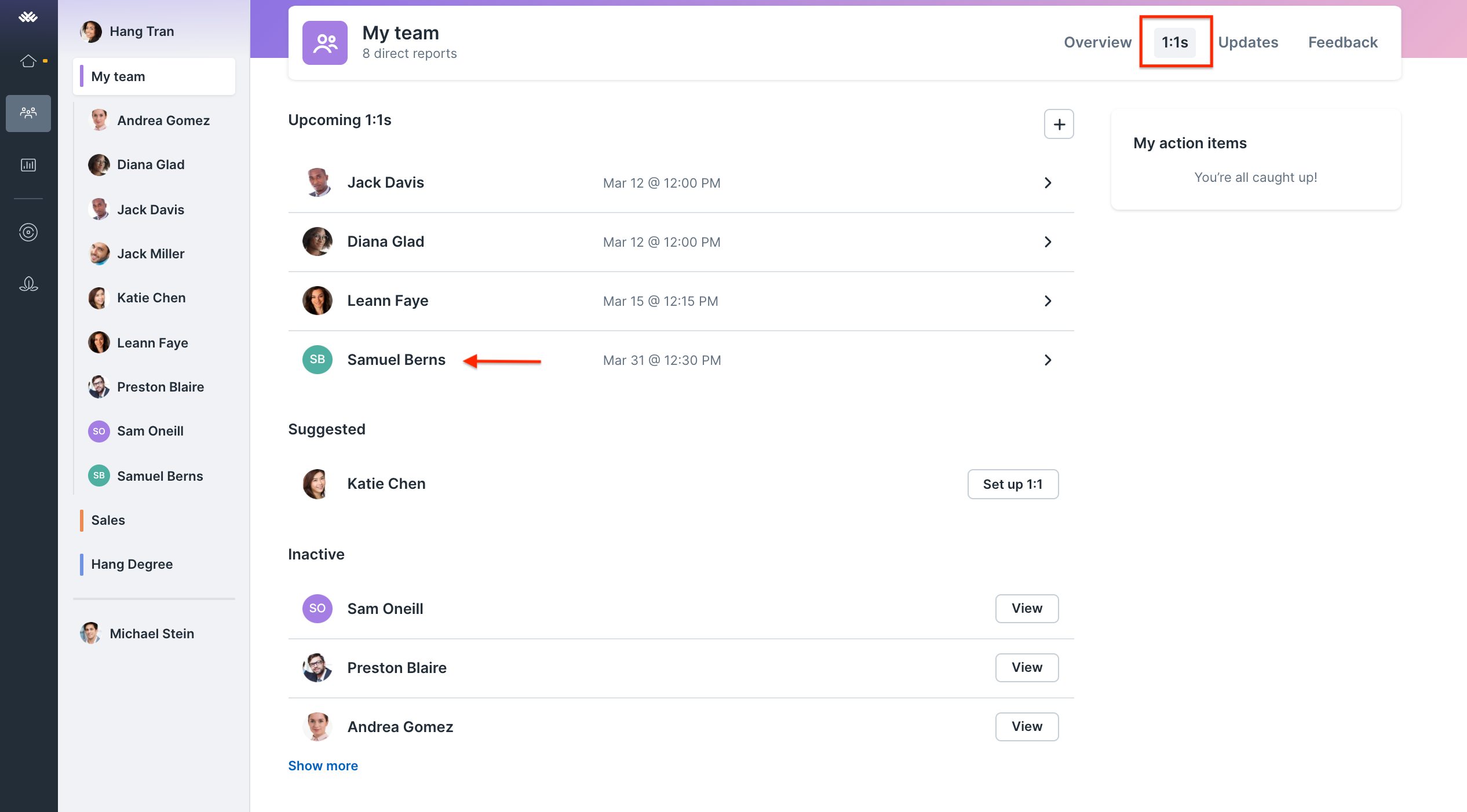 To add agenda items, add a new talking point and hit "Add."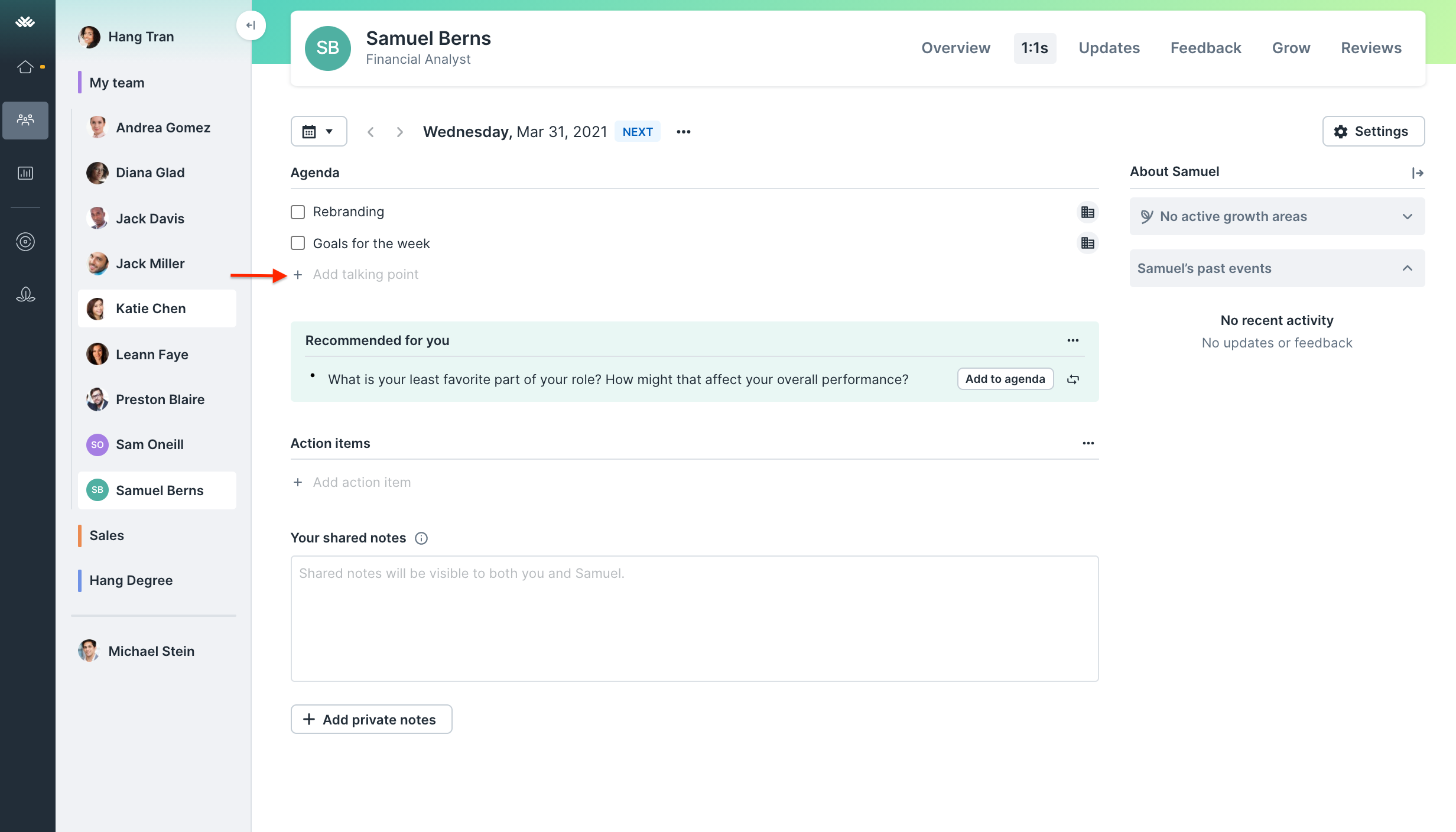 Two hours before the 1:1 meeting, both the manager and the direct report will get an email outlining what's on the agenda so that they can prepare for the meeting.
After the meeting concludes, the manager will receive an email asking them to check off which items were discussed, push items that weren't covered to the next meeting, and record any notes.
Notes can be left as both public and private. Public notes can be seen by your direct report and admin. Private notes will only be seen by the person writing the private note. Shared notes sync almost immediately, which means your direct report can see what you have written in real-time!

Navigating the 1:1 Context Panel as a Manager
When you view each direct report's 1:1, you will also see a context panel on the screen's right-hand side. Here, you will be able to view all past activity for your direct report.
Please note: This activity will vary depending on the tools that you and your Admin have enabled for your direct report.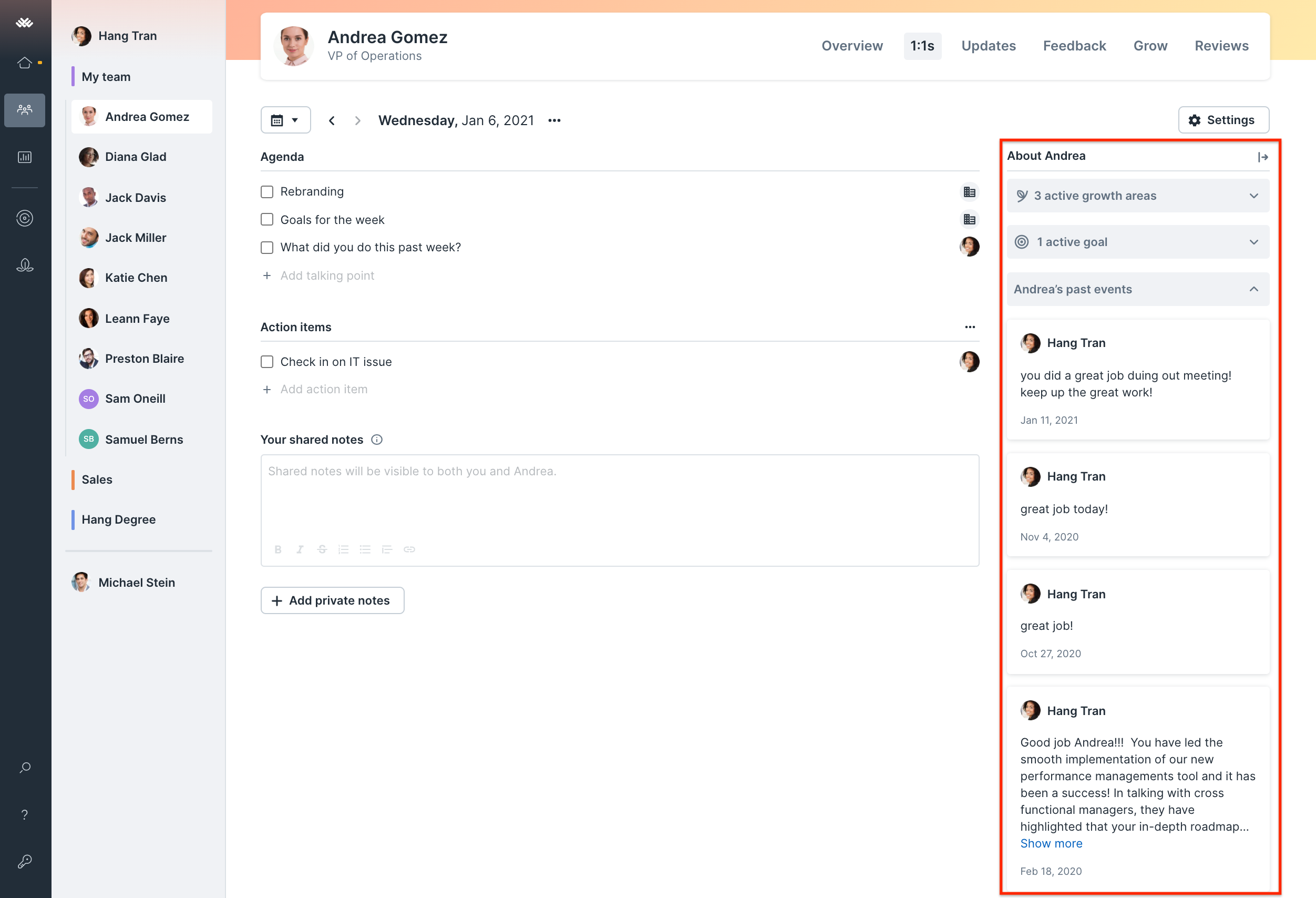 First, you will be able to click into this direct reports' active growth areas (if applicable). By clicking on "View growth plan," you will be prompted to the direct report's growth plan to view their growth areas in greater detail.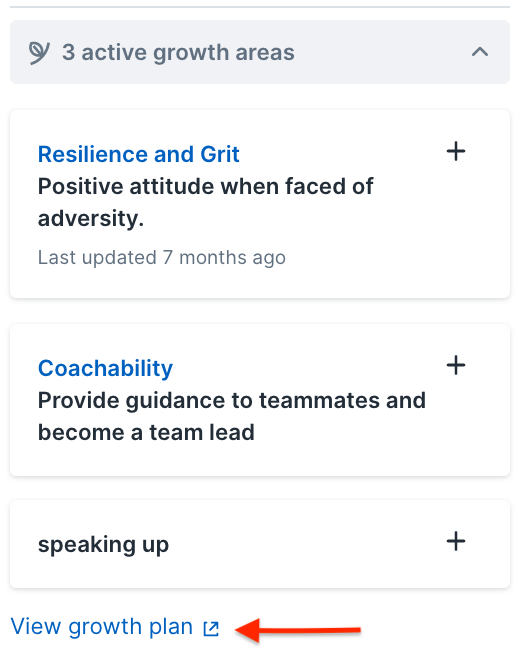 Next, you will see any active goals that this direct report is currently an owner of. By clicking on these goals, you will also be able to view those goals further.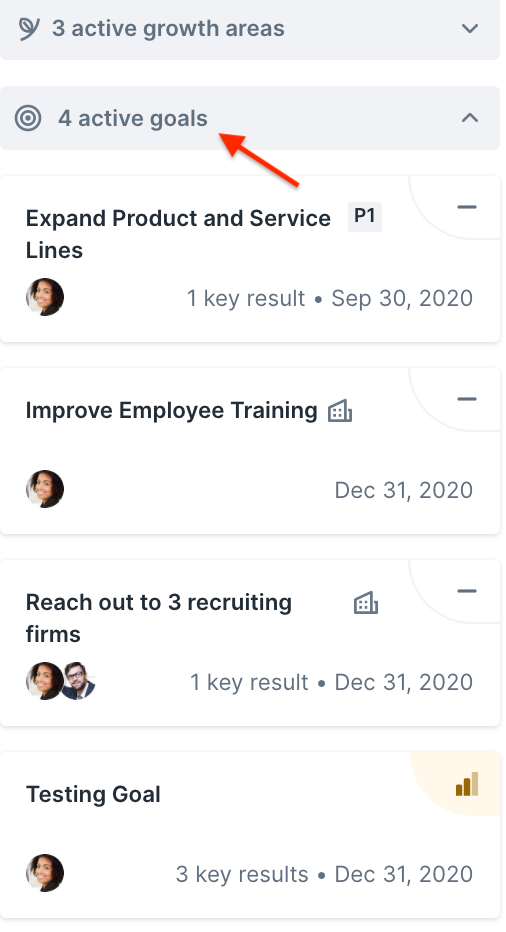 Finally, you will see any of your direct reports' past events. For example, if they have made an update to any of their Goals, you will view this activity here.
If you don't want to see the context panel, managers and direct reports can hide the context panel.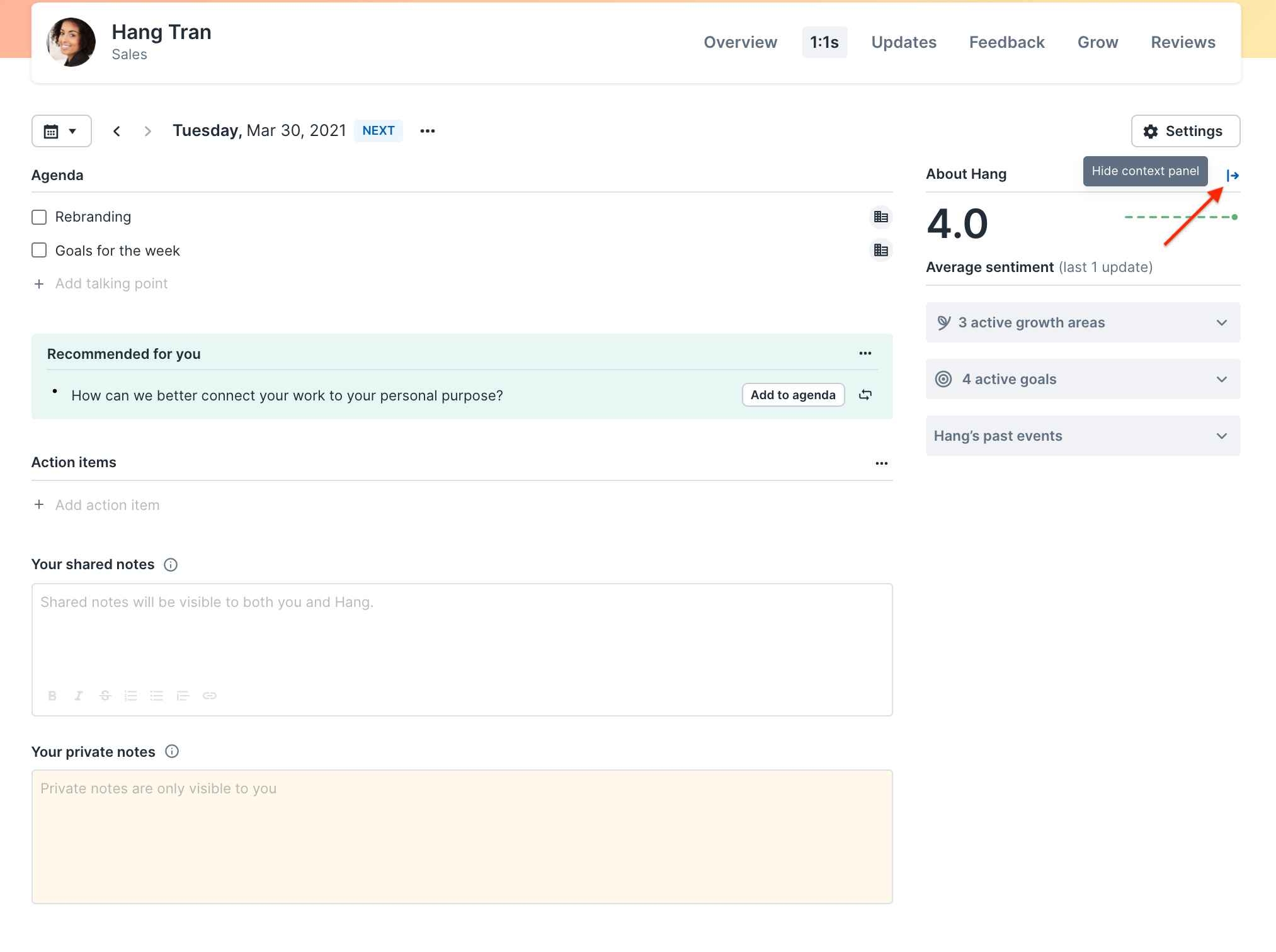 If you would like to learn more about our 1:1s tool, check our help center 1:1s section here.