How to optimize your Slack Integration by using Commands and Shortcuts
If your Lattice account has been integrated with your Slack account, there are a variety of Slack commands available in the Lattice app for you to seamlessly engage with Lattice through Slack! To access these commands, follow the simple steps below:
Step 1: Navigate to your Lattice App underneath the "Apps" section of your Slack instance.
Step 2: From there, you'll want to type "Help" into the text box and hit return.
Step 3: Make a selection based on which tool you would like to use.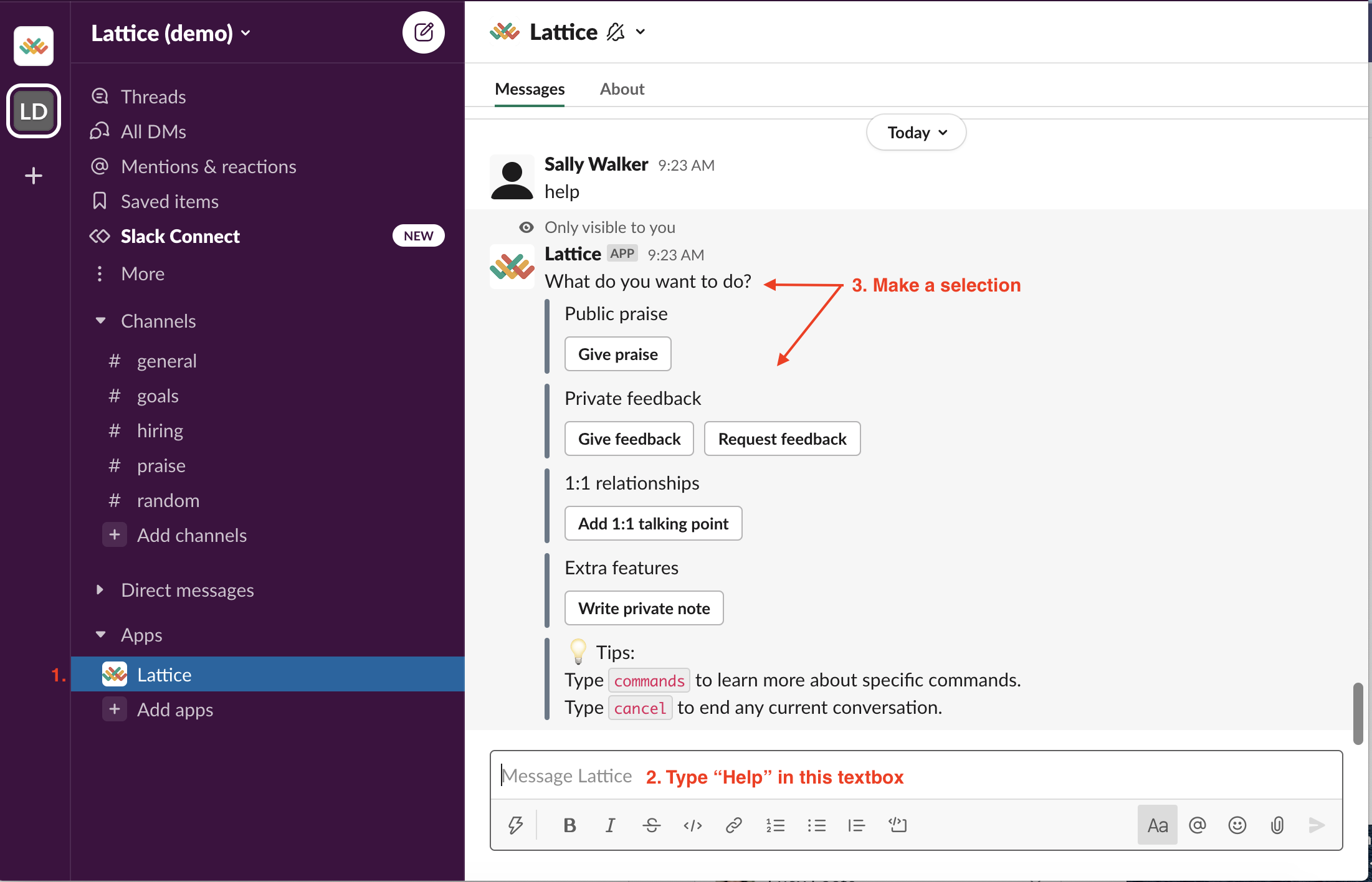 What Does Each Command Do?
Feedback
Give public praise
Give private feedback
Request feedback

View pending feedback requests
Request external feedback (if enabled by your admin)

Write a private note (for self or teammate)
1:1s
Add a talking point directly into your 1:1 agenda
"Give Praise"
Giving Praise through Slack allows for you to submit public praise for your colleagues directly through Slack. Keep in mind, this feedback will ALWAYS be public by default. Once you choose your colleague, you will see a pop up appear, prompting you to write your public praise.

"Give Feedback"
You can give private feedback directly in Slack by selecting the "Give Feedback" command. This option provides slightly more flexibility in the visibility offerings you would like to select for your feedback. Depending on what your admin has enabled for your organization, you may have more than just a "Private" visibility option (i.e. Private + Manager, Manager Only etc.).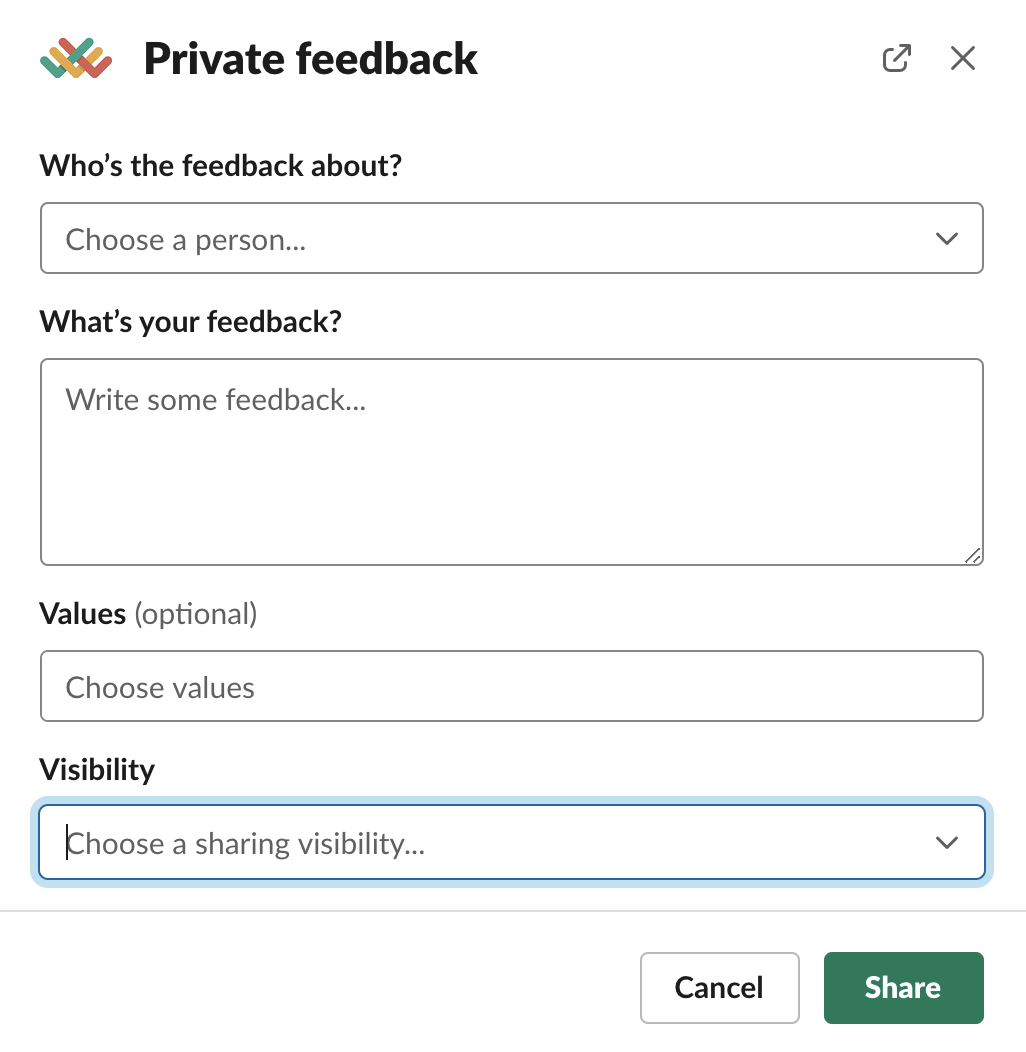 The difference between the "Give Feedback" and the "Give Praise" selection is that "Give Feedback" allows for you to select a visibility for your feedback based on what has been enabled by your admin.
"Request Feedback"
By clicking "Request Feedback" you will have a few options to choose from. You can request feedback from anyone within the company or on your team. You can view any outstanding feedback requests that you have asked for, but have not been fulfilled by your colleagues. And if your admin has enabled external feedback, you will be able to request external feedback from clients or other external parties.

"Add 1:1 Talking point"
If you work heavily in Slack, you can easily add talking points through this Slack command to ensure that any thoughts are captured within your 1:1 agenda in real-time. Keep in mind, you will need to have an active 1:1 in order to add the talking point to the agenda.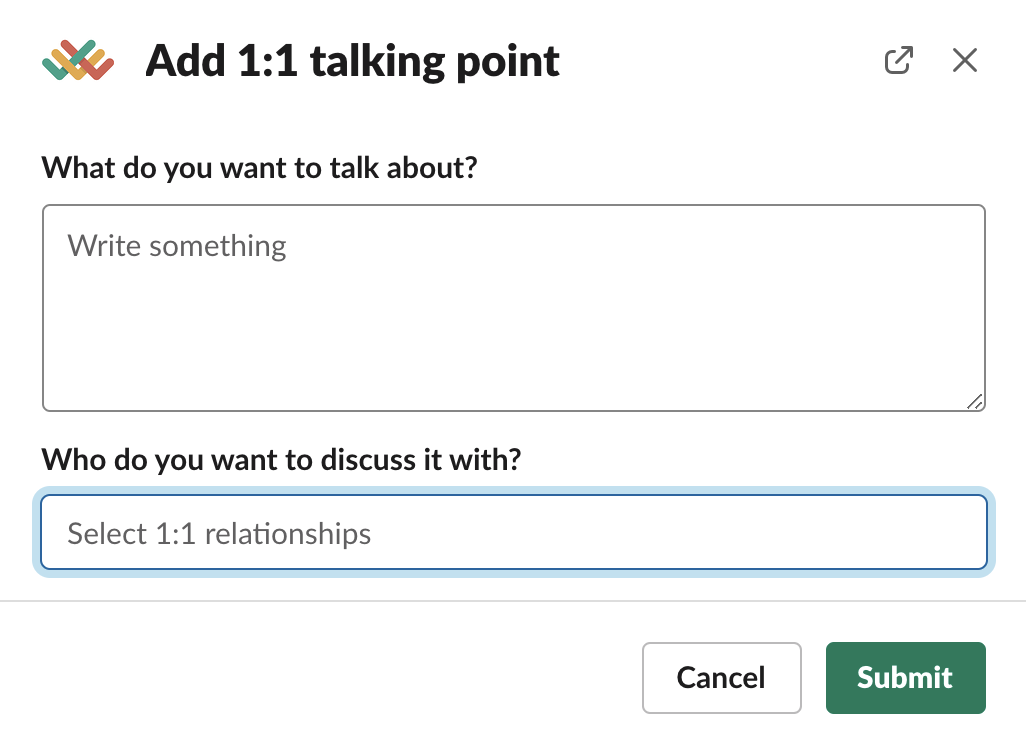 You can also add a Slack message as a 1:1 talking point by using a shortcut! This will be accessible by hovering over the message, clicking the ellipses that appears, selecting "More message shortcuts..." and scrolling down to select "Add as 1:1 Talking Point"

"Write Private Note"
You can use the "Write Private Note" command to compose a private note which will only be visible to you for reference at a later time. Private notes have been used to decrease recency bias and provide an accurate assessment of someone's performance during review cycles.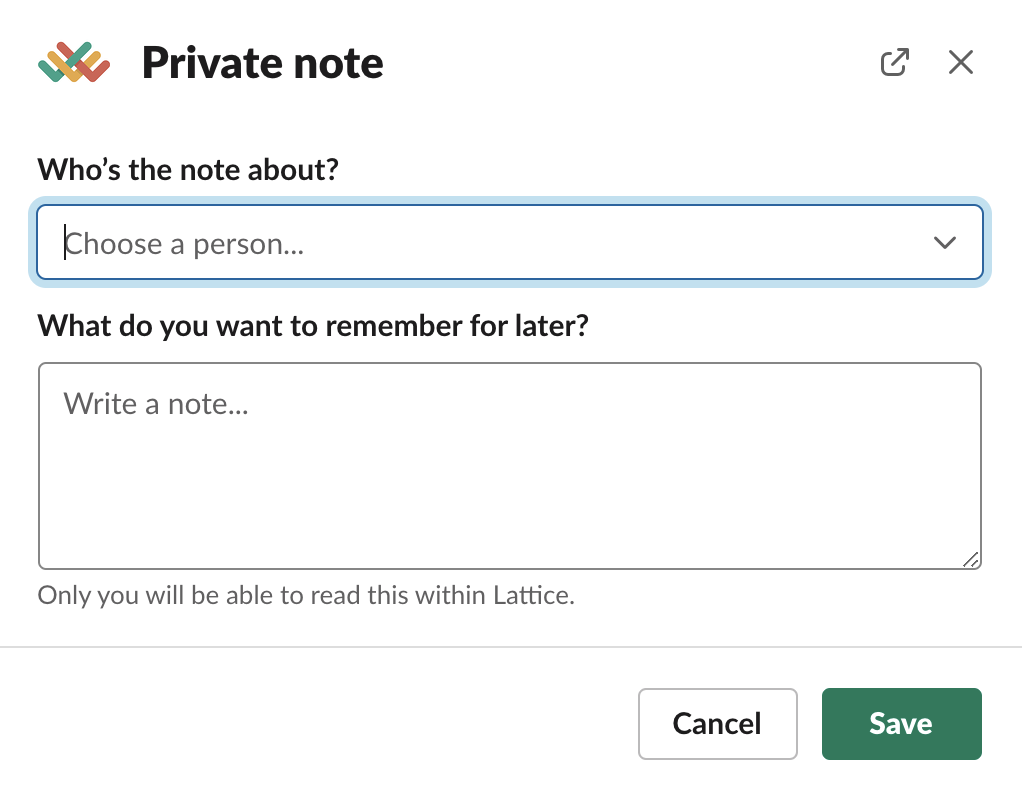 These notes will live in your Performance Toolkit on your profile page, under the "Feedback" tab OR in your Performance Reviews within the right hand context panel when selecting the "Feedback" list item.