Bring Grow into your review by including competencies into your review template for a track level evaluation
This article covers the following topics:
Before you start
Lattice gives you the ability to configure review templates so that reviewers get asked questions about competencies that are specific to the person they are reviewing. We'll walk through the process starting with creating your template below.
Please note that employees must belong to a published track prior to launching the review cycle in order to pull competencies into their review. If an employee receives a blank template because they did not belong to a track at the time of launch, please remove the reviewee from the cycle, add them to a published track, and then add them back into the cycle as a late reviewee.
Please note that adding late reviewers may result in a different template of questions than reviewers added earlier in the cycle. The competency questions generate based on the reviewee's track at the time you add the reviewer. We do not recommend editing, unpublishing, or changing employee tracks mid-review cycle.
Configure the template
Step 1:
Create a review template.
Step 2:
Set up your non-goals-related questions as normal.
Step 3:
Use the toggle button to
Include competencies in this template.
Step 4: Customize the wording of the question you want to ask about competencies, and choose how you want reviewers to respond.*
*The response types that are available are the same as in non-goals questions: rating, multiple-choice, and comment.
Set up the review cycle
Assign your competency-enabled template to the desired review groups as you're setting up the review cycle.
Step 1:
Create a review cycle.
Step 2:
Apply your competencies enabled template for the desired review groups by selecting it in the dropdown menus on the
Reviewers
page.
Templates including goals have the label Competencies enabled in the drop-down menu.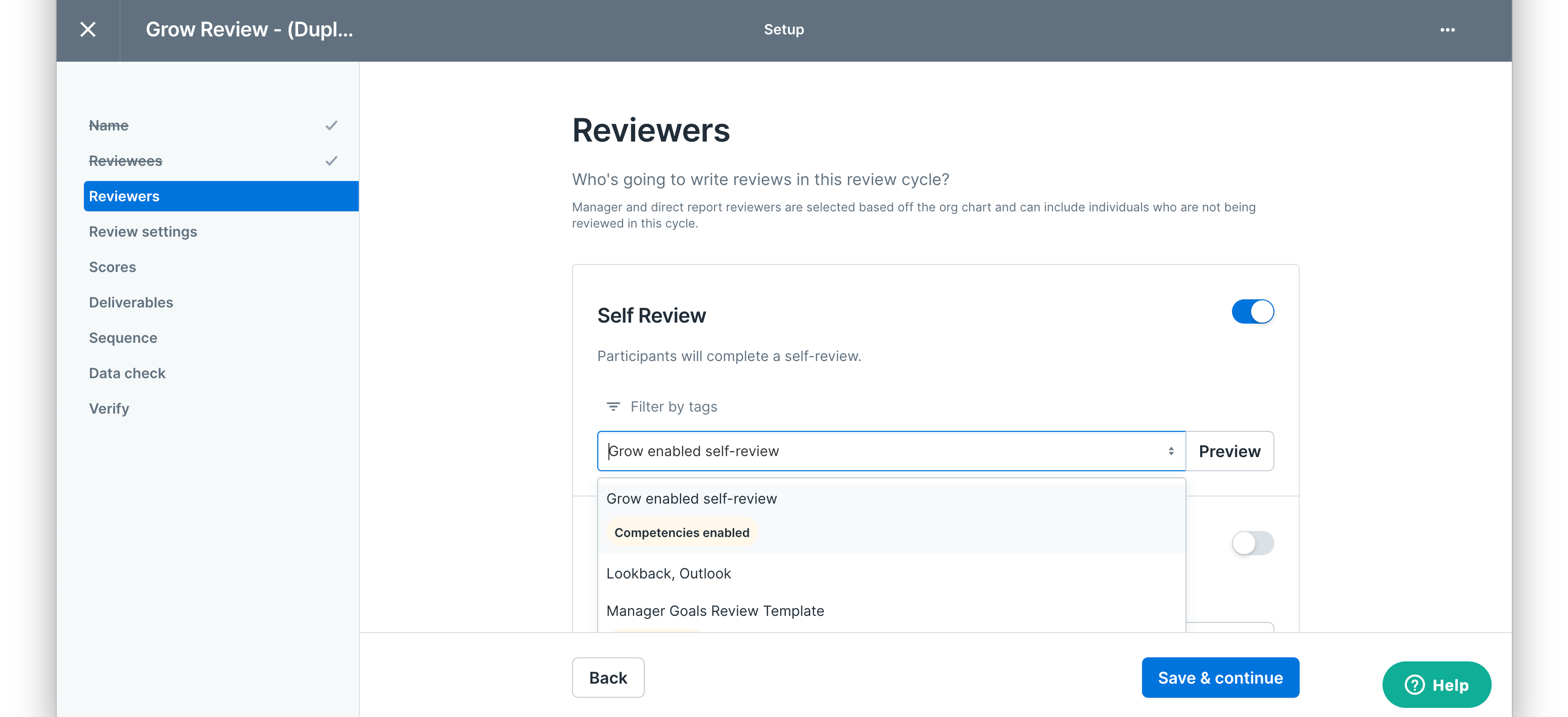 Write reviews
Reviewers will answer your competency-enabled question about every competency in the reviewee's track. The review form pulls in each competency as a separate question.