Lattice Compensation Benchmarks, powered by Mercer, allow you to view an international compensation dataset with millions of records across 90+ countries and 150+ cities. Performing regular compensation benchmarking ensures that salaries remain fair and are updated with current market trends.
Before you start
This article contains the following topics:
View compensation benchmarking
To access Compensation benchmarking, navigate to Comp > Benchmarking.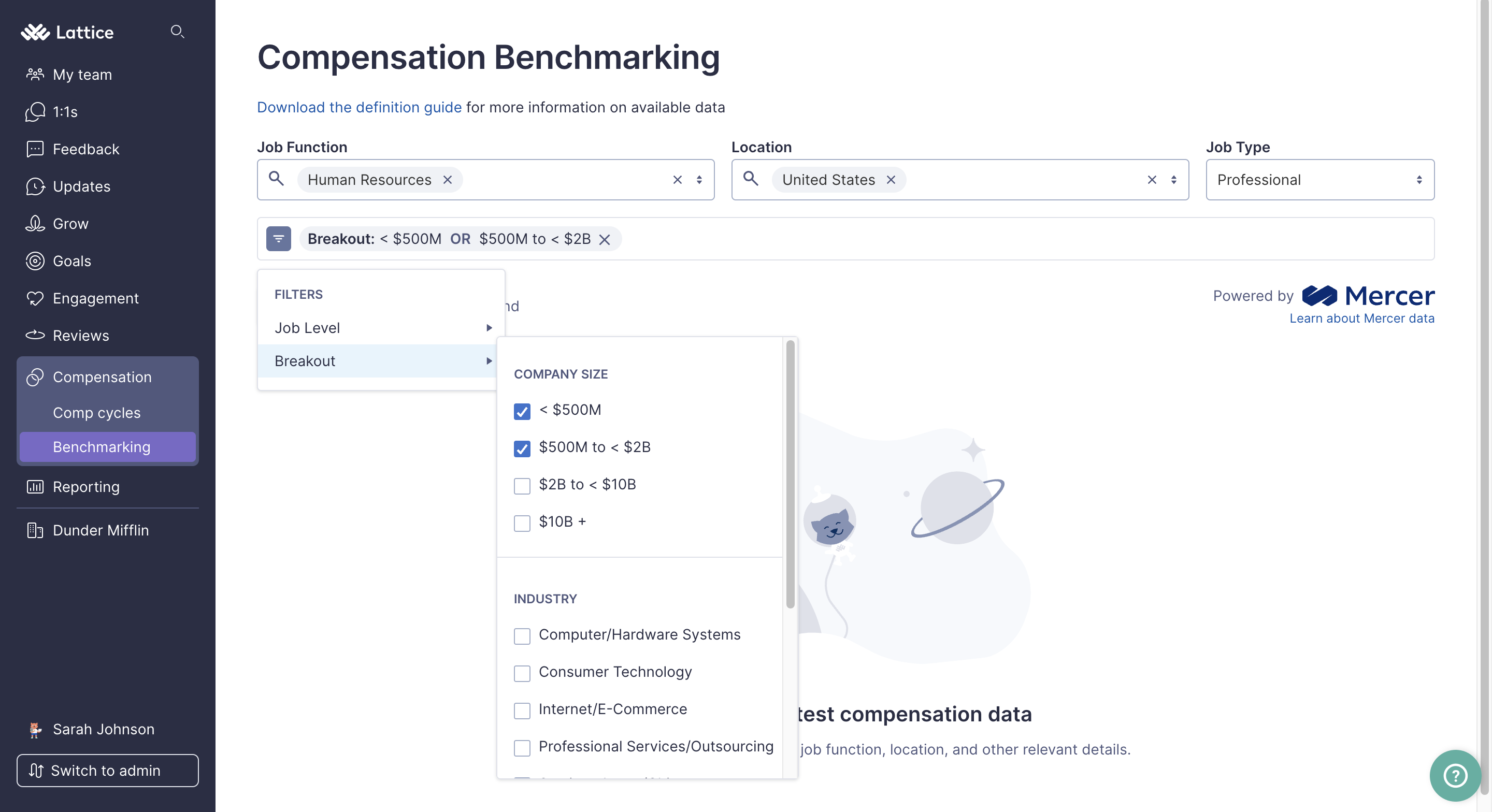 Filter and search
To view compensation results, you must select an option for the following required filters:
Job function

Location

Job type
You can select multiple options for Job function and Location to view results that meet one or more of the chosen criteria.
Within the Job function dropdown, click View all descriptions to view all job function descriptions with a modal. You can select a desired function and save to view the benchmarking data.
Optional breakout filters
Within the Filters bar, you can breakout the compensation data even further by selecting any of the following additional optional filters:
Job level

Company revenue size

Industry
Once filters have been selected, click Show results.
Save filters
You can save a search so you can come back to them in the future. To save a search:
Select your filters and click Save search.

Within the modal, add a title.

Click Save.
Compensation benchmarking
You can view results via the Compensation benchmarking visualization tool or table.
Visualization
The visualization graph monetary results for each job function. You can select up to 5 functions and filter your results based on job function, location, breakout. Compare your data using one of the following data points:
Base salary

Bonus + variable target

Bonus + variable actual

Total cash target

Total cash actual
Hover over each bar to view the 25%, 50%, and 75% percentile for each job level.
Table
By default, the table will include the following information:
Job function: The type of work being done by a group of employees
Job level/type: The category of career paths at a company and the level within the job type
Location: The location relevant for each salary benchmark
Breakout by: Compensation results based on an optional Peer (company revenue size or industry) filter. This column will not be visible if a breakout filter is not selected.
Currency: The currency of the benchmark
# of employees: The sample size of employees included in the benchmark data
Base salary: The fixed rate of compensation for a role that excludes any other cash compensation, such as bonus, variable pay, or overtime pay. The table includes the 25th, 50th, and 75th percentiles
Learn more about the compensation benchmarking definitions in Key Terms for Compensation Benchmarking .
Detail view
Click on a benchmark row to open the detail view panel. The panel includes:
Location

Job function

Breakout filter, if selected

Job function description, if available

Job level description, if available

Sample size, including # of companies and # of employees

Compensation data by 25%, 50%, and 75% percentile:

Base salary

Bonus target

Bonus actual

Total target

Total actual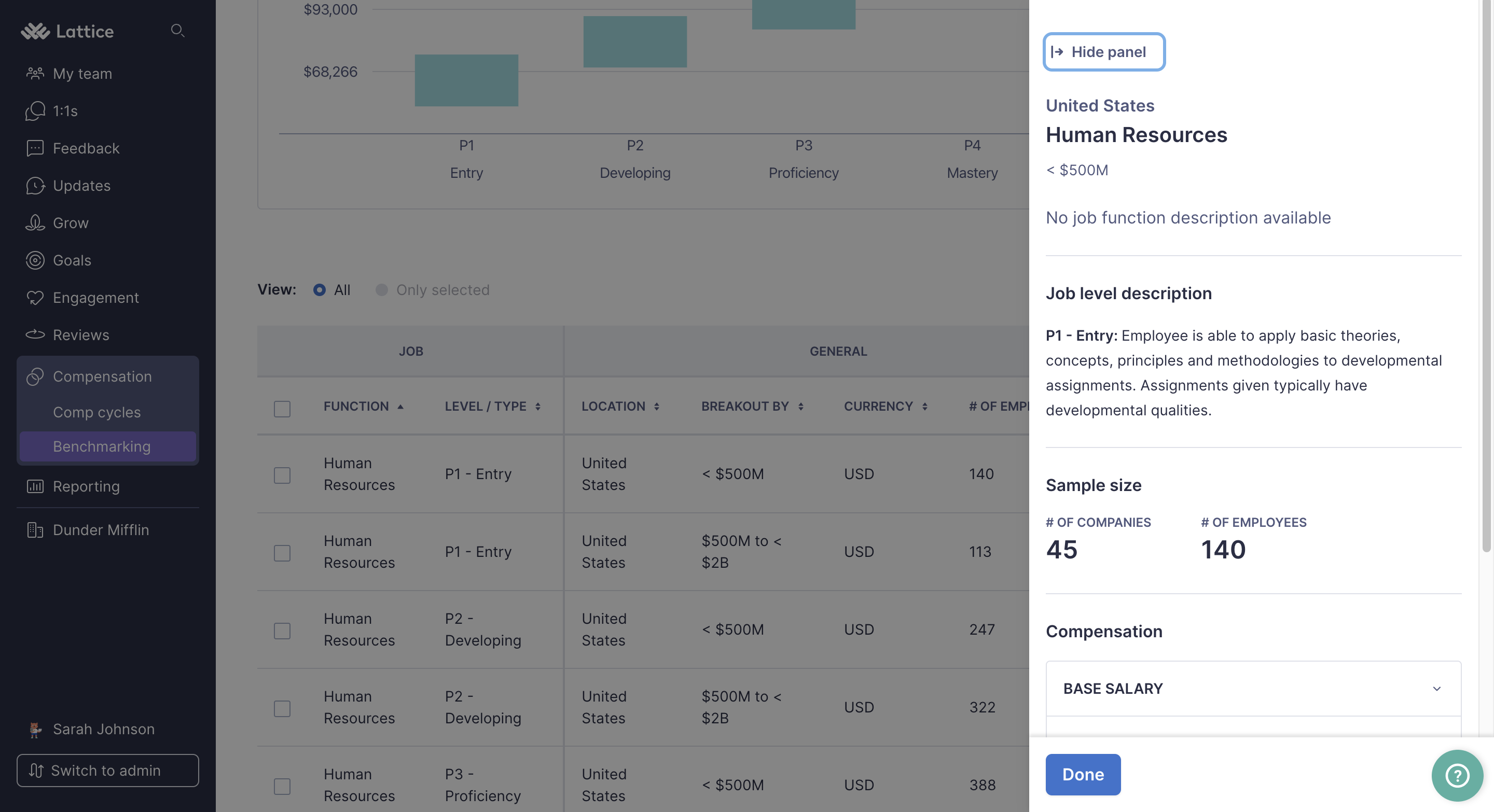 Show or hide columns
To show or hide columns and information in the table, select the column icon button and select or deselect one or more additional columns.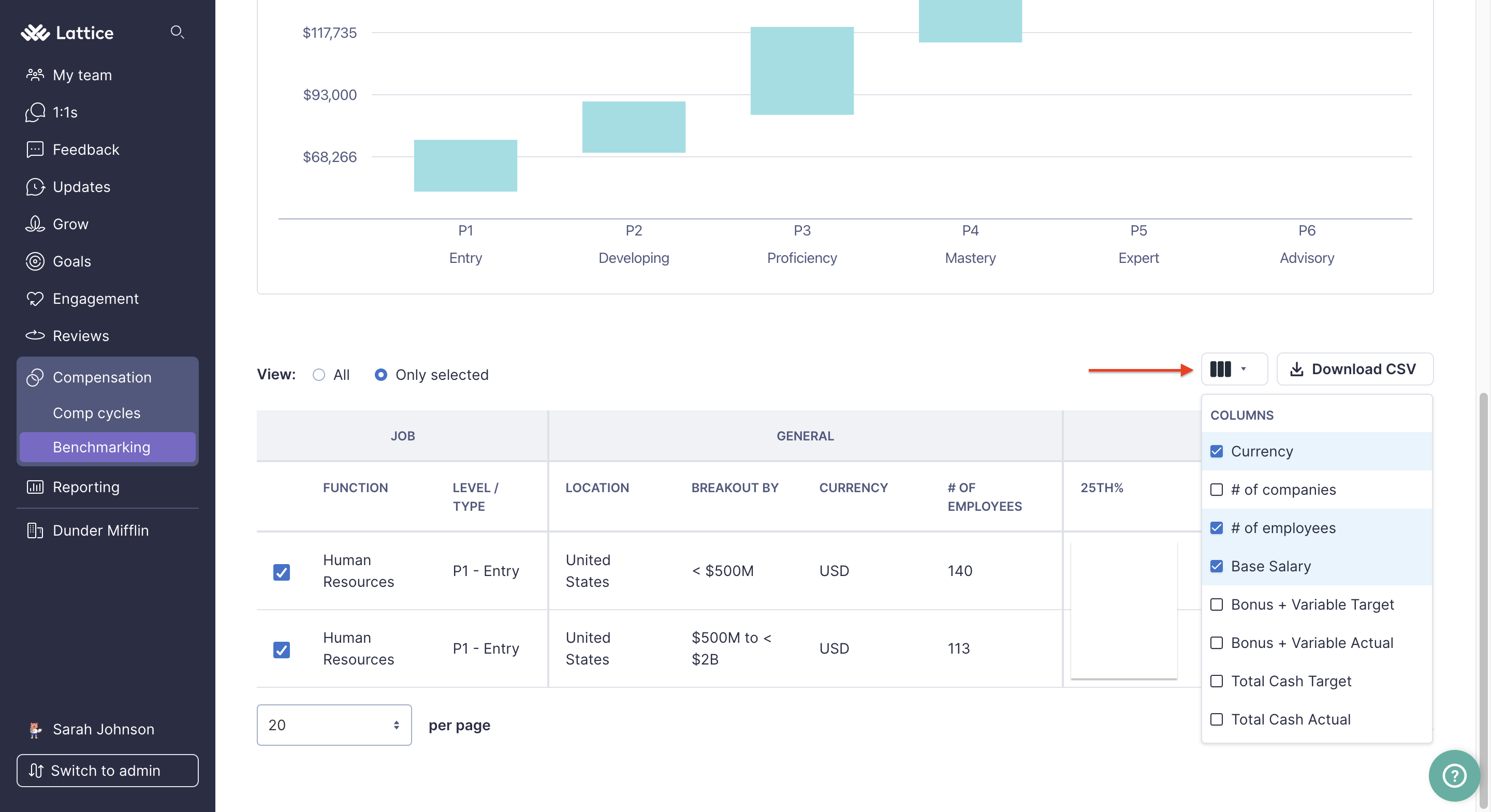 Curate the Compensation benchmark table:
View only selected rows
You can view only benchmarks of interest by selecting one or more rows and clicking the Only selected option.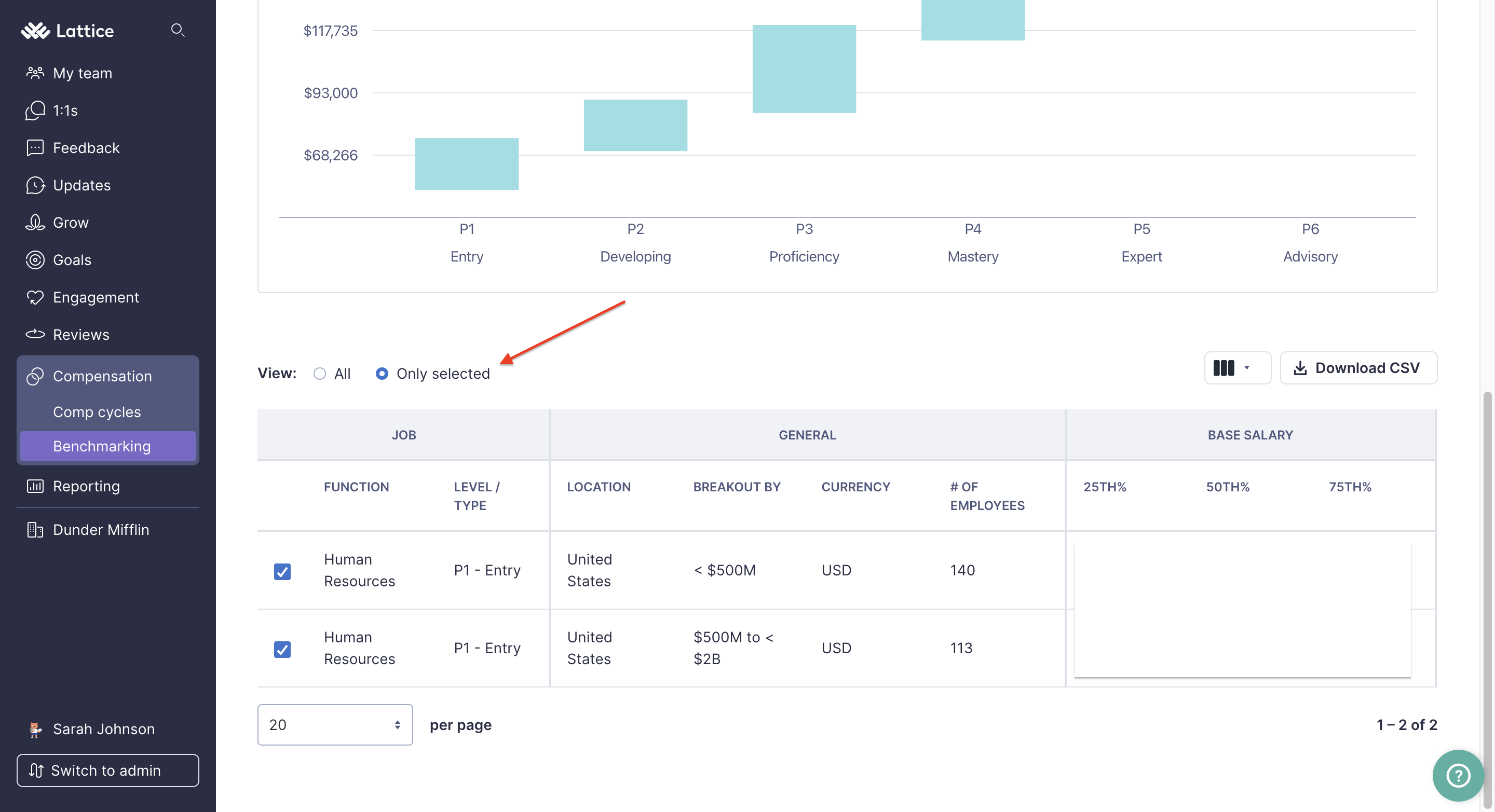 Export the Compensation benchmarking table as a CSV
Export the compensation table by clicking Download CSV. The export will include all columns and benchmarks that meet the filters, even if hidden from the view.
Note: Downloads are not available for lists of more than 1000. Add additional filters to break down the data even further.