The Budget page of a compensation cycle setup allows admins to set a budget and calculate the projected spend for the compensation cycle.
Budget
This budget guidance will help support recommenders in making compensation decisions. The following can be completed when setting a budget:
Set the budget:

Calculate the overall target budget using an average percent (%) increase on total pay under

Increase/employee

for each eligible employee or entering a lump sum amount under

Total budget

.

Promotion raise guidance:

Provide recommenders with an automatic calculation for raises for people who are promoted to their new band using a compa-ratio. Note that this option is only available if you have uploaded promotions within the Participants page.

Merit raise guidance:

Provide recommenders with a raise guidance for each eligible employee by entering a target percent increase on total pay

If you have linked performance reviews, you can set certain percent (%) merit increases based on scores.

If no performance reviews were linked, the percentage (%) would apply to all eligible employees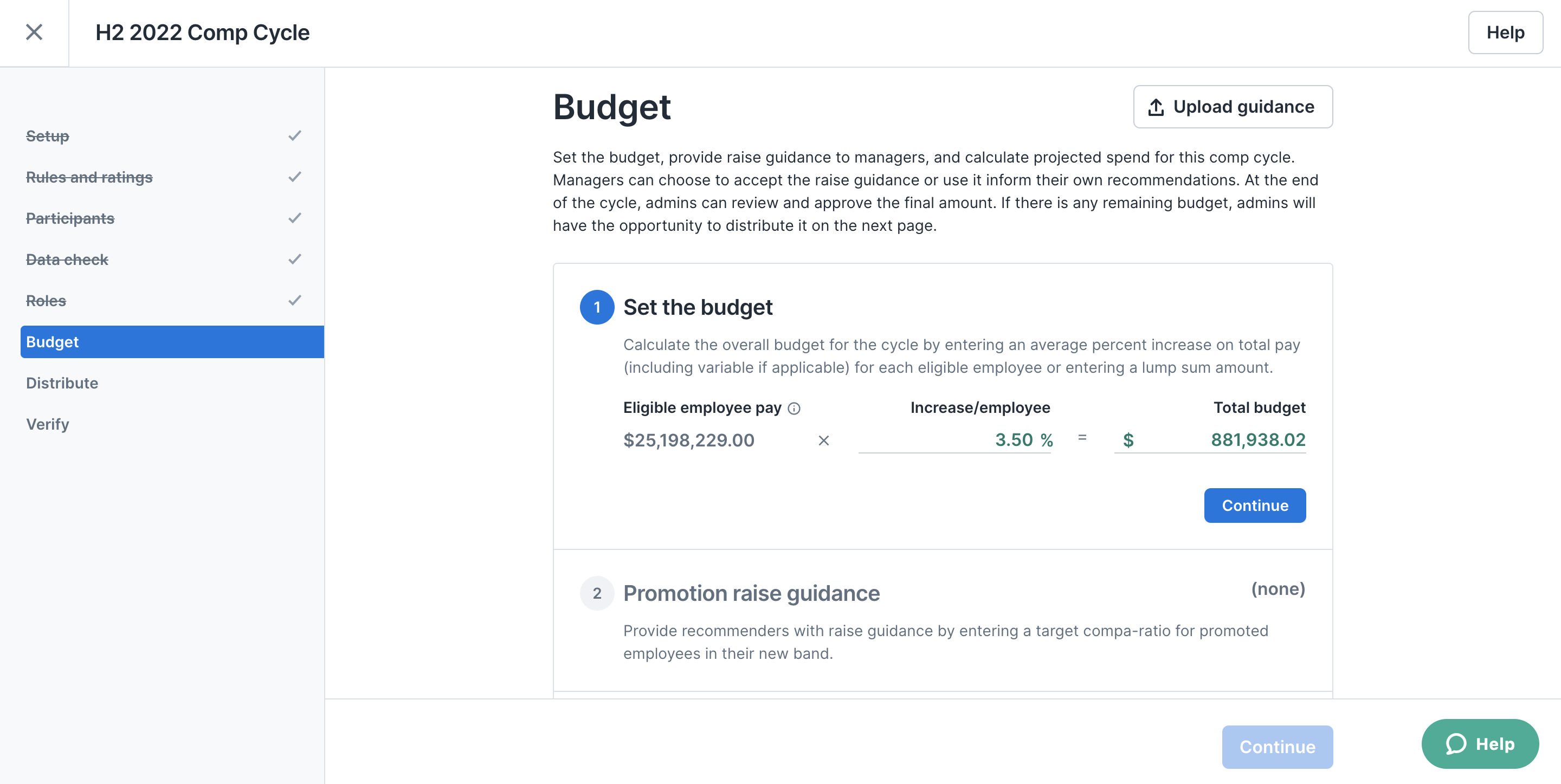 Projected distribution chart
The Projected distribution chart shows the budget breakdown by the three existing categories: promotion guidance, raise guidance, and remaining budget.

If promotion and merit raise guidance exceeds the total budget, you will receive an exceeding budget error and be requested to adjust the budget or raise guidance.
Bulk update raise guidance
Admins can make bulk te raise guidance by uploading a CSV.
To upload a CSV:
Select

Upload guidance

.

Download the

Raise Guidance CSV template

.

Update the Raise Guidance column with your own values

Upload the updated CSV.

Select

Save

.