Once a compensation cycle has been launched, managers of managers will receive a notification prompting them to complete their compensation review for their direct and indirect reports.
Managers of managers are responsible for the approval of recommendations submitted by those in their organization and will see a view that includes approving, in addition to recommending.
This article contains the following topics:
Complete your compensation review
Within the

Home

page, select the

Complete your compensation review

task.
OR
If you are an admin, enter the

Your team

tab within the compensation cycle.
Recommender
You will have the opportunity to provide recommendations for your own direct reports under the My direct reports section.
Read Complete your compensation review: Recommendations to learn more about the comp recommendation process for your direct reports. Note: Most of the information and tasks are similar to the manager recommender view. The key difference is that explanations that justify your recommendations are submitted by clicking on the Notes icon within the Actions column. Justifications will only be visible to those above you within your reporting chain.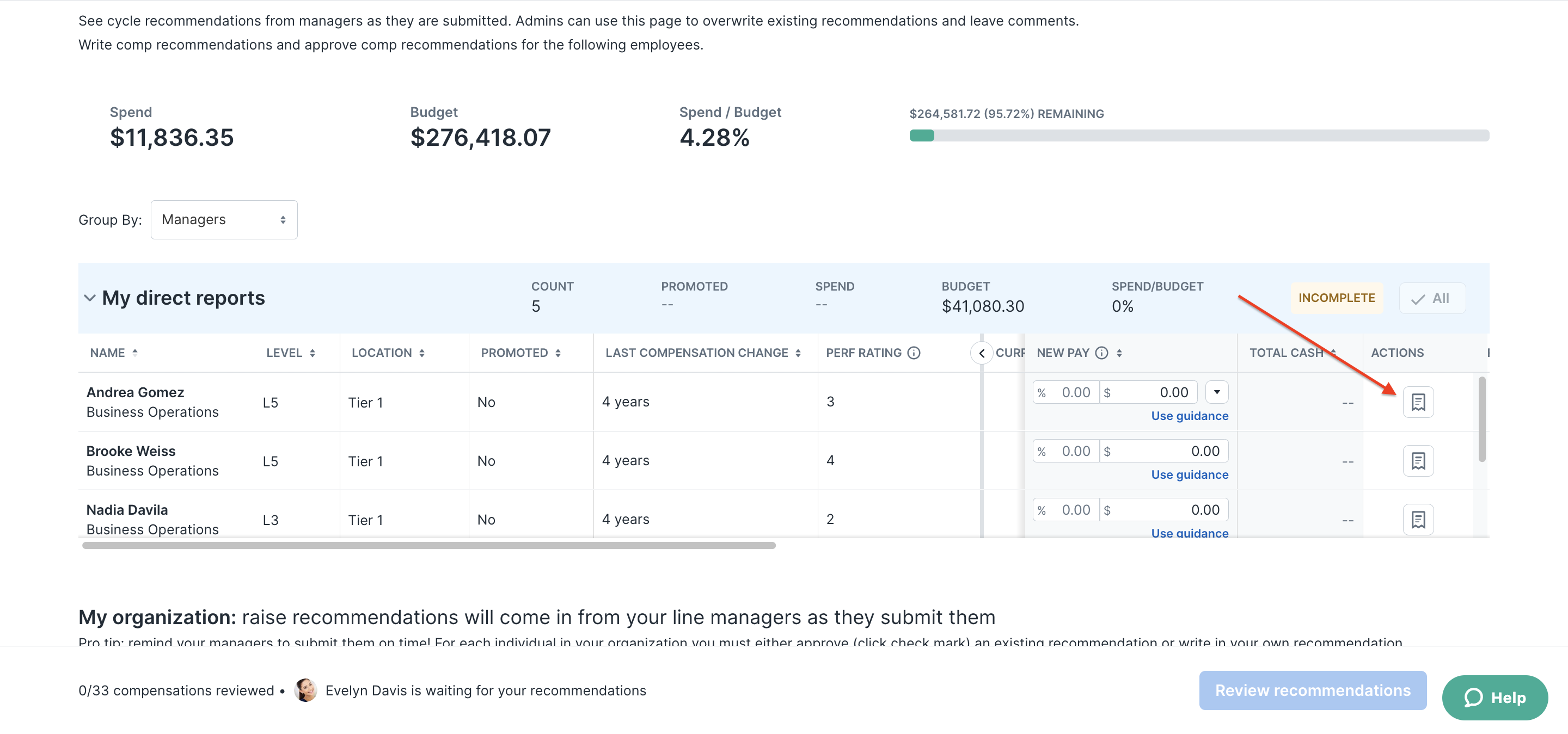 Approver
Under My organization, you will be able to view and approve all recommendations submitted by your team for their direct reports. Expand each manager's section to view a table of their direct reports and recommendations.
To submit this page, you will need to act on each person in your organization by either:
Writing in a recommendation

if none was provided by your direct report

Approve a recommendation

that was supplied by selecting the checkmark next to an individual's name or selecting the

All

approve button.

Override a recommendation

that was supplied by re-inputting the new pay as a percentage (%) or new total pay.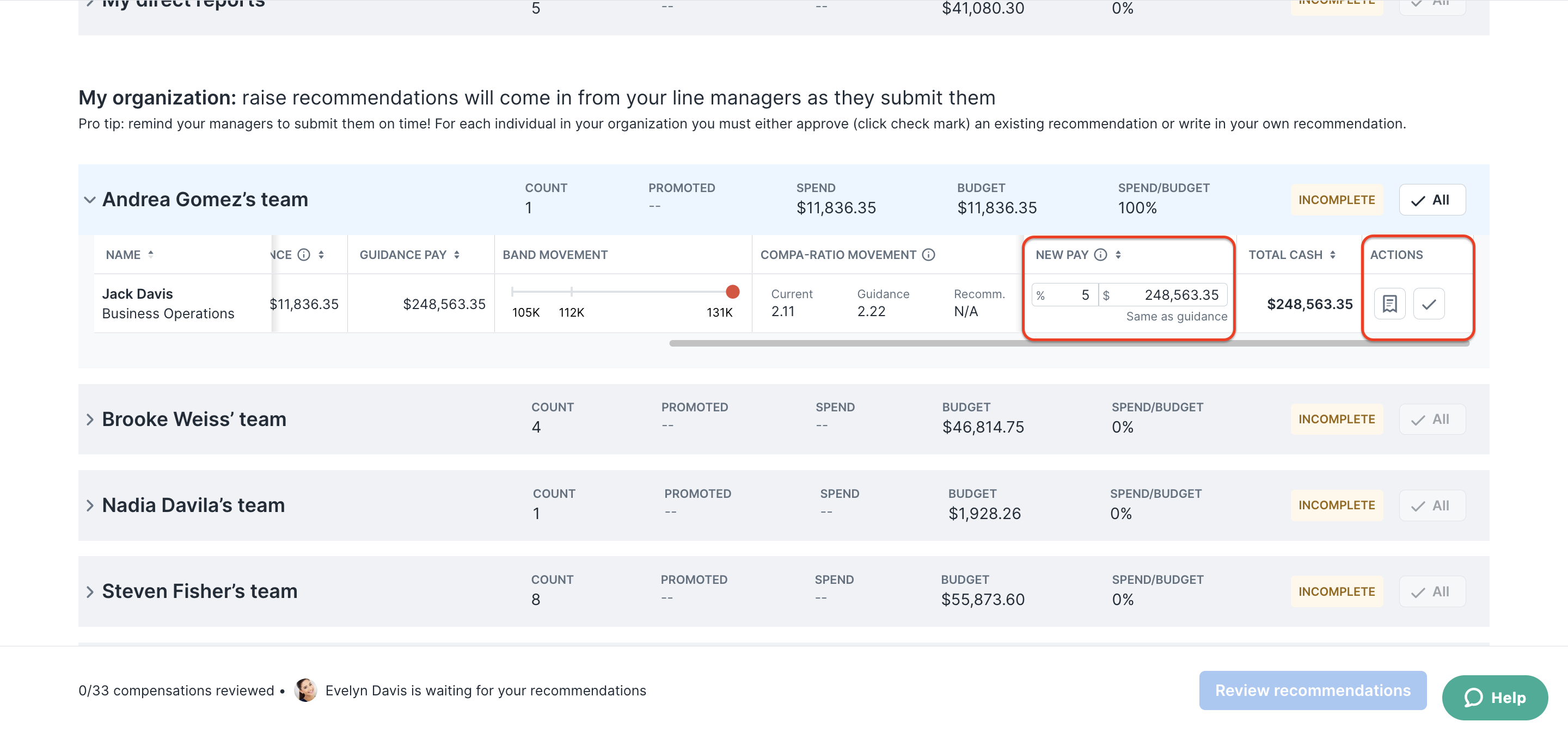 Select Review recommendations to continue.
Keep track
The page footer will track how many recommendations and approvals you have completed and how many are outstanding. The next person in the compensation process, the approver, will be shown here.
Confirm changes
The Confirmation page allows you to review your compensation adjustments.
Reviewed and modified:

Includes any employees you adjusted compensation for. These will typically include your recommendations.

Reviewed without modification:

Includes any employees you approved compensation for without adjusting compensation. These will typically include your direct report's recommendations that you approved.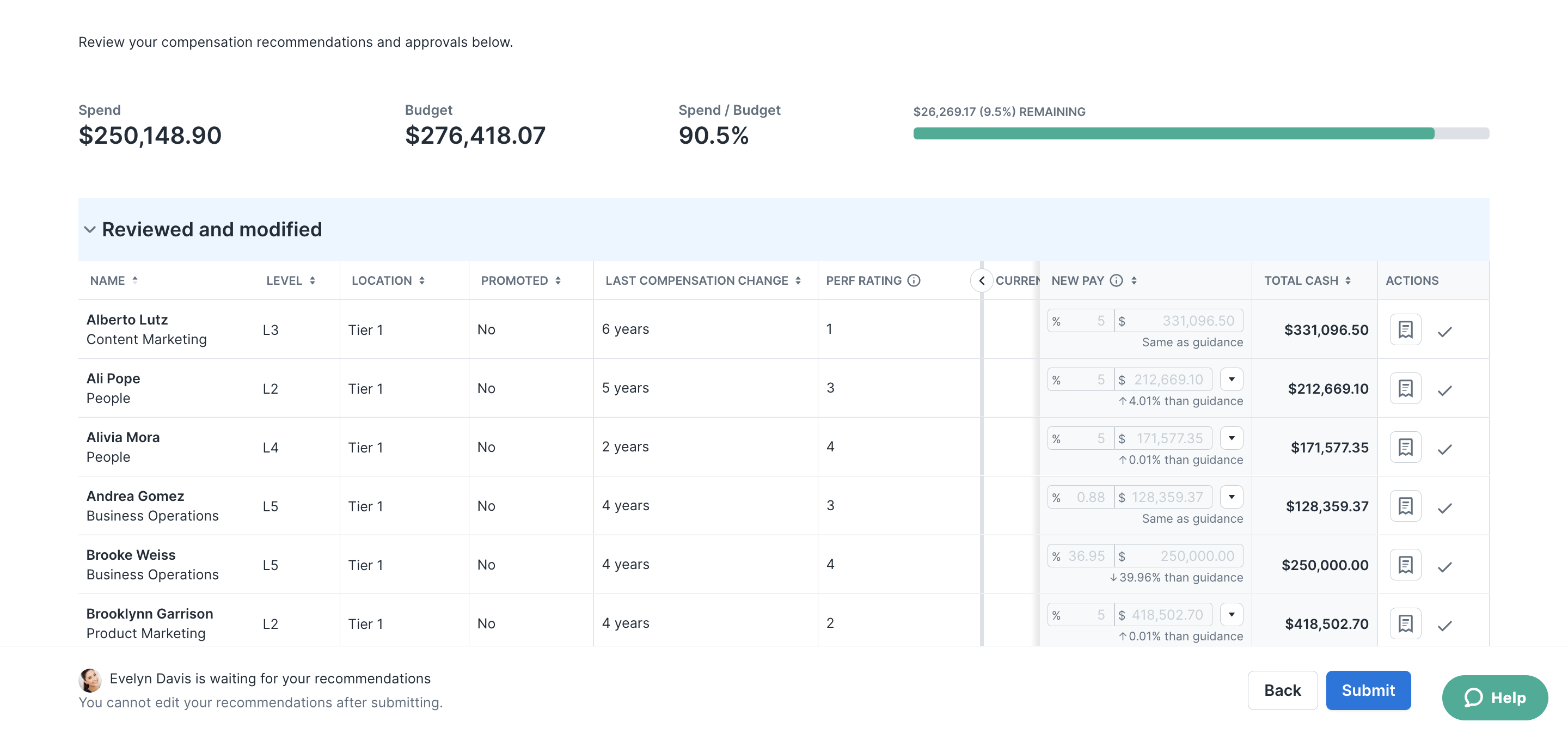 Select Submit to finalize your recommendations. Note, that approvals cannot be edited once submitted.