Once you have navigated to the Notification Center, there are two options for how notifications can be sent when it comes to our Goals tool— through Slack, MS teams, and/or through Email.
Goal notifications are sent as follows:
When someone comments on your goal
When someone likes an update made to a goal
When a goal co-owner posts an update to your goal
When someone is added as a goal owner
A reminder to update your goal
A goal digest of goal updates or newly created goals
Please note: Employees will not be notified if they are removed as an owner of a goal
To send these through Slack or email, you can check on the boxes to the right of "Goals", as shown below. Make sure to press the blue "Save changes" button when you're finished.
Notifications will be sent to employees who own goals when:
There is a comment posted on one of their goals
Someone likes an update made to a goal
A goal co-owner posts an update on a goal that another individual also owns
An employee is added as a owner of a goal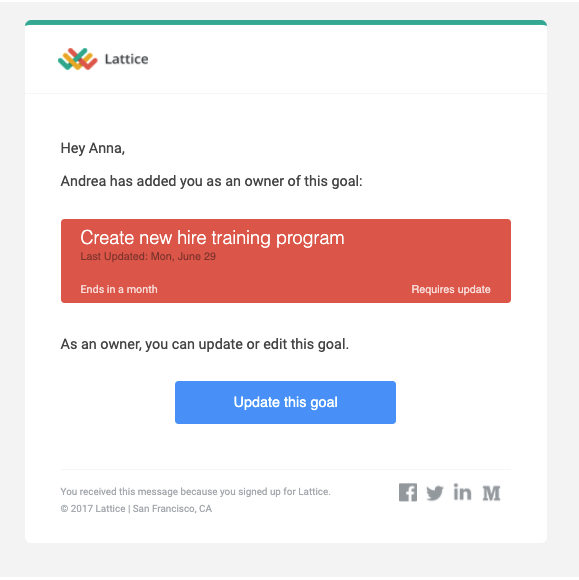 Employees need to update a goal
Note - this is based on the reminder cadence set by Admins. Notifications sent out at the set cadence on Thursdays at 20:00 UTC.
Goal Digest*: A list of goal updates or newly created goals for a manager's team. For individual contributors, those updates include when a company goal has been updated. Managers will receive the digest email when their direct reports have made an update to their goal.
Note: Goal Digests will follow the same cadence you set for your goal update reminders with a week delay. For example, if you have an update reminder cadence set to remind goal owners 2x a quarter, 2x a quarter, the week after the reminders go out, the digest will go out. You will only receive the digest if there are updates that need to be communicated.
*no private goals are included in the digest, neither company nor team digest.