How to set up an engagement survey in Lattice
Before you launch
Creating a survey
To start setting up your first survey:
Navigate to Admin > Engagement > Surveys.
Click Create new survey > Start from scratch.
Designing your survey
Settings
When creating your survey, there are just a few settings to configure: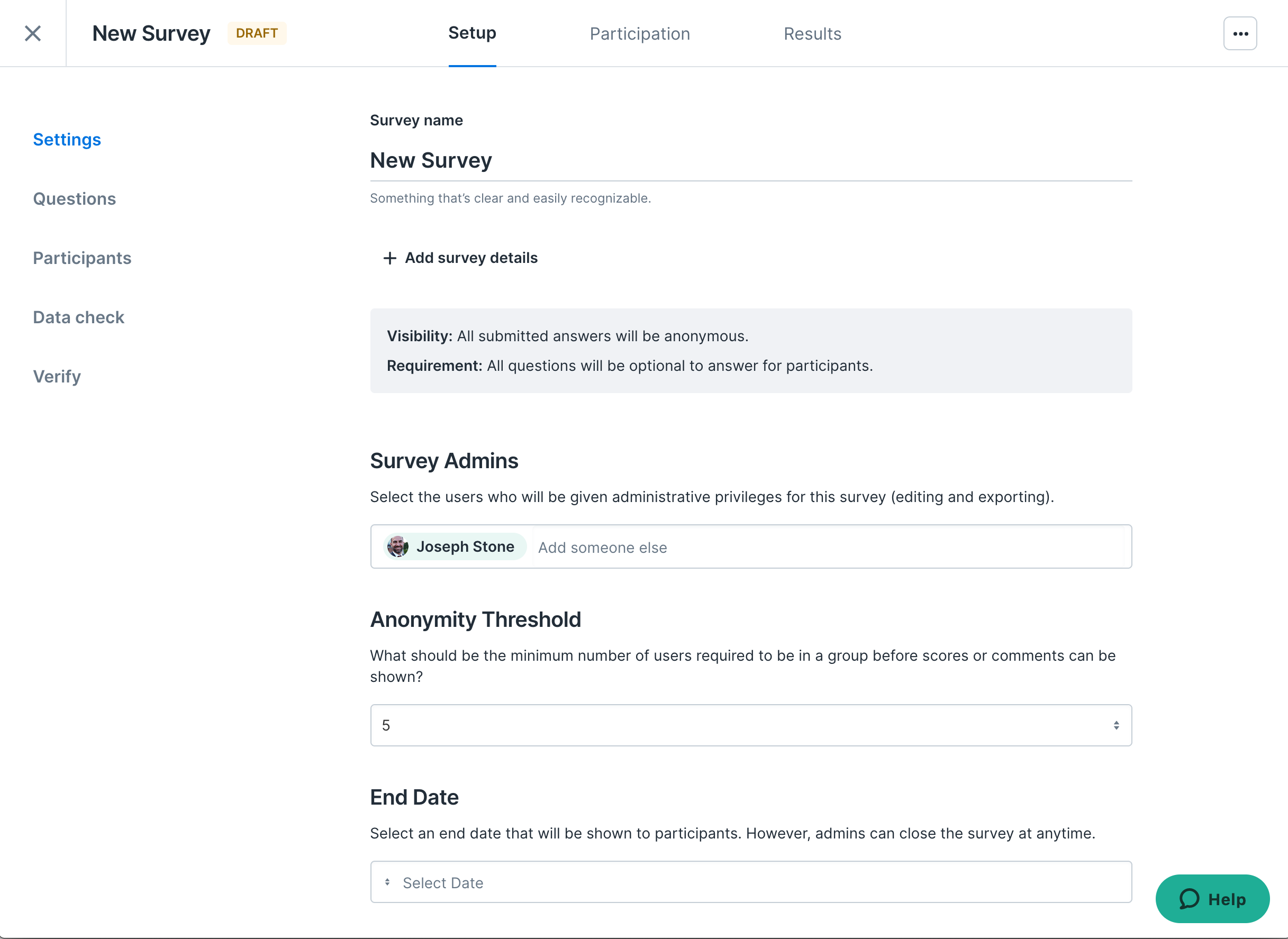 Name
Give your survey a name that's specific so that down the line, you can easily find it again. We recommend having the type of survey and the date in the name, for example, "Employee Engagement, July 2018".
Survey Details
Survey details help provide employees a brief description or instructions to help them respond to the survey. For example, you can link to outside resources that give participants a better understanding of their expectations. You can also use the description to clarify language - such as a callout to keep their direct supervisor in mind whenever a question references the word "manager". Remember to keep it brief; longer descriptions have the potential of increasing bias. Survey details will be shown to all participants before starting the survey and are accessible throughout.
Survey admins
Employees that are survey admins can configure survey settings and have full access to the anonymized results. You can set admins on a per survey basis. This means that any employee can be an admin of a survey without having administrative access to other parts of Lattice (reviews, private feedback, etc.), including other engagement surveys. You can come back to this step even after your survey has launched to add or remove any survey admins.
This threshold sets the minimum number of responders there needs to be to view the scores for a question or theme. The threshold protects all responders by providing an additional layer of anonymity. You can find more information about thresholds in our Adjusting the Anonymity Threshold in Surveys article.

End date
This is the date communicated to survey participants on when the survey will end. The survey will not automatically be closed on this date, a survey admin will need to manually end the engagement survey. Both admins and survey participants who have not submitted their survey will be sent a reminder two days before this end date. We recommend setting an end date a couple of days before when you want the survey to end. You can also come back and change this date after your survey launches.
Questions
The first step (and one of the most important steps) of the engagement survey process is deciding which questions you're going to ask.
Lattice Surveys comes with a question bank developed in partnership with the University of California, Berkeley Social Sciences Department. These questions would work well in any organization looking to run a general engagement survey. If you wish, you can also add your own custom questions to the survey.

Participants
Choose who you want to fill out your survey. We recommend selecting everyone in your company, but you can also select a specific subset of employees to participate. By clicking "Specific Employees," you can use the filter to select/bulk select and add participants of departments, reporting relationships, or custom attributes. Alternatively, you can also upload a CSV with participants.
Additional survey participants cannot be added after the survey has been launched.
Note: Selecting "All employees" as participants of a survey will include all Active, Invited, and Created state users. This means that you can launch a survey, and any users who are either Invited or Created will be prompted to fill out the survey when they activate their Lattice account. Invited users will receive a launch notification, but Created users will not receive the launch notification.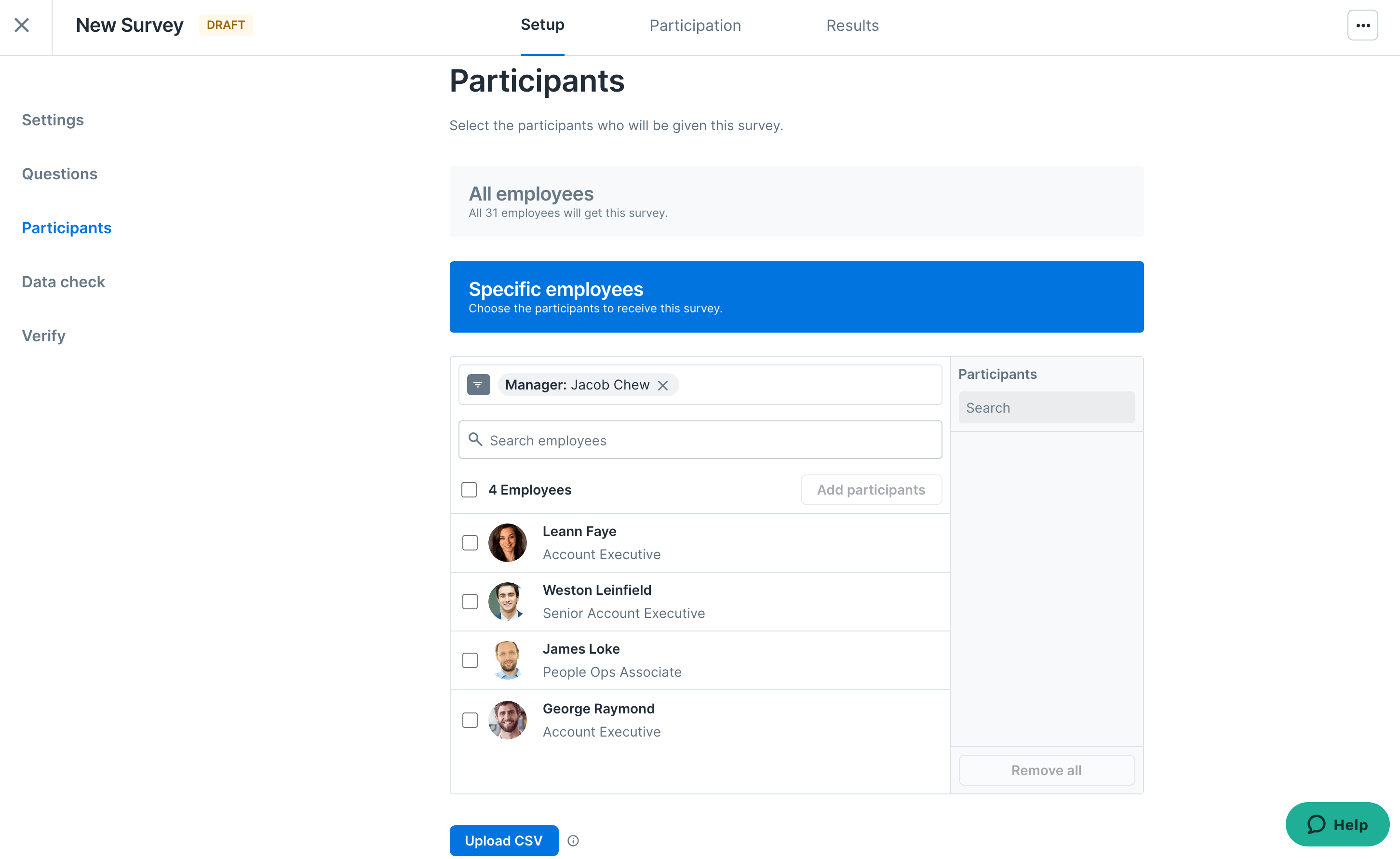 Data Check
User attributes are used to segment your survey results, which are based on employee data as it exists at the time of launch. It is important to double-check your data to get the most accurate insights.
For deactivated users: If employees were active at the time of creation (not publishing) and then were deactivated, they will continue to appear in the data check if they originally were missing attributes. However, the archived employees will not be sent a survey.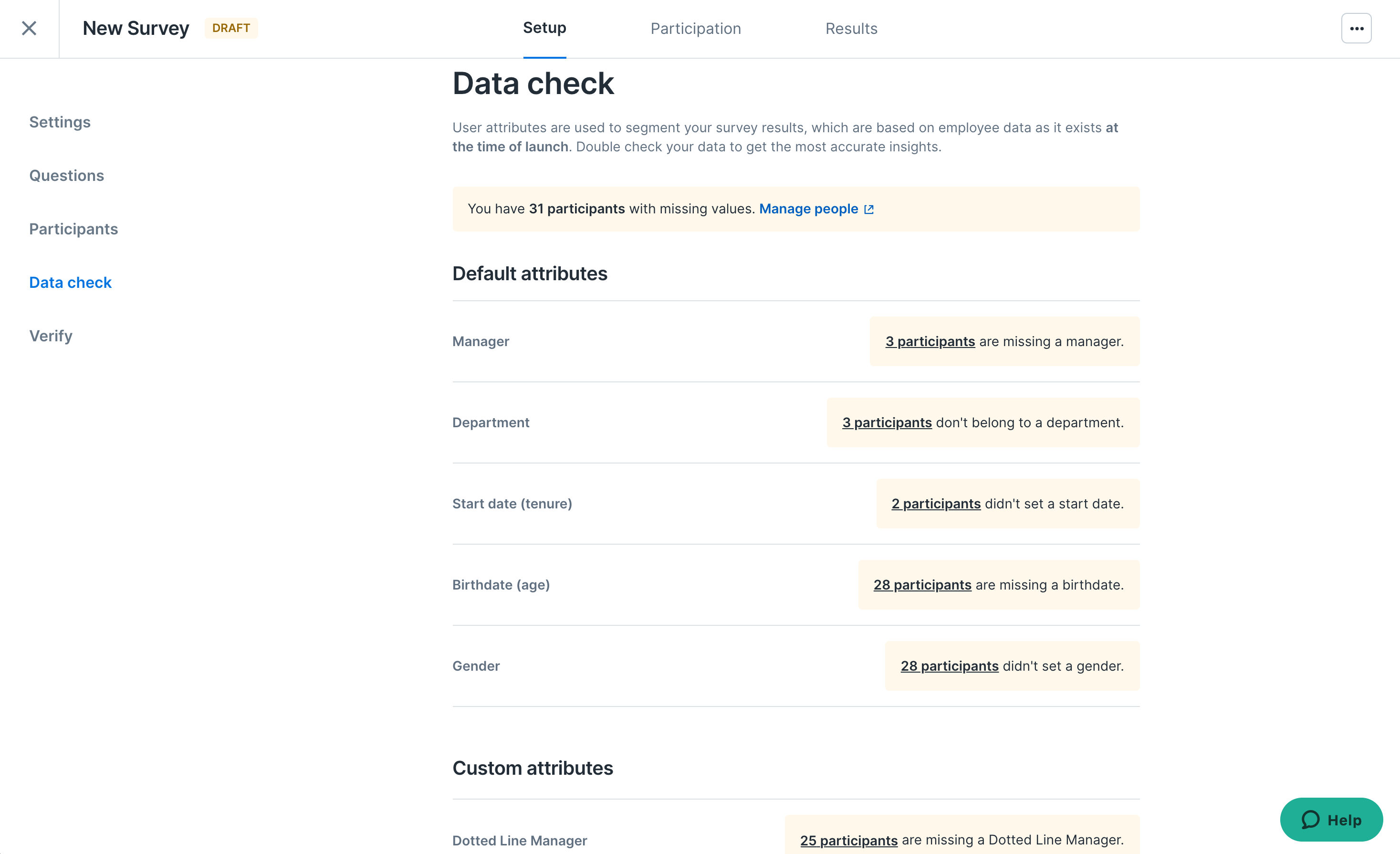 Verify
Verify that your settings are correct. Here you will have the opportunity to draft an email communication that addresses:
Why you're running the engagement survey
When responses need to be in by
How the data is being analyzed
What action will be taken from the results
You can see what a launch email might look like here.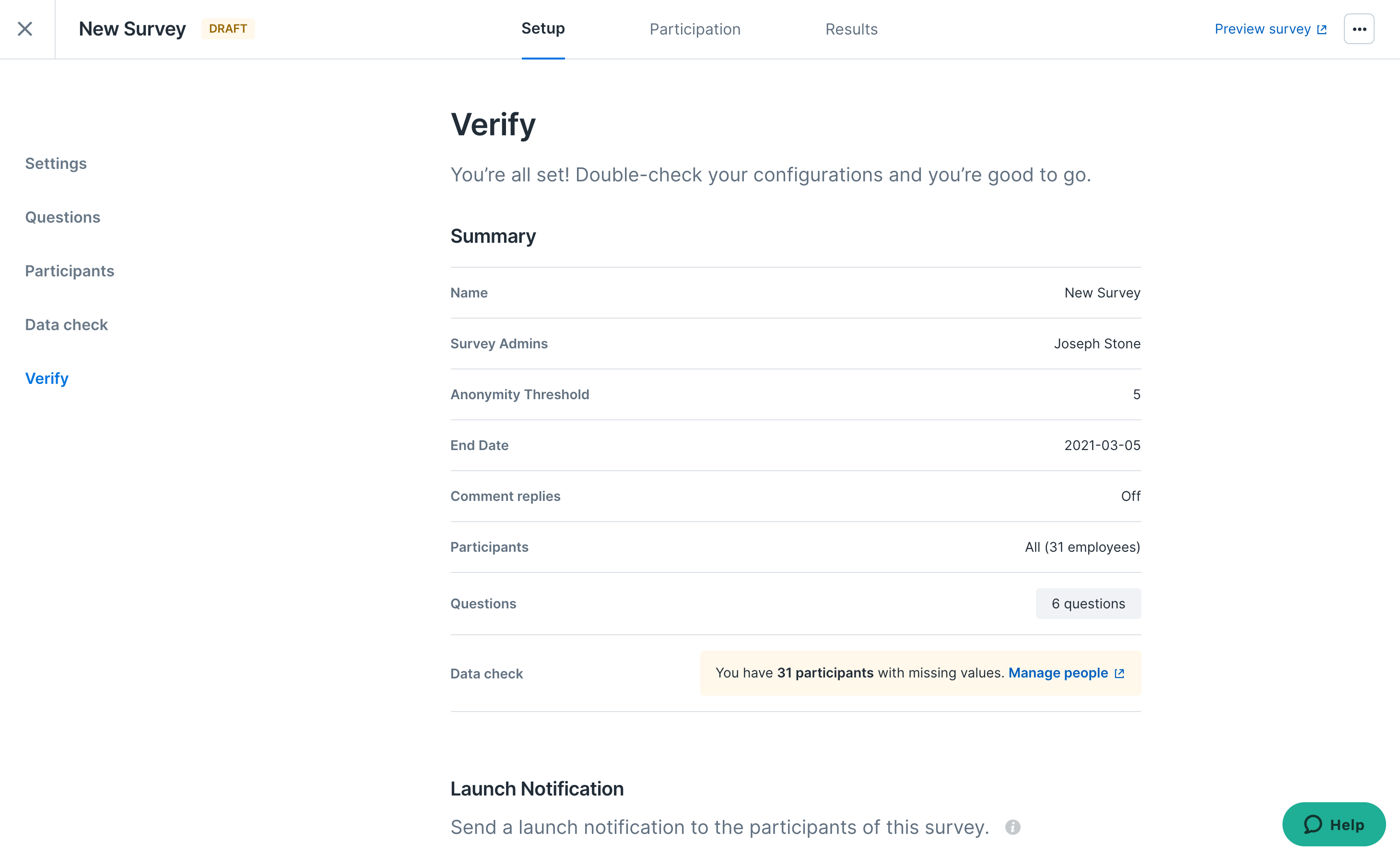 Launching
After you launch the survey, the survey will immediately start collecting responses. If you chose to send a launch email through Lattice, we will also include a link to all responders to the survey form and create a task for them on the user's homepage. If you choose to skip sending the email through Lattice, users will still get a task in Lattice linking them to the survey.
Best Practices
We recommend leaving the survey open for 2 weeks. This gives people enough of a chance to fill it out but does not drag on the process longer than it needs to be.
Be sure to send reminders to participants while the survey is open. Lattice will automatically send an email reminder to everyone who has not yet completed the survey two days before the end date. Still, you can also manually trigger reminders from the Participation tab.
Keep the survey shorter rather than longer. If you're sending out a yearly or twice a year survey, keep the survey length below 50 questions to reduce fatigue. For more frequent surveys, they should be even shorter.
In your launch email, be sure to communicate that survey responses will not be associated with an individual employee and that results will only be analyzed on an aggregate basis.
Frequently Asked Questions
Q: What is the recommended length of time to leave a survey open?
A: This is totally up to you, but we recommend 2 weeks. This gives people enough time to respond while also capturing a specific moment in time.
Q: Why are Engagement survey questions optional?
A: Optionality promotes more honest answers and accurate data. When individuals are forced to weigh in on questions that they don't feel strongly about or lack context to answer, it can introduce poor quality responses to your survey and lead to results that aren't actually representative of the state of your business.
Q: Is it possible to pull raw data from a survey and import it into a data warehouse through SFTP?
A: No. We only have SFTP for ingesting data and not the other way around. We also don't allow the exporting of raw survey data to protect employee anonymity.
Q: Can you add additional survey admins after a survey has launched?
A: Yes! Navigate to Admin tab > Surveys > Audit > Settings to add additional admins to the survey.
Q: If an employee is deactivated while an engagement survey is running, will that person still be counted in the results?
A: Yes. Once the survey is launched, the analytics also launch simultaneously. Everyone who was included in the survey when it was launched will be included in the results.