Learn how to manage the admin controls of the peer selection process.
This article covers the following topics:
Set up peer selection
Create a review cycle, enable peer reviews, and then choose how employees select peer reviewers. Lattice offers two different workflows for choosing peer reviewers.
Managers select peers for their direct reports
Reviewees nominate their own peers and get them approved by their manager
Select your preferred option and then finish configuring the review. We'll go over what to expect when launching peer selection below.
Note: As an admin, you also can override or add additional peer reviewers for anyone.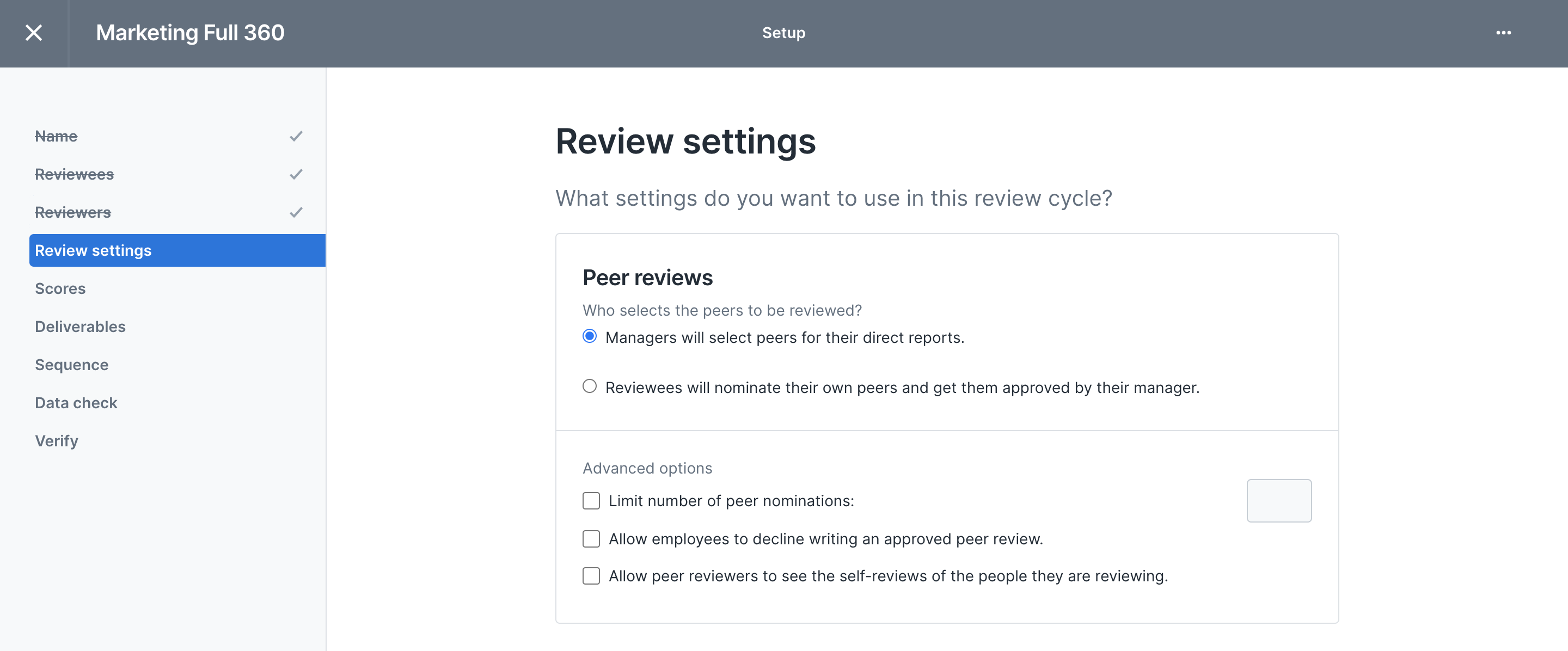 Launch peer selection
Once you create the review cycle you will see the peer selection launch page.
Step 1: Use the Launch peer selection button
Step 2: Select with or without notification from the dropdown menu.
If you select launch with notification a pop-up window will open where you can customize the message sent to your participants.
If managers select the peers for their direct reports → Managers are notified to begin their selections.
If reviewees nominate their own peers → Everyone in the cycle is notified to begin their nominations.

More information on Administering the stages of a Lattice review here.
Override peers as an Admin
Admins can override all peer selections made by employees or managers for all reviewees. You can find detailed instructions with screenshots here. You can also override prior to peers being nominated, but once you complete the override the employee/manager will no longer have the ability to select or edit peers on their own.
Please note that the override is only accessible during the peer selection stage of the review. If you need to make adjustments peer selection ends, please follow these instructions to add or remove peer reviewers.
Make sure employees don't have too many reviews to write
During peer selection employees who work cross-departmentally, are at the top of the org-chart, or give great feedback tend to be nominated to perform a large number of peer reviews. This article goes over a few ways Admins can help mitigate the burden of review fatigue when configuring and administering peer reviews.
Related: Understanding the Peer Selection Warning Banner
Send reminders
You can access real-time progress about which employees/managers have completed peer selection and send them reminders on the Progress tab.
Step 1: Use the Write reminder button
Step 2: Choose to send a notification to all employees or managers who are incomplete (any outstanding approvals or selections) or not started (have not yet taken any action to approve or select)
Step 3: Customize and send your notification

Admins do have the ability to add additional peers for their employees once the cycle is underway, but we encourage you to have all peer selections complete before progressing.
End Peer Selection
Ending peer selection prevents any additional action by reviewees and/or their managers. You can't reopen peer selection for employees or managers. Once ended, only Admins can adjust who writes a peer review about who.
Step 1: Use the End peer selection button
Step 2: Send a launch email and officially kickoff reviews!
Please note that if a manager has not approved their direct report's peer nominations when you end the peer selection phase, the peer nominations will be approved automatically.