How to end a review cycle for your direct report
For certain review cycles, admins can permit managers to end the review cycle for their direct reports. As a manager, this means that rather than waiting for the entire review cycle to end (when all reviews have been submitted for a direct report), you can end a review cycle yourself and immediately share the results.
To end the review cycle for one of your direct reports, you have a few options.
Option 1: Navigate to the review cycle under the "My Team" tab and select "Share Results."
Find the direct report you'd like to end the review cycle for under the "Share results" section. Click on "end the review cycle" to end.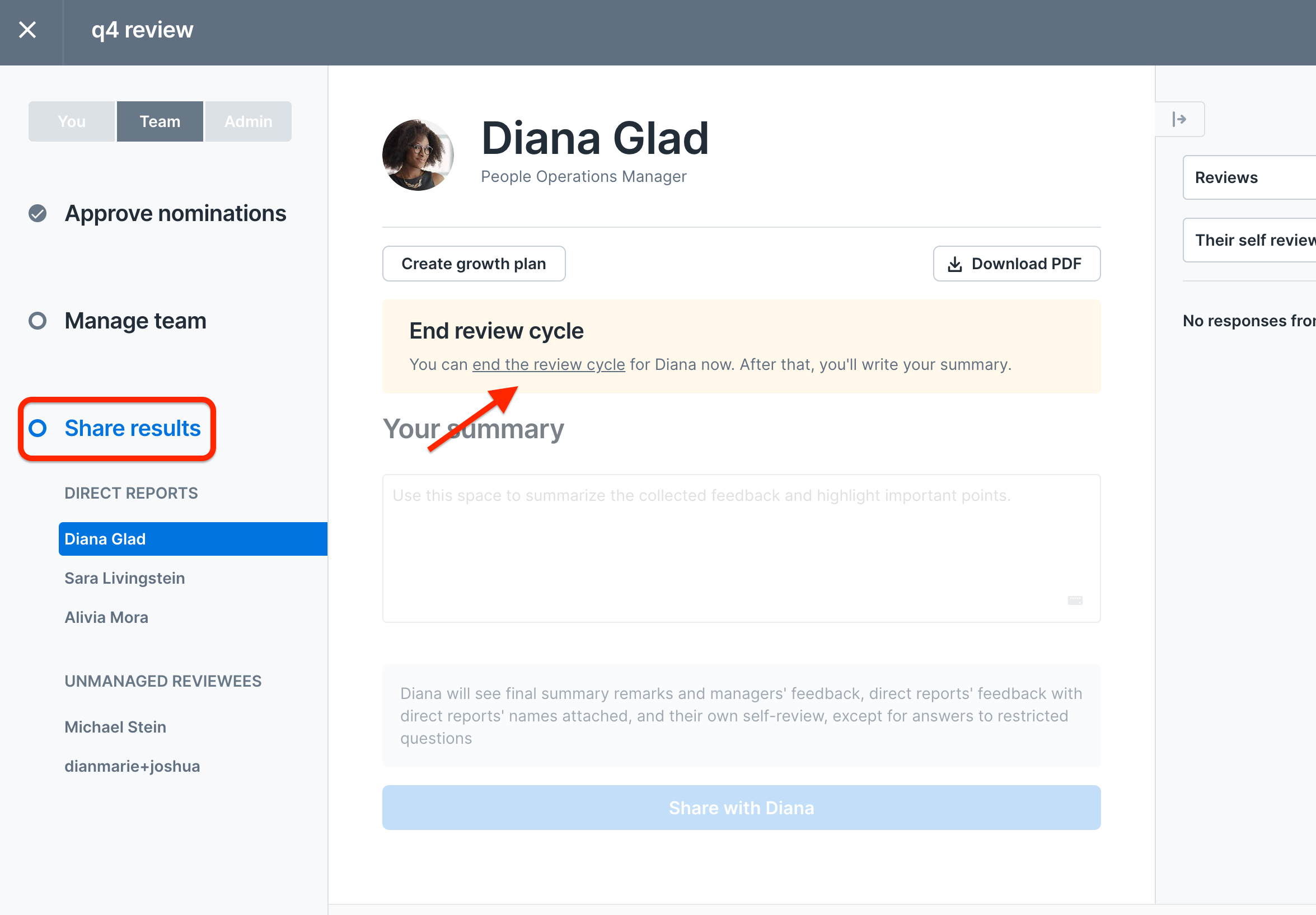 Option 2: Under the "Your Team" tab, navigate to the "Manage team" section.
Find the direct report you'd like to end the review cycle for and click on the ellipses next to their name. From the drop-down menu, select "End review cycle for the reviewee."

Once this is done, you'll immediately have the ability to write your summary remarks and share the review with your direct report.
Video Tutorials
In the videos below, Caroline will walk you through how to end review cycles with and without summary remarks as a manager, beginning from your You page. You'll see an additional step for writing summary remarks between submitting your review and sharing the review packet in the first video. The second video shows that when you end a review cycle for direct reports without a summary, the actions of ending the cycle and sharing the results are combined.
Ending Review Cycles with a Summary
Ending Review Cycles without a Summary
Troubleshooting
I can't (there is no option to) close the review cycle for my direct report!
A potential reason for this issue is that you are in the review cycle's Calibration phase (where your Admins calibrate scores). If you're in this phase, you will be able to start drafting your summary, but you won't be able to submit it until calibration has ended!
If this is an issue, please reach out to your Lattice admin. They can close the review cycle for your direct report without these restrictions!