Goals help empower employees to control their performance with clear, measurable objectives. Goals allow you to share initiatives you are working on that align with the company's priorities.
Difference between objectives and key results
Creating a goal with goal differentiation means creating objectives and key results.
Objectives are qualitative goals that will inherit the progress of supporting key results or child objectives. Objectives help set the direction for the entire company, department, team, or individual, and are usually aspirational. When creating an objective, you will not have the option to select a measurement due to the nature of objectives.
Key results

are quantitative (#, $, %, binary) goals that measure progress to attainment. Key results help measure what you need to accomplish the objective and are usually metrics-driven and tangible.
| | | |
| --- | --- | --- |
| | Objectives | Key Results |
| Progress | Qualitative | Quantitative (#, $, %, binary) |
| Alignment | Can have parent and supporting/child goals (either other Objectives or Key Results) | Can have parent and supporting/child goals (either other Key Results or Objectives) |
| Best for... | Clarifying the direction or outcome you're working towards | Measuring milestones or progress to attainment |
Learn how to create key results in Create a Key Result.
Navigation
There are two places in Lattice where you can create an objective:
Goal creator
Goal Explore page
Option 1: Goal creator
Navigate to Home

>

Create goal

> Select

Objective

.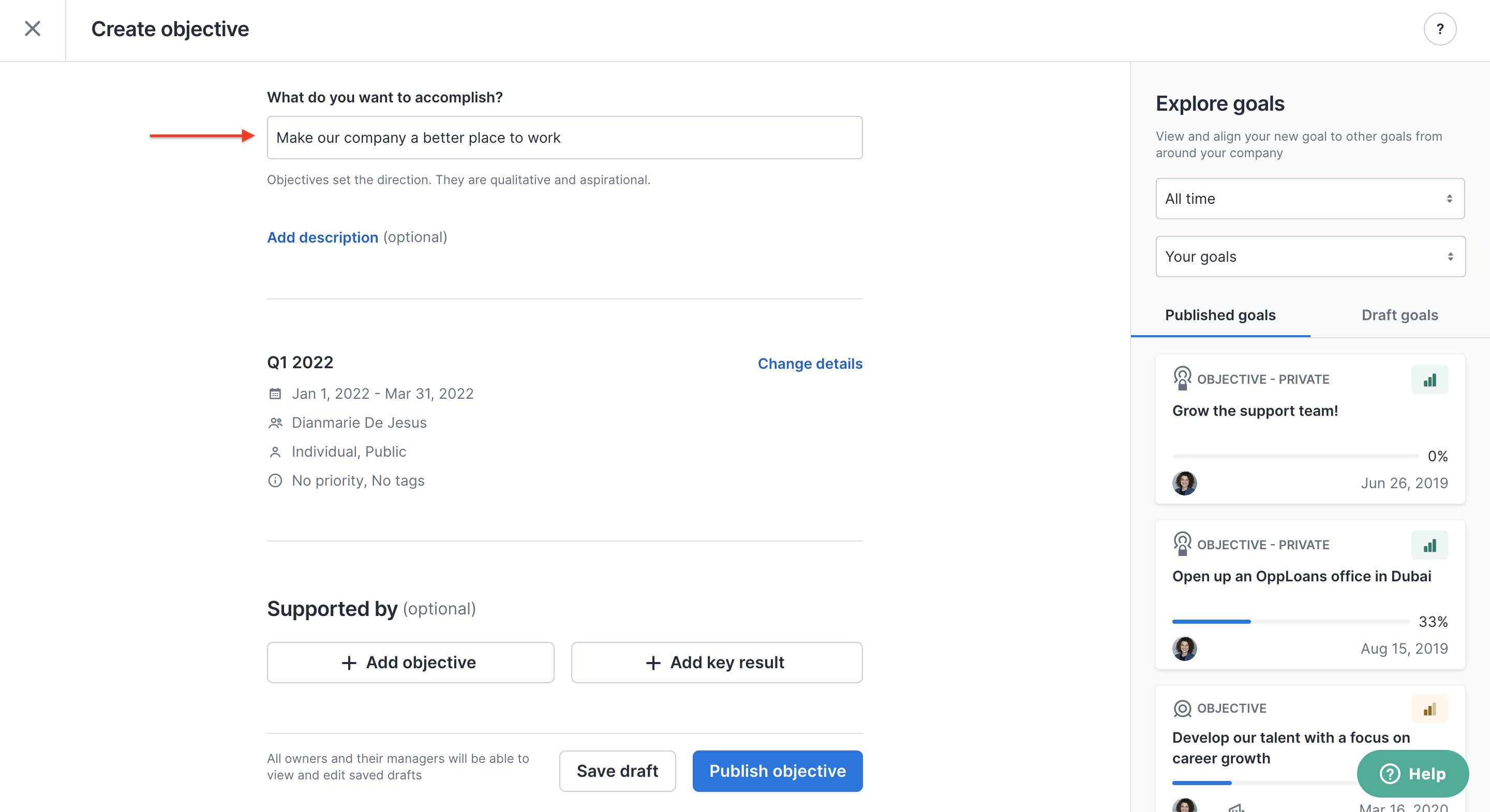 Option 2: Goal Explore page
Navigate to Goals > Your goals > Create objective.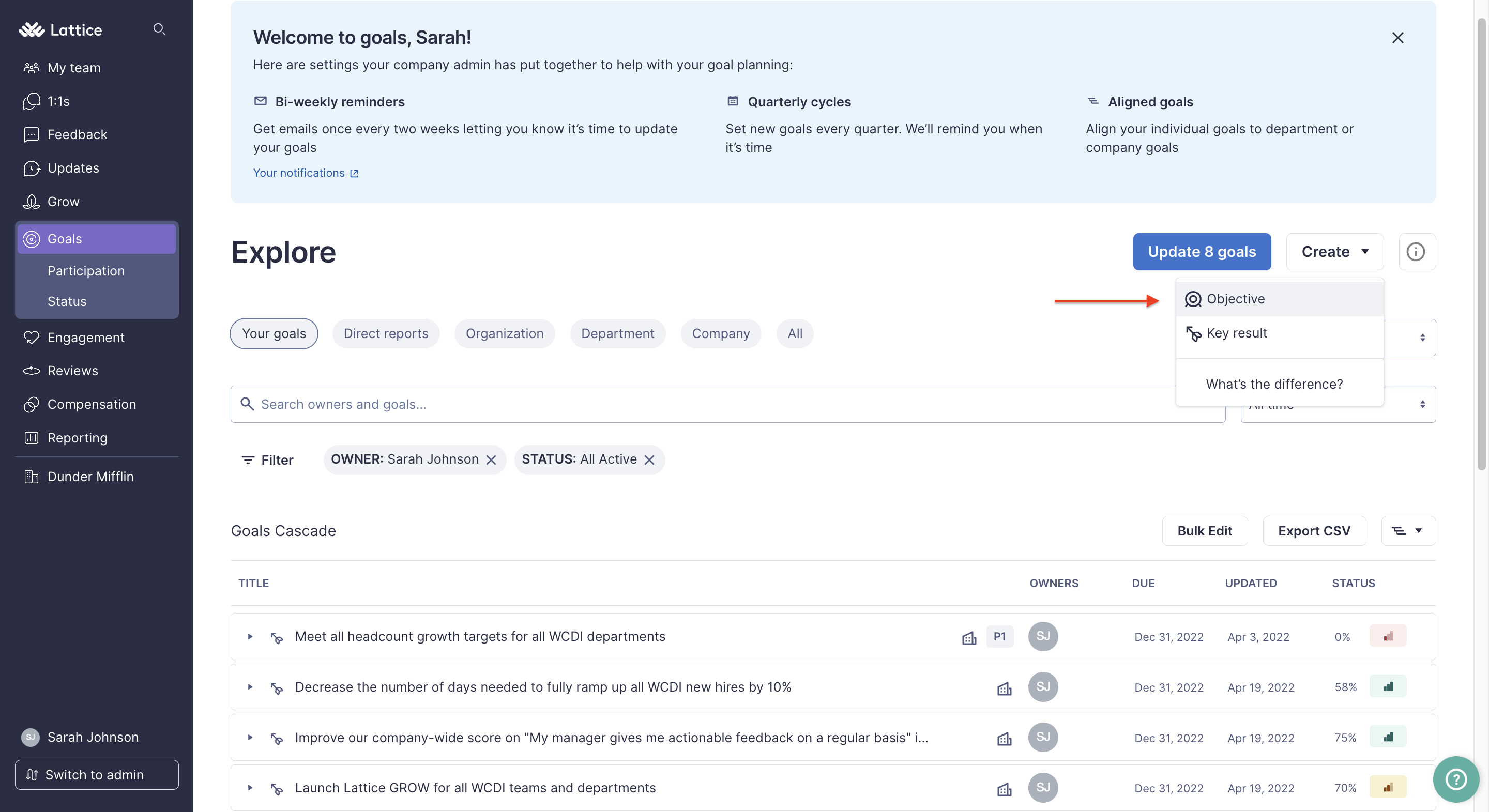 Option 3: Goal Explore Table
Navigate to Goals > Your goals.
Click on the desired parent goal to open.
Click Insert objective.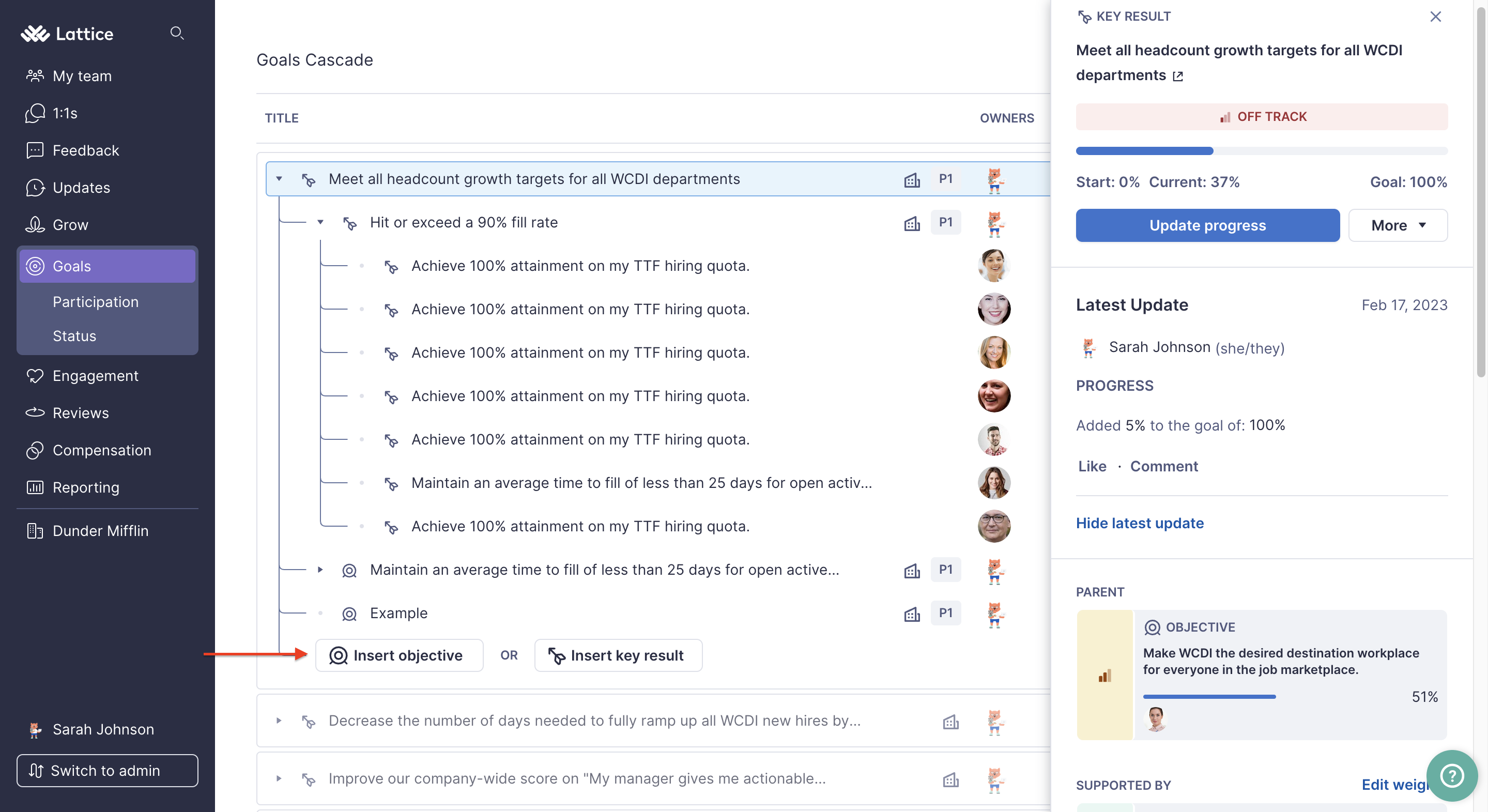 Create an objective
Under What do you want to accomplish?, enter an Objective Title.
(Optional) Write a Description

.

You may optionally write a description to remind yourself and your teammates about some details of the goal.

(If cascading goals is enabled)

Add a

Parent objective or key result.

A parent goal (or a cascading goal) is a way to align your goal with other goals within the organization. Within the Work toward another goal at the company section, click Choose goal.
Search for the parent goal that you want to align your goal to. You can align to both objectives and key results.
Note: Parent goals will only be visible if your admin has enabled cascading coals.
Creating the objective: Details
(Optional) Select a Goal Cycle.

If an admin has created a goal cycle, you may be asked to select a cycle that this objective falls under. This is a time period in which your goals are being worked on.

Establish a Start date

.

Select the date the objective is expected to start. This is a required field - You can default to the date of creation by selecting Choose today

.

Establish a Due Date

.

When establishing a due date for the objective, we default to the end of the current quarter or the end of the goal cycle. You may use the date-picker calendar to select another end date in the future.

Select Owners

.

Most goals created in Lattice are personal goals, owned by one person. However, goals can also be owned by more than one person.

Select the goal Type

.

Objectives can be for an Individual, a Department, a Group, or the Company. The types of objectives you see will depend upon the permissions your admin has granted you.

Choose Visibility

.

Objectives can be public (visible to the entire company), private (only visible to you, your manager, their managers), or private to selected departments (only visible to goal owners and members of the departments selected).

Set a goal Priority.

You may optionally set a priority for the objective (P1 - P10), which will be displayed next to the goal on certain pages throughout the site. Goals will also be listed in order of priority (P1 first).

Select applicable Tags

.

Tags are optional but help classify and organize goals. Tags are created by admins.

(Via the Goal creator)

Add

Supported goals.

When creating an objective, add key results or metrics that impact the overall goal.If you are creating an objective via the Goal Explore Context Panel, you will be prompted to add supporting goals after publishing your objective.

If cascading goals is enabled, you will also be able to add a supporting objective that aligns to your current objective.
If cascading goals is disabled, you will only see the option to add a key result.

Publish

or

Save Draft.

Goal drafts are visible to the owners and their managers but are not visible to the rest of the company.