Share a review packet with your direct report without a summary
After a review cycle has ended, the feedback must be processed and shared with every employee. Lattice provides managers and administrators with clear final steps to ensure that all the feedback is collected and delivered to the employees once the review is done.
Before you start
Please note that a review cycle does not end when a manager submits their direct reports' reviews. The Lattice admin or manager (if given the permissions) must end the review cycle.
The Lattice admin also can share review packets on behalf of the manager or track the Sharing phase across the review cycle.
Please note that a manager may have the permissions to end the review cycle themselves in some cases.
Managers finalize review packets
Email notification
When the review is ended (either individually or en masse), Lattice will send an email notification to you letting you know the review cycle has ended and it's time to review responses and share packets with employees. Clicking into View Responses will take you to the Finalize Packets page.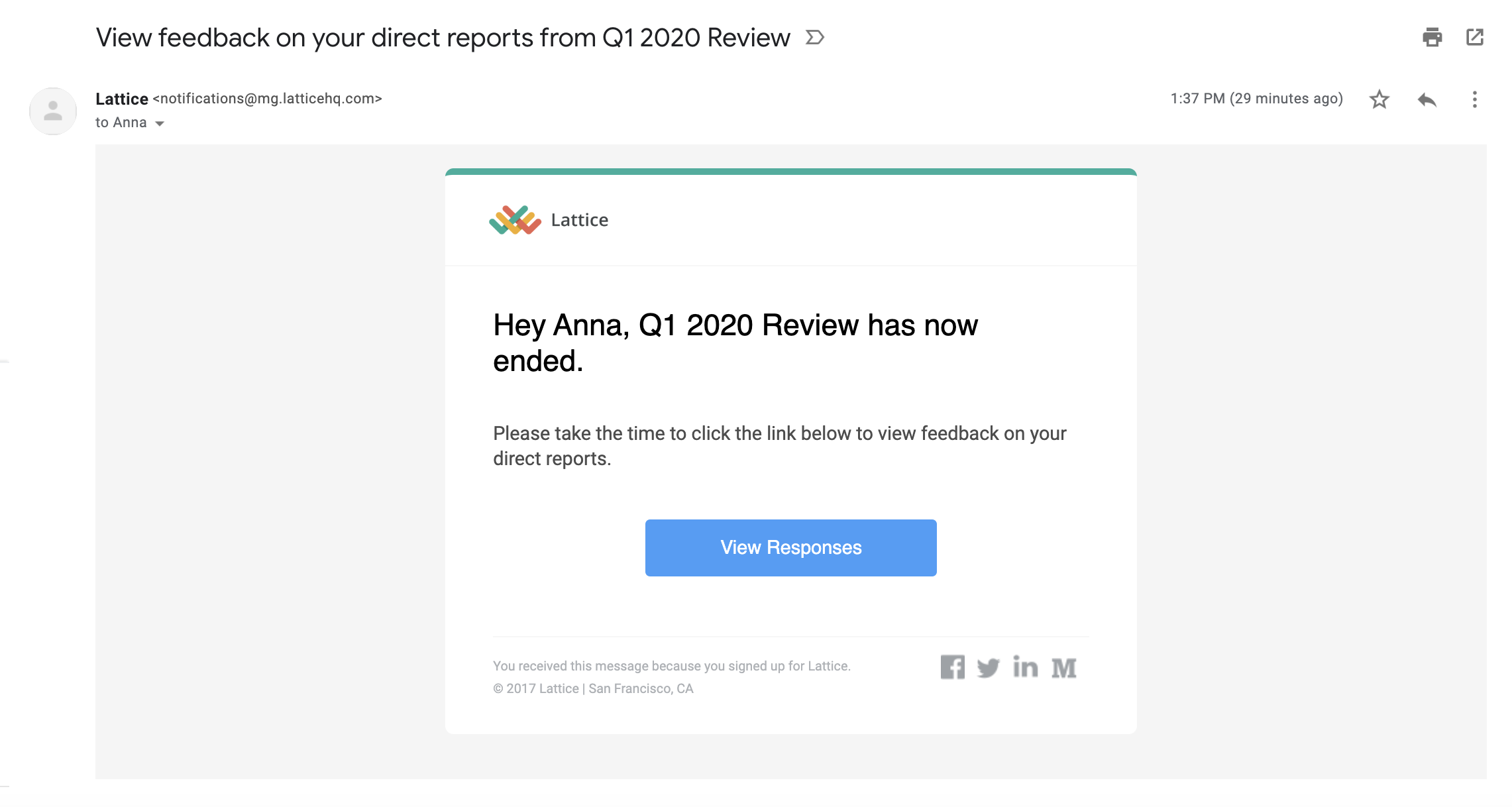 Home page: Finalize review packets task
Alternatively, you can follow these steps when logging in to Lattice to finalize review packets.
Step 1: On the Home page, click Finalize review packets for the review cycle you'd like to finalize.
Step 2: Click into Your Team so that you're able to view your Direct Reports.
Step 3: Under Direct Reports, choose which report's review that you'd like to share.
Step 4: Once you've clicked on that report, select Share with employee to share the review packet with your direct report.


This view also allows you to download and save a PDF version of both the manager and employee view of the review packet. Once the review packet is shared, you will still have access to the PDF.
Once you share all review packets, the notification task will disappear.
Navigate to review packets after sharing
To get back to the review packets, you will need to follow the steps below:
Step 1: Navigate to the Reporting page found in the discovery navigation.
Step 2: Navigate to the Review section.
Step 3: Find the relevant review cycle and select Manage Team.
Step 4: Click on the employee's name under the Share results section.