How to get to an in-progress review for your direct report once you've started filling it out and it's not a task on your Home Page
When it's time to review your direct report, you will receive a task on your Home Page notifying you to perform your review.
After clicking on the task, you will be taken to the review cycle. Here you will see all the reviews you need to complete on the left, the selected review in the middle, and your context panel on the right (with any already filled out reviews by your direct report, their peers, or their direct reports).
Accessing your Auto-saved Review
If you fill out some of your reviews but want to come back to finish them later, you'll be able to access them by following these steps:
Step 1: Select "Perform Reviews" from your Home Page.
Step 2: You will be directed into your "Your Stuff" tab in the review, where you can finish writing your reviews.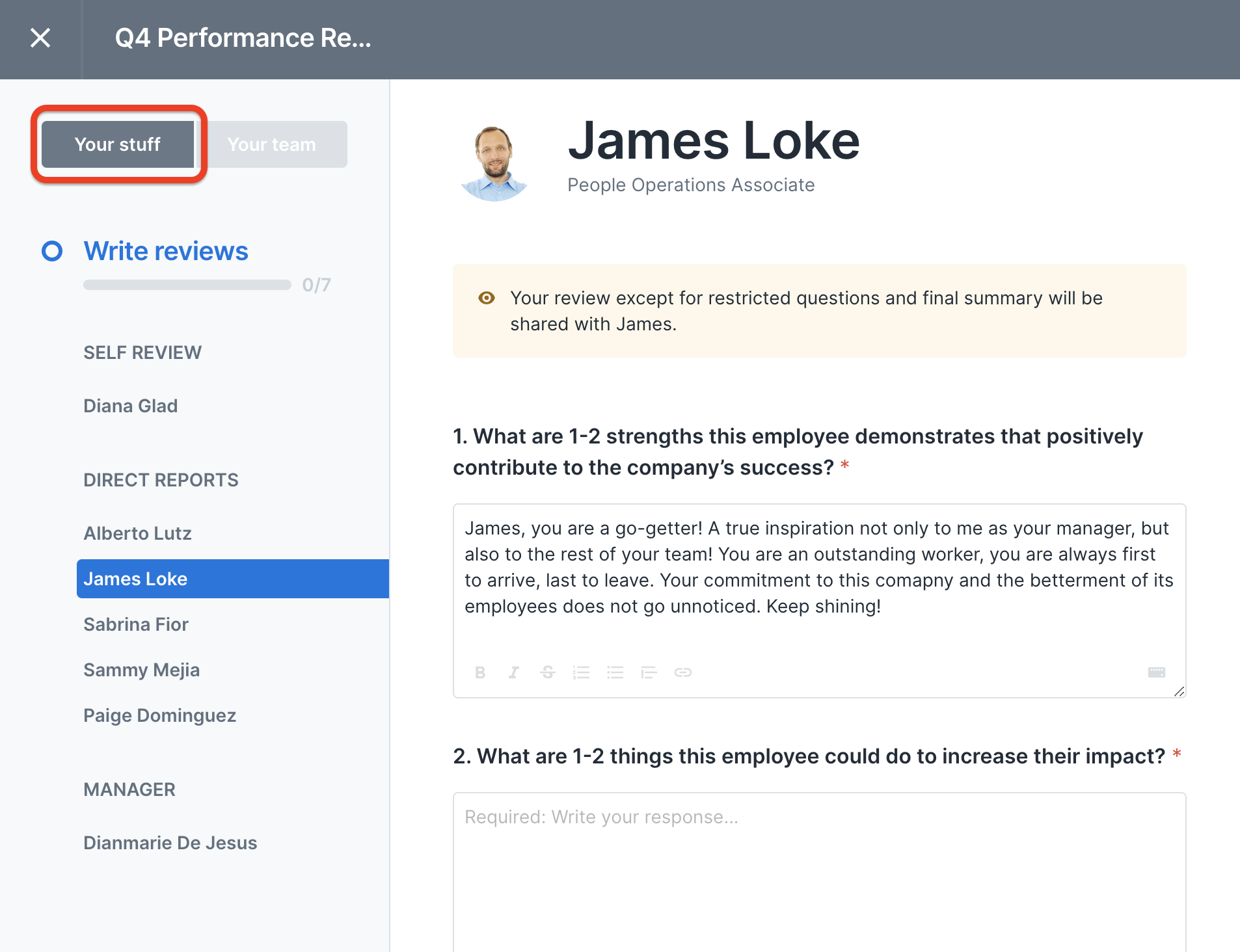 Accessing Feedback Given to Direct Reports
Step 1: Navigate to the Reporting page found on your discovery navigation.
Step 2: Select "Reviews" on the left and "Manage Team" for the correct review.
Step 3: You will be ushered into the "Manage Your Team" page, where you can view reviews of your direct reports and show their reviewers.
Step 4: Once you click on "View reviews," you will scroll down and see the reviews written for your direct report. You can then group by reviewer or question to access their written reviews.
Finalizing Packets
When it's time for you to finalize a review packet, you will receive a task notification on your You Page.
Clicking "Finalize packets" will take you to the following page:
Here, you will be able to see all of the reviews for your direct report. Once everything looks good to you, you can share the review packet with your direct report or download it as a PDF.
Note: When you click "Share with Sara," your direct report will receive a task on their You page to "View Feedback." They will then be able to confirm receipt of the review packet and have access to their reviews!