Managers can request feedback about their direct and indirect reports from other employees in the company.
This article contains the following topics:
Request feedback for your team
Step 1: Navigate to Home > Give and request feedback.
–OR–
Step 1: Navigate to People > My team > Feedback > Select the blue Feedback button > Request feedback.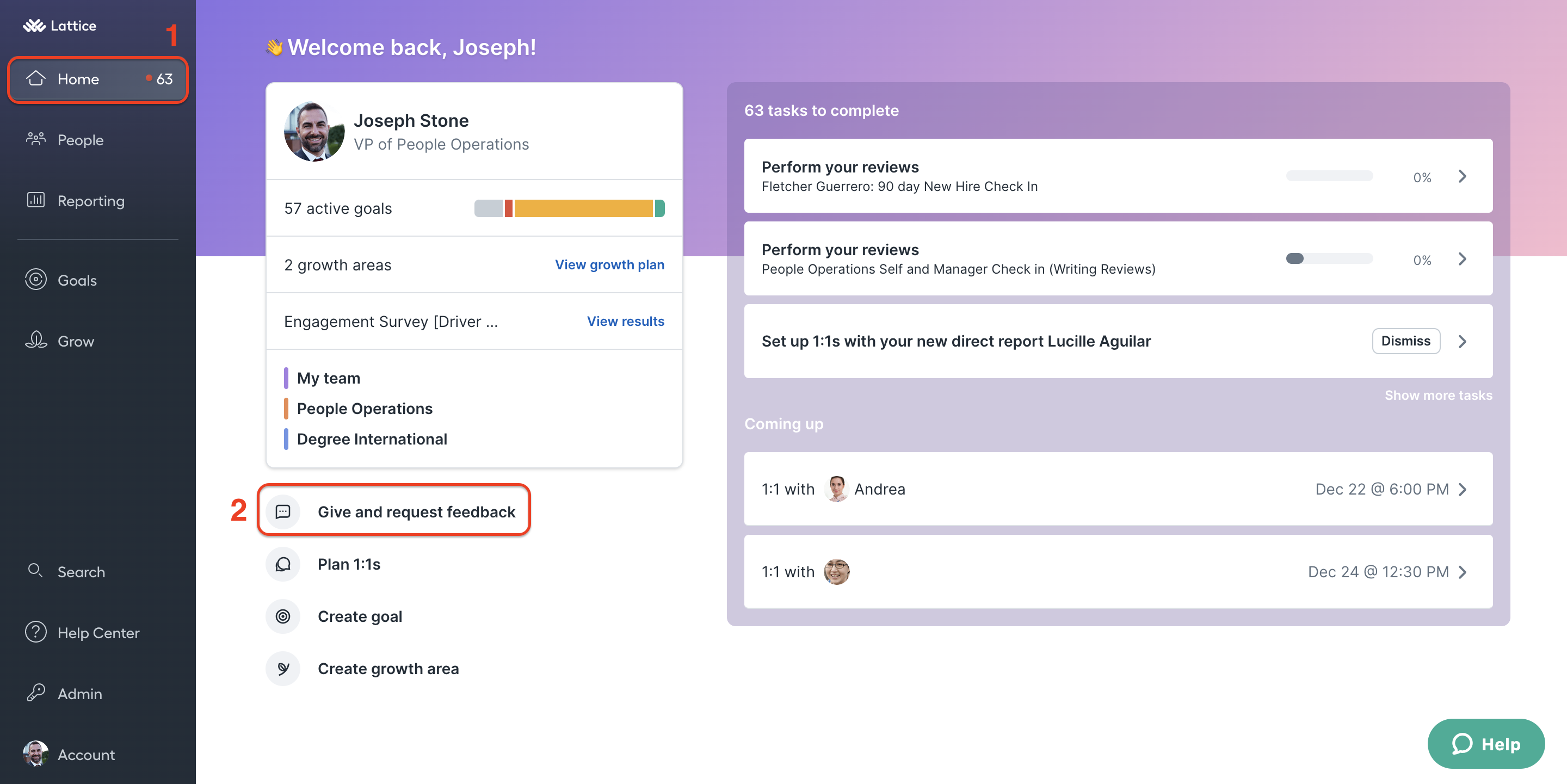 Step 2: The Feedback modal will appear –– Enter the Request feedback tab.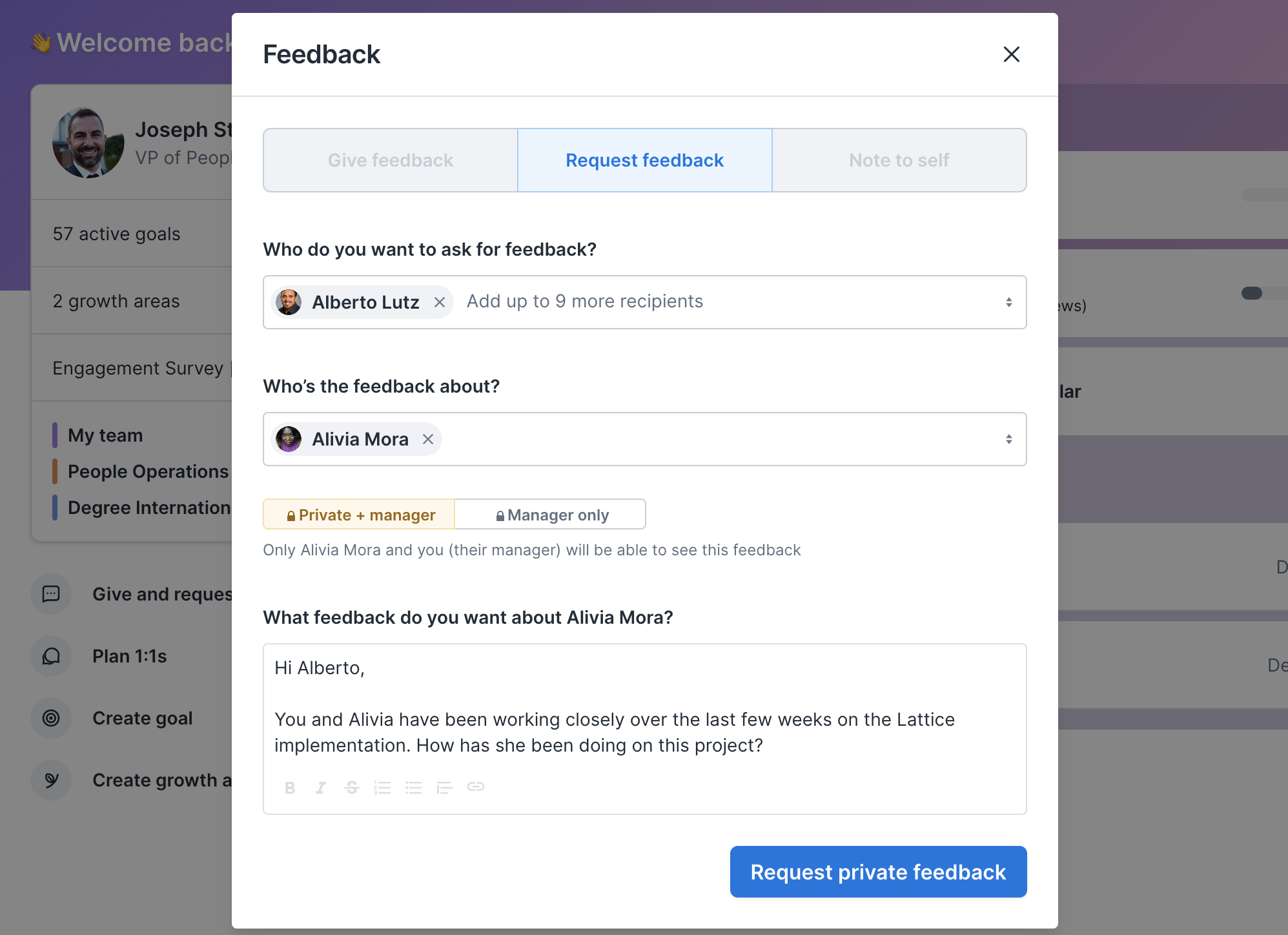 Step 3: Under Who do you want to ask for feedback?, type in the employee's name who you want to ask for feedback.
Step 4: Under Who's the feedback about?, type the name of the employee who the feedback is about. Lattice will give you the choice of selecting yourself or a direct report. If the employee does not appear in the dropdown, type in their name in the field and then select.
Requestors with additional permissions will see a third "Other" section within the dropdown. This section includes employees who are not a part of the direct manager/report relationship that you can still request feedback for:
Managers of Managers (MOMs): Managers of Managers can request feedback for their indirect reports.
Custom Role Owners/HRBPs: Role owners will be able to request feedback for any employee that is included within the group attribute selected when creating the role

.

Custom Relationships/Dotted line managers: Dotted line managers can request feedback for any employee they have been assigned visibility into via a custom relationship

.
Step 5: Select visibility.
Please note: Feedback requests do not include a public visibility option. Requests for indirect reports can only be set to Private + manager, while requests for all other employees will have the option to be set to Private + manager and Manager Only.
Step 6: Under What feedback do you want about __?, include a description of what you want the feedback to be about. Please note, if you select to have the feedback as Private + manager, the employee receiving the feedback will have visibility into the description.
(Optional) Under Feedback prompts, add a common feedback question to your request.
There is no limit to the number of prompts added.
Prompts can be edited once they have been added to the text box.
Step 7: Once all fields have been completed, select Request private feedback.
The employee recipient view
After you have requested feedback, the employee who you're asking for feedback from will receive a notification on their dashboard (as shown below):

When the responder clicks into the task, they will see the requestor's name, a description of what the request is for, and for whom. From here, they will be able to respond and submit their feedback.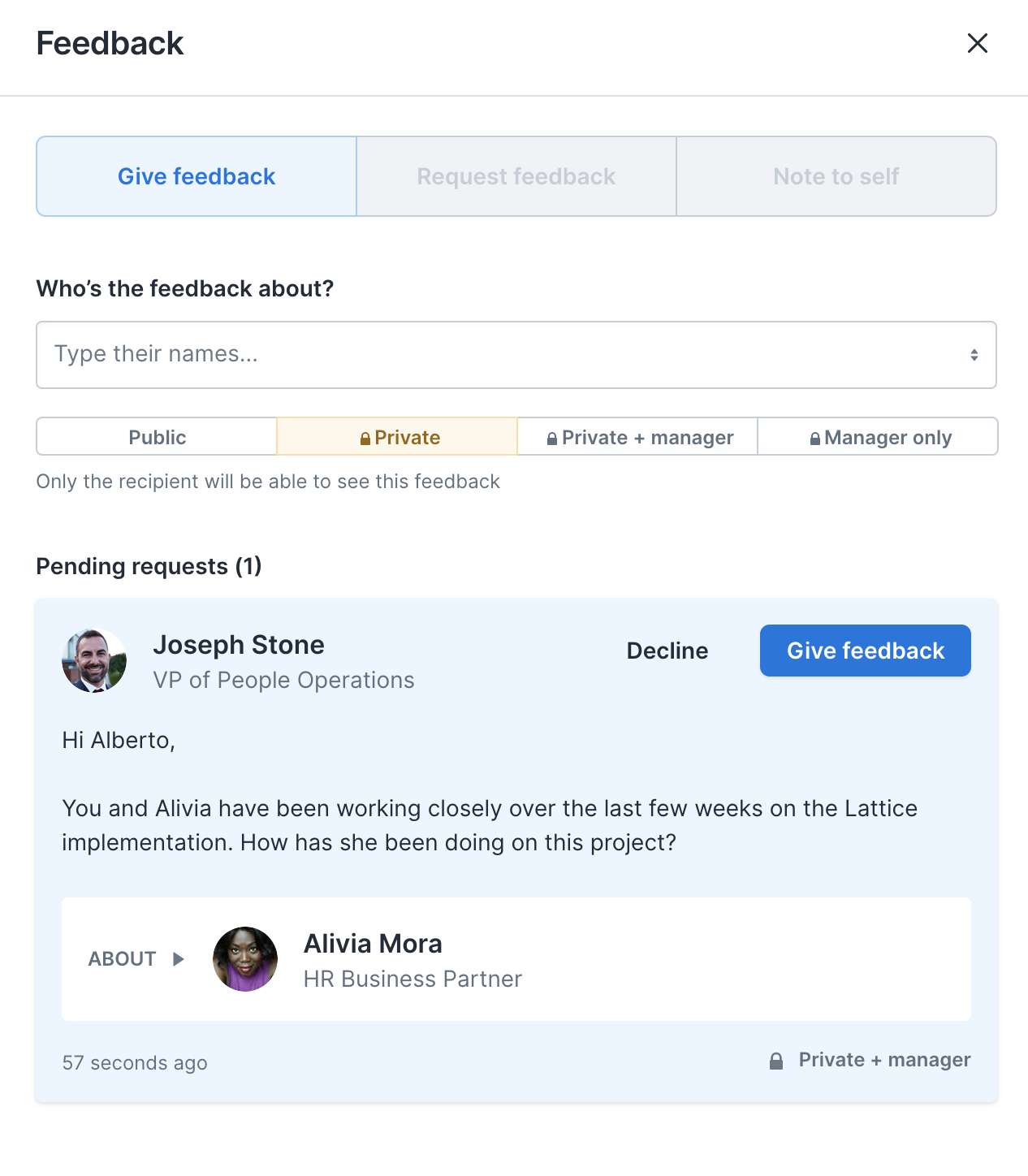 Please note, responders have the ability to decline a request if they choose to do so.