Manage your Lattice 1:1 event in Google Calendar
Lattice allows you to sync your 1:1 relationships with your Google calendar. The Lattice Google Calendar integration will automatically update Lattice when rescheduling or canceling your event within Google Calendar.
Before you start
The Google integration is a one-way integration with Lattice. Lattice will use Google as the source of truth for 1:1 scheduling but will not add notes or create an event within Google.
The following must be met for the integration to be successful:
In Google Calendar, the 1:1 event must be set to recurring and unending and already exist within your calendar.
The Google Calendar event must be scheduled no more than four months into the future to prevent disconnection.
Calendar events created by third-party applications such as Clockwise and Reclaim.ai aren't supported by Lattice's calendar integration.
If you encounter issues trying to connect the Google integration, please read Troubleshooting Your Calendar Integration for possible solutions.
This article contains the following topics:
Connecting your Calendar
Step 1: To connect your calendar, make sure you already have a recurring meeting set in Google Calendar.
If you are creating this 1:1 relationship for the first time, navigate to Home > Plan 1:1s. Select the plus sign (+) > Set up new 1:1 > Connect to an existing calendar event.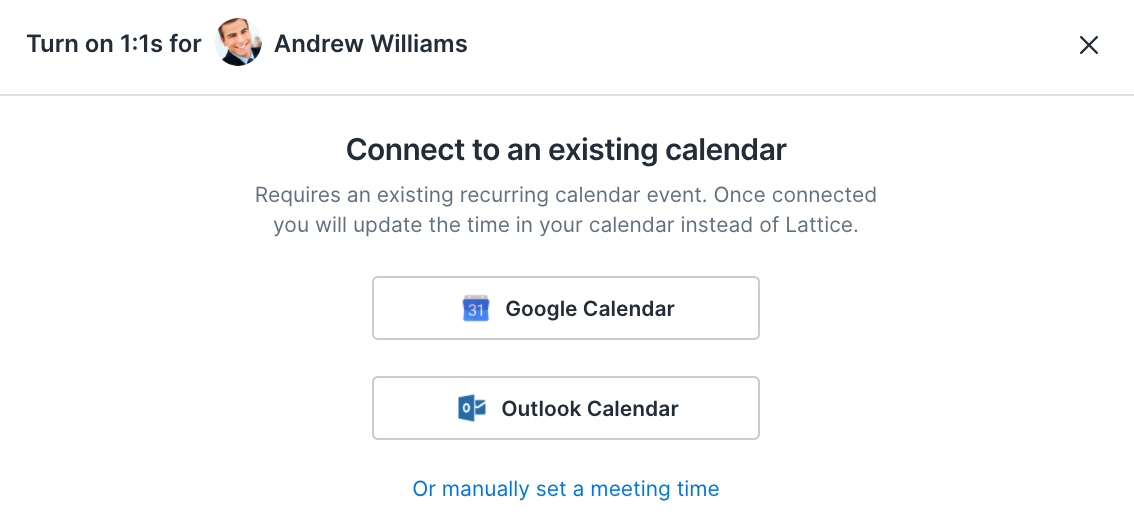 If you already have a 1:1 relationship in Lattice

,

navigate to Home > Plan 1:1s. Select the participant's name to open the agenda and select Settings > Connect to an existing calendar event.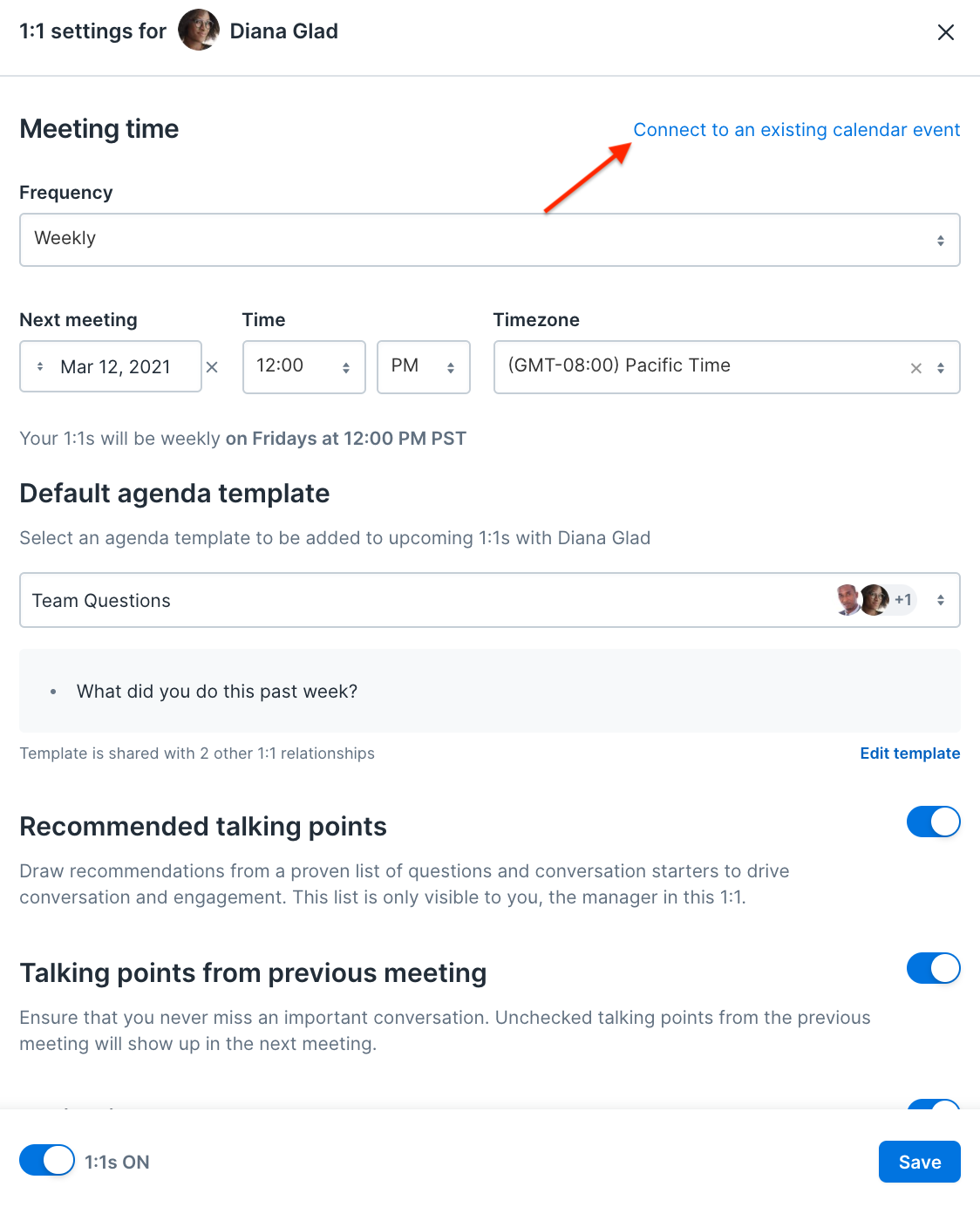 Step 2: You will be prompted to choose your calendar provider (Google Calendar).
Step 3: Select the calendar that manages the event you would like to integrate. In this example, Joseph Stone is Andrea's manager, and he is managing their 1:1 on his Gcal.
Step 4: Specify which calendar event is the 1:1 meeting and click Select event.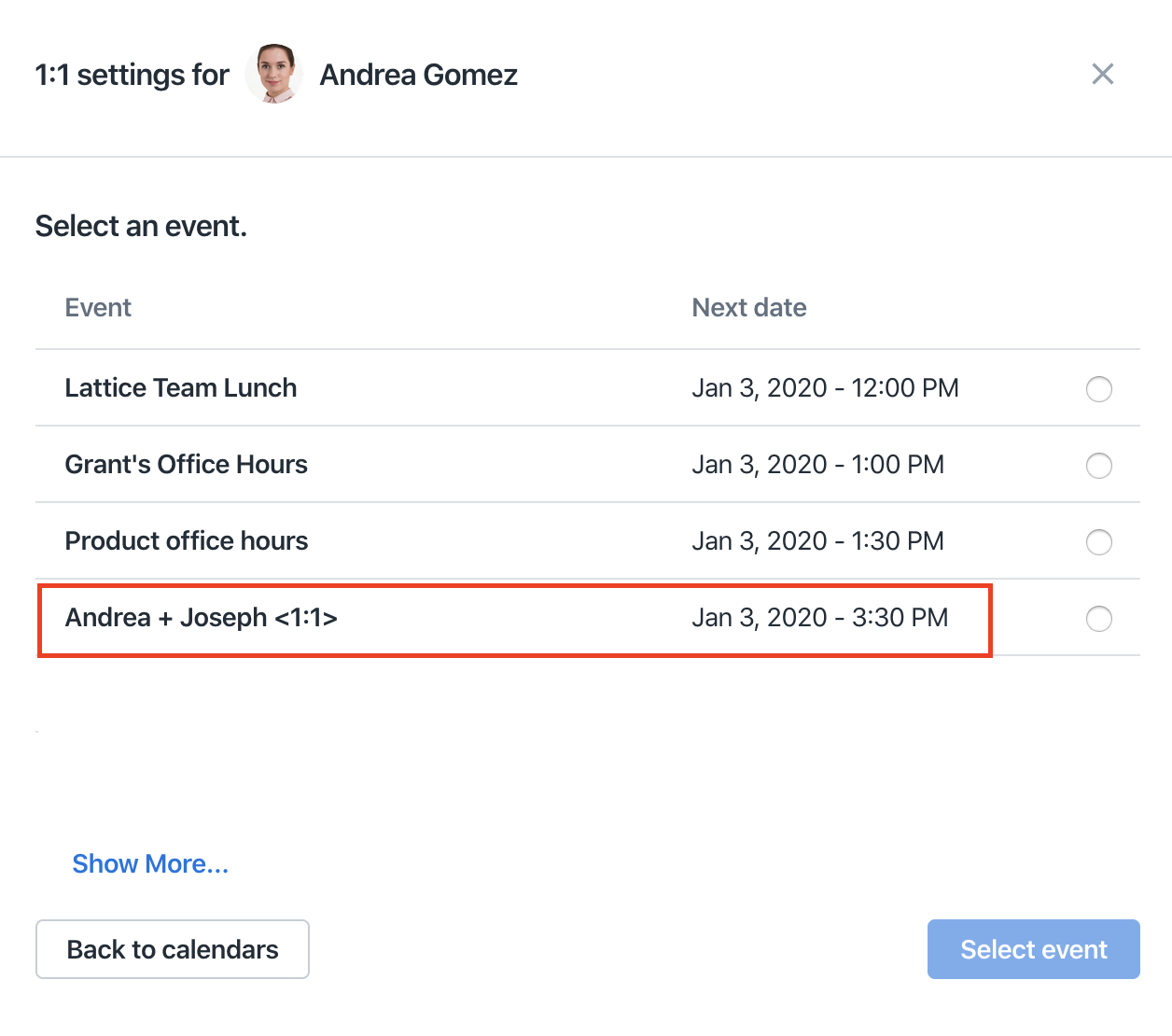 Join Zoom directly from the 1:1
Participants can join Zoom from the agenda as long as the link is found in the Location field in Google Calendar.

Please note: Join Zoom will not show up in Lattice if the Zoom link is only available in the invite description. Lattice only supports Zoom meetings without any location/conference room added – Otherwise, you may encounter a Meeting ID error when joining. The Zoom link should be listed in the location field of the calendar event.
Change the time of your 1:1s
Once you have synced over your calendar, every time you change the event on your calendar, Lattice will be automatically updated. There is nothing more that you will need to do.
Once your 1:1 has passed on your calendar, Lattice will automatically schedule the next 1:1 in our system for next week. If you missed the meeting, update the time of the meeting you missed for later that week in Google Calendar, and we will create a new event in Lattice.
Disconnect my calendar
To disconnect your calendar:
Step 1: Navigate to your 1:1 > Settings > Disconnect from calendar event.

Once you disconnect, you will be able to follow the steps above to reconnect.
FAQs
Q: How long does it take for changes made in a user's calendar to be reflected in Lattice?
A: Calendar changes can take up to 1 hour to display changes in Lattice.
Q: What happens when management changes happen?
When a manager changes in Lattice, the new manager will be responsible for setting up the subsequent calendar integration in Lattice. The 1:1 relationship with the previous manager will still be active, and they can deactivate that if they choose.
Q: What happens if I delete a 1:1 in my calendar?
When deleting a single event in a recurring series, the deleted event will automatically show as canceled in Lattice.
Lattice only deletes 1:1 agendas if there are no talking points or notes of any sort on the 1:1. If there are talking points, direct report notes, manager notes, etc., we do not delete them.
When deleting all events in a linked series, the 1:1 will be disconnected from your calendar, and you'll receive the Restore Calendar Sync notice/email.
Both parties declining a single event will not automatically cancel the meeting, though it will allow you to cancel the 1:1 in Lattice manually.
Please note: if your 1:1 is synced with a Google Calendar, you must change the time of your 1:1 in Google.
Q: Is there a way to create an ad hoc 1:1 without a specific date attached to it?
A: Yes! To learn more about how to set up an ad hoc 1:1 in Lattice, check out How to Create an Ad hoc 1:1.
Q: If you change the date of a 1:1 in your calendar, will the updated time and date reflect in Lattice?
A: Yes, the date will update in Lattice, as long as the change is made at least 10 minutes before the day and time the original 1:1 was scheduled to take place in Lattice.
Q: Is it possible to schedule 1:1s daily if you're using a calendar integration?
A: Yes, as long as you have a daily recurring 1:1 on your calendar, you can also have this daily 1:1 reflected in Lattice!