Manage your Lattice 1:1 event in Google Calendar
1:1s can now be synced to your Calendar. Instead of having a reoccurring meeting on your calendar and time scheduled in Lattice, you can sync your 1:1s with Google Calendar. This means when you update your calendar invite in Gcal, the updated time will also appear in Lattice!
Connecting your calendar
To connect your calendar, first make sure that you have a reoccurring meeting scheduled. This is important because you will be connecting Lattice with that specific meeting invite. Syncing Lattice and your calendar will not create a new event invite.
One thing to keep in mind is that the calendar event should be never-ending. If the reoccurring meeting ends, the manager and the direct report will not see the "next 1:1" button. Please note that the meeting must be scheduled no more than two months into the future for the integration to connect to the calendar event.
If you are scheduling the 1:1 in Lattice for the very first time, click on the "People" icon from the Navigation Bar on the left and select "1:1s" from the Performance toolkit at the top. Click on the name of your direct report and select "Set up 1:1". This will take you to the 1:1 configuration screen (shown below). From here, under "Connect to an existing calendar event," select "Google Calendar.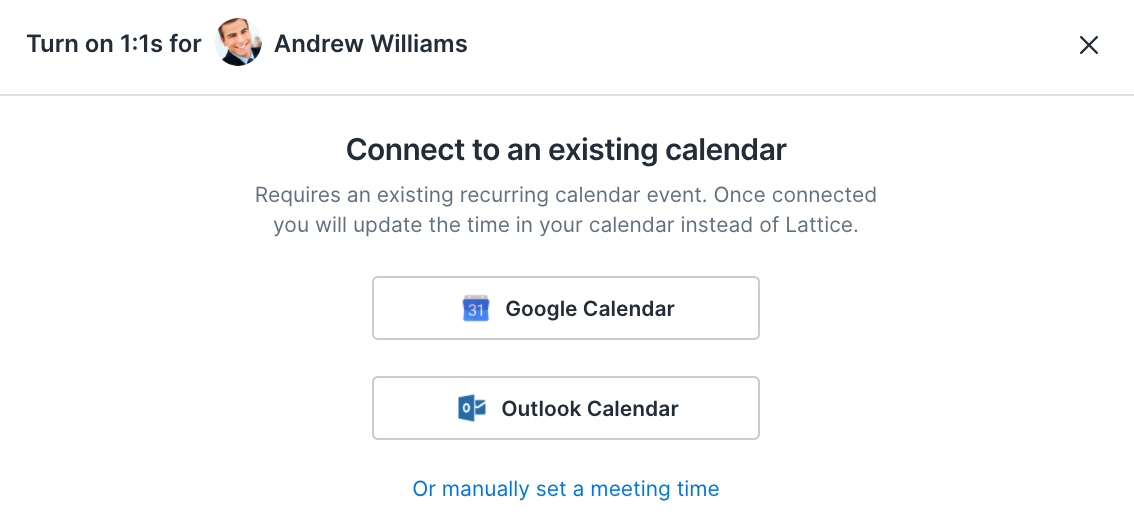 If you already have a 1:1 scheduled in Lattice, go to the "My Team" profile page and select 1:1s from the Performance toolkit. Select the name of your direct reports, and click on "Settings." This will take you to the 1:1 configuration screen. From here, choose "Connect to an existing calendar event."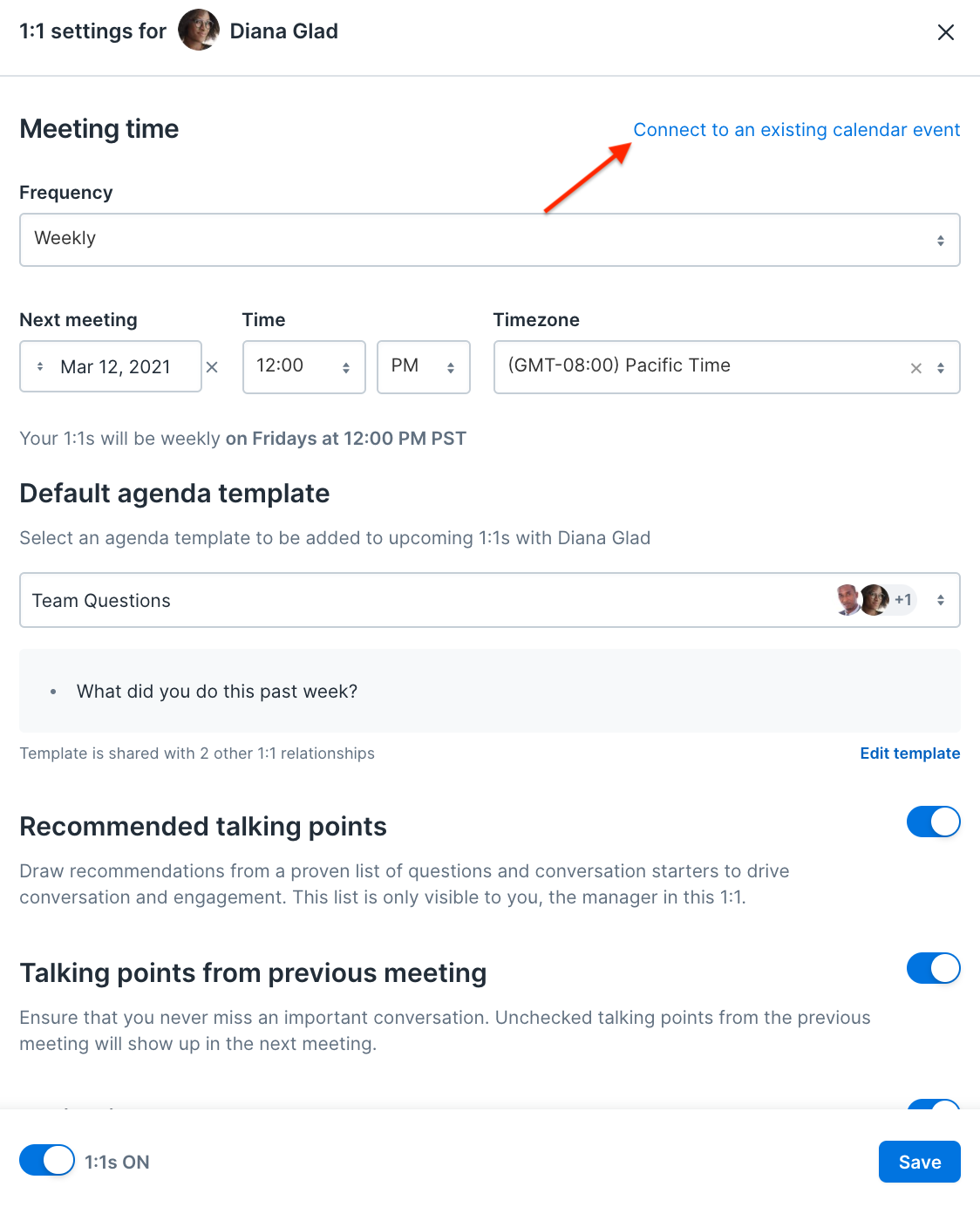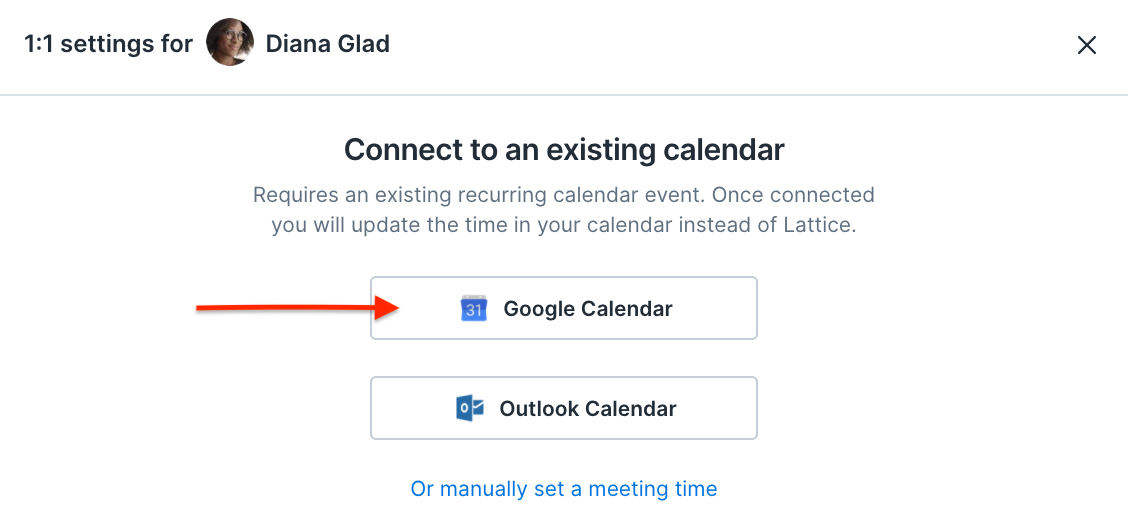 Once you choose your calendar provider (Google Calendar), you will be asked to specify a calendar. You should be choosing the calendar that you will be managing the event on. In this example, Joseph Stone is Andrea's manager, and he is managing their 1:1 on his Gcal.
Next, you will be asked to specify which calendar event is the 1:1 meeting. The event that you are connecting to the Lattice 1:1 must already be scheduled in Gcal. Meetings that include both you and your direct report will show at the top of the list.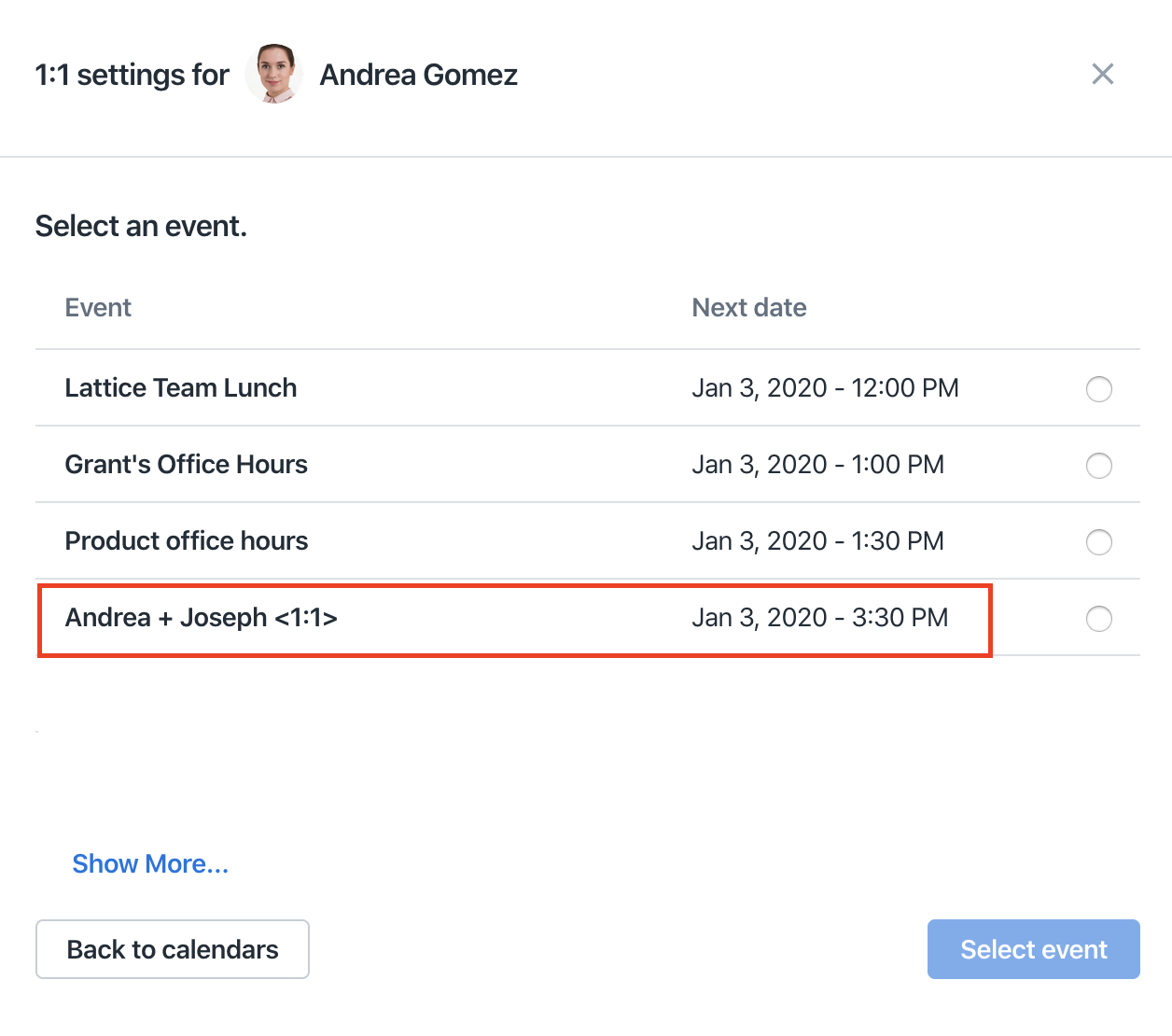 Join Zoom directly from the 1:1
Participants can join Zoom from the agenda as long as the link is found in the "Location" field in Google Calendar.

Please note: "Join Zoom" will not show up in Lattice if the Zoom link is only available in the invite description.
Changing the time of your 1:1s
Once you have synced over your calendar, every time you change the event on your calendar, Lattice will be automatically updated. There is nothing more that you will need to do.
Once your 1:1 has passed on your calendar, Lattice will automatically schedule the next 1:1 in our system for next week. If you missed the meeting, all you need to do is update the time of the meeting you missed for later that week and we will create a new event in Lattice.
Disconnecting my calendar
To disconnect your calendar, click on the People icon from the Discovery Navigation bar, select 1:1s from the Performance toolkit, select the employee's name, click on "Settings," and choose "Disconnect from calendar event."

Once you disconnect, you will be able to follow the steps above to reconnect.
When you change your password or when your calendar provider's setting ever change, Lattice can no longer communicate with your calendar provider. When this happens, Lattice will:
Disable all of your calendar-integrated 1:1's
Send you an email that contains a list of 1:1's they will need to re-enable and a link to your "Team" page in Lattice with a modal open re-authorize your calendar.
Once you re-authorize your calendar, you can go ahead and re-connect your remaining 1:1 meetings.
FAQs
How long does it take for changes made in a user's calendar to be reflected in Lattice?
Changes will be displayed in Lattice in about ~5 minutes.
What happens when management changes happen?
When a manager changes in Lattice, the new manager will be responsible for going through the steps to set up the next calendar integration in Lattice. The 1:1 relationship with the previous manager will still be active, and they can deactivate that if they choose.
What happens if I delete a 1:1 in my calendar?
We only delete 1:1s if there are no talking points or notes of any sort on the 1:1. If there are talking points, direct report notes, manager notes, etc, we do not delete it.
Please note: if your 1:1 is synced with a Google Calendar, you must change the time of your 1:1 in Google.