How to enable, disable, and customize Lattice features to fit your rollout strategy
As an Admin, you may not be ready to roll out all of Lattice's core tools (Reviews, Goals, 1:1s, Updates, & Feedback) to your company.
Therefore, we give you the ability to make specific tools visible for use to your Company. If you would like to hide a core feature from your organization, select that feature in the "Admin" section, then select "Settings" from the secondary dropdown and click on the "Disable" button within the activation settings.
Hidden tools will have a crossed-out eye symbol next to them on the admin navigation page to show that the tool is not visible to your organization.
Enabling and Disabling Features
If you would like to disable (hide) or enable a core feature from your organization, follow these steps below:
Step 1: Navigate to the Admin page found at the bottom of the discovery navigation.
Step 2: Scroll down and click on the tool you would like to enable.
Step 3: Click on "Settings."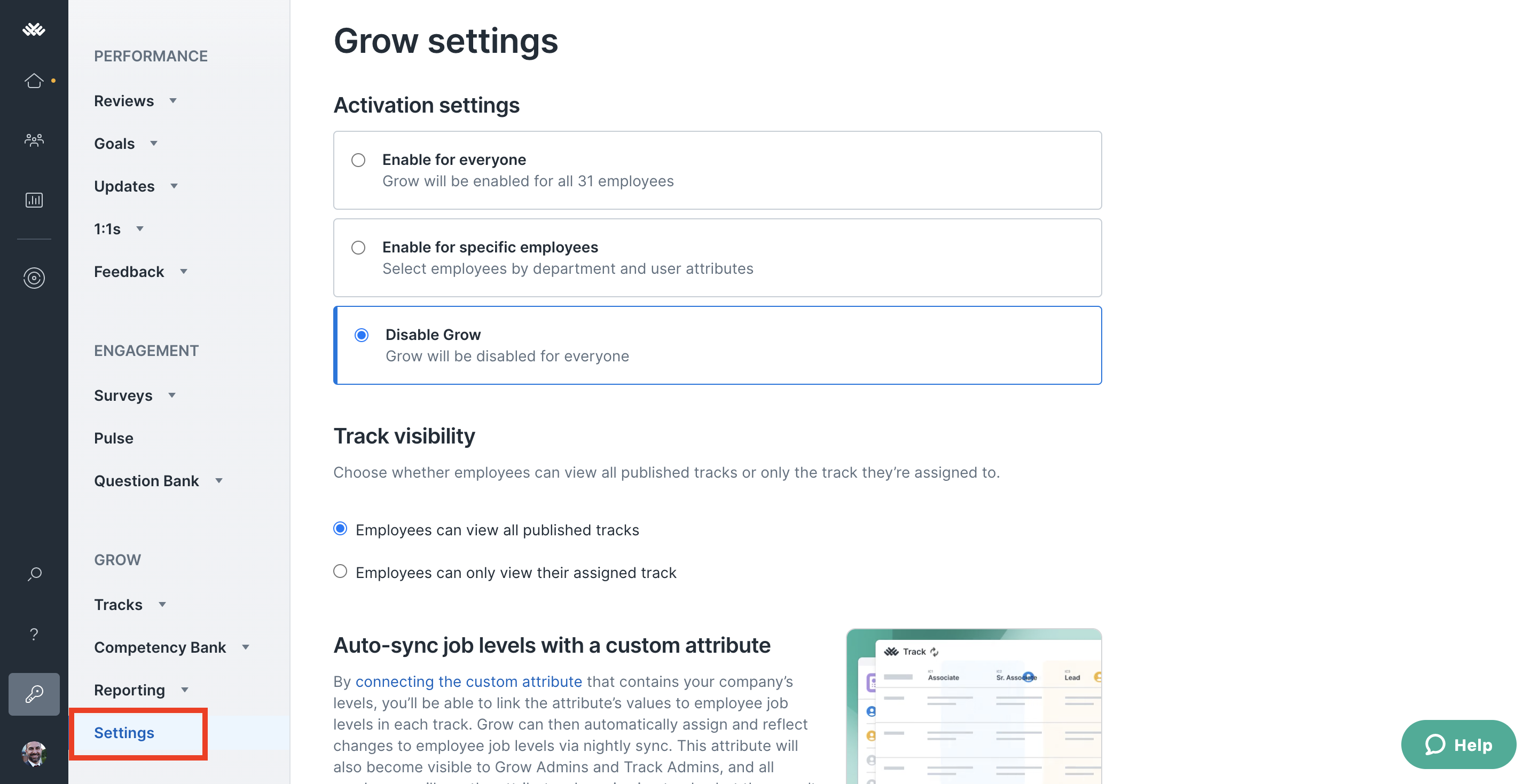 Step 4: Enable the tool for everyone or a specific group of employees.
Customizing Features
Before launching Lattice, take the time to make sure that the setup is right for your company.
Performance
Set "goals" display name
Determine if you want Goals visible in the Org Chart
Set default goal visibility
Determine update reminder cadence
Customize goal fields
Enable cascading goals
Enable employee sentiment score
Enable public or private updates
Enable manager override (and customize questions & cadence)
Enable recurring talking points (company default)
Adjust permitted feedback types
Enable external feedback and nudges for managers
Enable the public praise wall
Grow
Adjust track visibility
Auto-sync job levels with a custom attribute
Assign employees to tracks and levels via CSV
Note: Reviews, Surveys, and Pulse are fully customizable but customized during each cycle set up.