Using the /praise command in Slack to give public praise in Lattice.
Public praise given in Slack will be posted to Lattice and the public Slack channel that your Lattice admin has created. For more information on setting up the public channel, read Company Integration with Slack.
There are two ways to give public feedback in Slack:
By using the custom command: /praise
Interacting with the Lattice Slack app
Custom command (/praise):
Once you have successfully set up your company Slack integration, you'll have access to a new Slack command /praise.
Step 1: In any channel, use /praise followed by the Slack username of the person (or people) you want to give feedback to, followed by the content of your feedback.
Note: When using the /praise command, your feedback will be shared in the Lattice app and the dedicated Lattice praise channel in Slack (Even if you choose to create and submit the command in any other Slack channel). If public feedback is not enabled, users will receive a Sorry [user], the /praise command is not available right now message.
Step 2: Hit enter to automatically create a piece of public feedback in Lattice for you.
Step 3 (optional): If your company has company values enabled in Slack, you will be prompted with a pop-up window to add the company values to your Slack Feedback.
Step 4: Click Submit, and the feedback will appear in both Slack and Lattice.
Interacting with the Lattice Slack app
Step 1: Open a direct message with the Lattice Slack app and type Help to open the action menu.
Step 2: Select Give praise.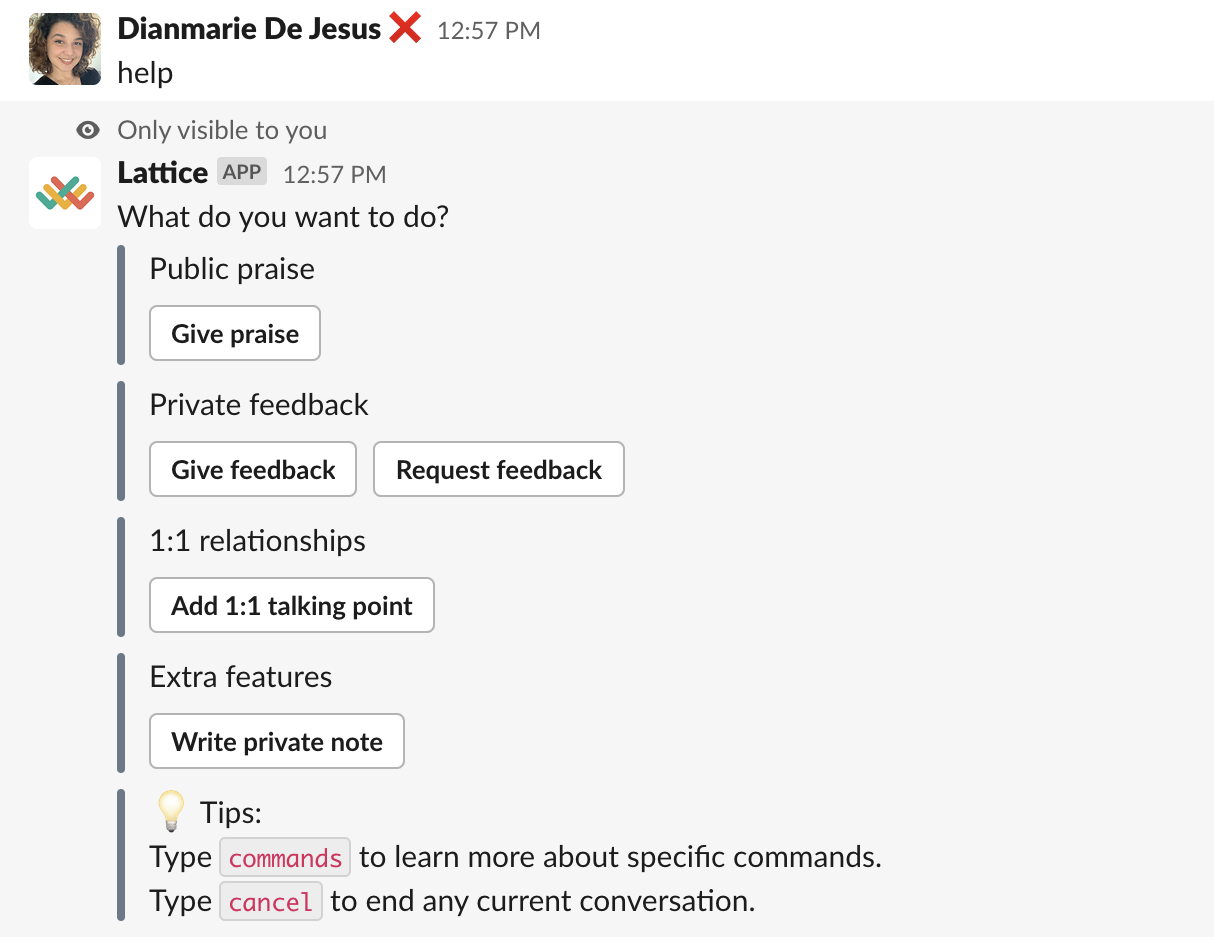 Step 3: Enter the name(s) of colleagues you would like to give praise to, and then select Write praise.
Step 4: Enter the public praise and select any company values attributed to the feedback.
Step 5: Select Share.
Next, learn how recipients are notified in A List of Slack Notifications for Feedback.