A list of e-mail notifications for review cycles generated by automation rules
Automation Rule review cycles have several unique notifications compared to review cycles that are manually created on the Reviews Auditing page.
Notifications by Launch Settings
The toggle button for this setting is on the "Edit settings" page under the "Sequence tab" for the automation rule. On this screen, you can write your launch notifications in advance for peer selection (if peer reviews are enabled) and review writing. When auto-launch is enabled, you can set a timeline for each stage of the review. In the example below, the writing phase will automatically close after 5 business days, and then the review cycle will end.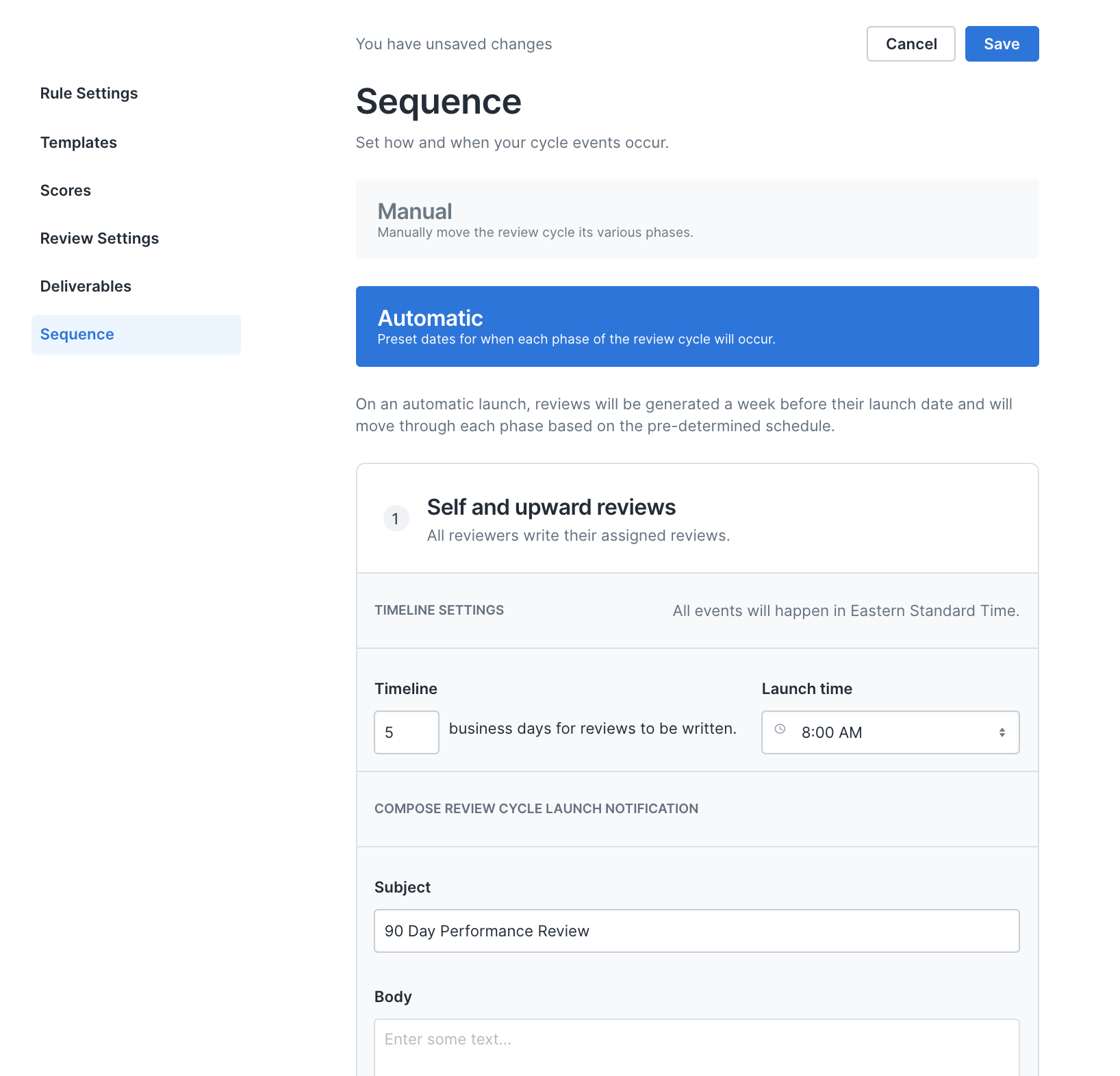 With Auto-Launch Off
Admins will receive the below notification to "Finish Setup" of the review when auto-launch is disabled.
You'll then find the automated review under the rule with the status of "Draft" and the stage as "Finish setup." You can make final edits to the draft if necessary and then manually launch the cycle at a time of your choosing.
After the "Finish Setup" notification, this review will generate the same notifications as a non-automated review.
>>

With Auto-Launch On
Admins will receive the below notification when auto-launch is enabled.
Reviews set to automatically launch generate 7 days in advance. The notification specifies the day it becomes active - in this example, the review will launch on November 15th.


You, as the Admin, will receive additional reminder notifications before the review proceeds through each stage on the timeline you've set. You can see examples of this reminder for peer selection (if you include peer reviews), review writing, and the end of the review below.
The notifications to managers and direct reports during peer selection and review writing will be the same for non-automated reviews, which you can see in this article on the 360° review process.