If a reviewer needs to edit their submitted response or missed the deadline to submit
In Lattice, only Admins have the ability to re-open submitted or closed reviews. We'll walk through the steps to do so below. When you re-open a submitted review, the reviewer will be able to change all of their previously submitted feedback without having to write a new review from scratch. This is commonly used to allow reviewers to edit typos, fix formatting, or add more information and context.
Note: If you're reading this article as a reviewer who needs to make changes, we kindly ask that you reach out to your internal Lattice Admins to re-open your reviews.
How to Re-Open a Review Template
You can re-open reviews from either the "Reviewers" or "Reviewees" tab within the review module. If you need to re-open reviews from one reviewer for multiple reviewees, it will be most efficient to start on the "Reviewers" tab. If you need to re-open reviews from multiple reviewers for one reviewee, it will be most efficient to start on the "Reviewees" tab. Otherwise, use whichever workflow is most intuitive to you.
Step 1: Enter the review cycle, and then click on the "Reviewers" tab.
Note: If the review cycle has ended and is in the calibration or sharing stage, be sure to click on "Reviews" on the left (shown within the red box in the screenshot below) before moving to step 2.
Step 2: Click on the name/row of the reviewer who needs to have a review re-opened to open their context panel.
Step 3: Within the context panel that is now open on the right, click "Edit" next to the heading (Self Review, Direct Report, Manager) of the review you want to re-open.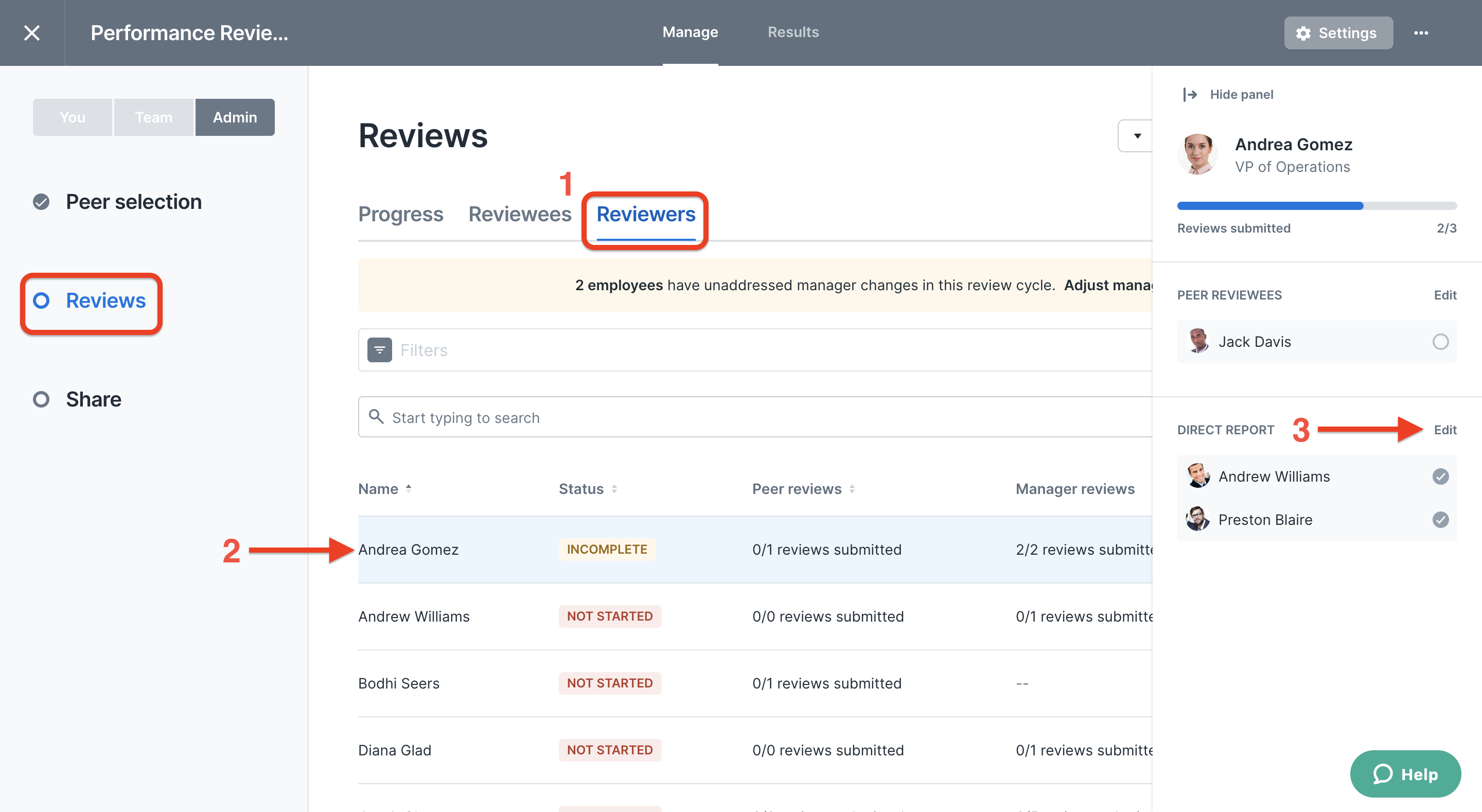 Step 4: Click "(reopen)" next to the name of the reviewee.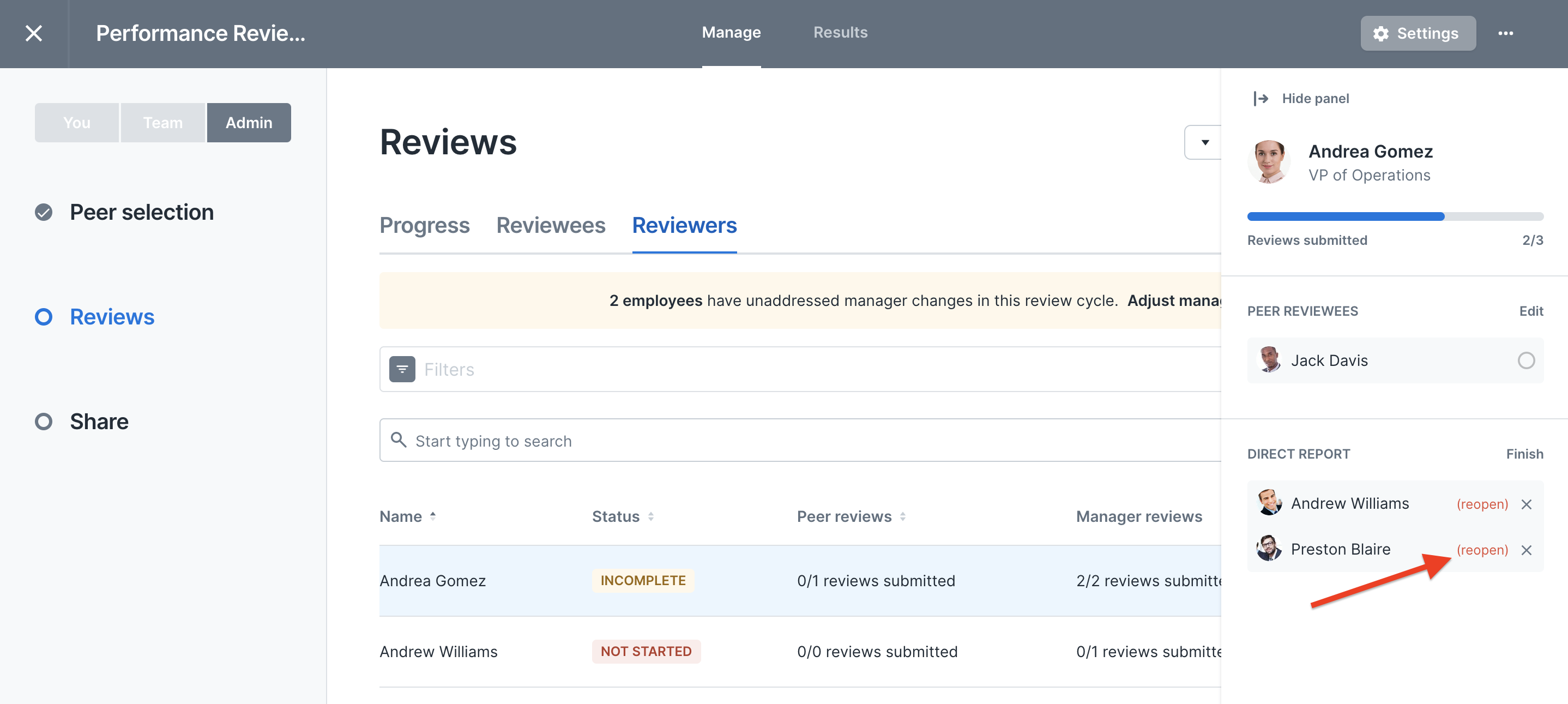 After clicking "(reopen)," you should see the confirmation message shown below at the bottom of your screen. The reviewer can now edit and resubmit their feedback.

Re-opening a Review from the Reviewees Tab
Here's an example screenshot of re-opening a review from the Reviewees tab. Follow the same steps as above.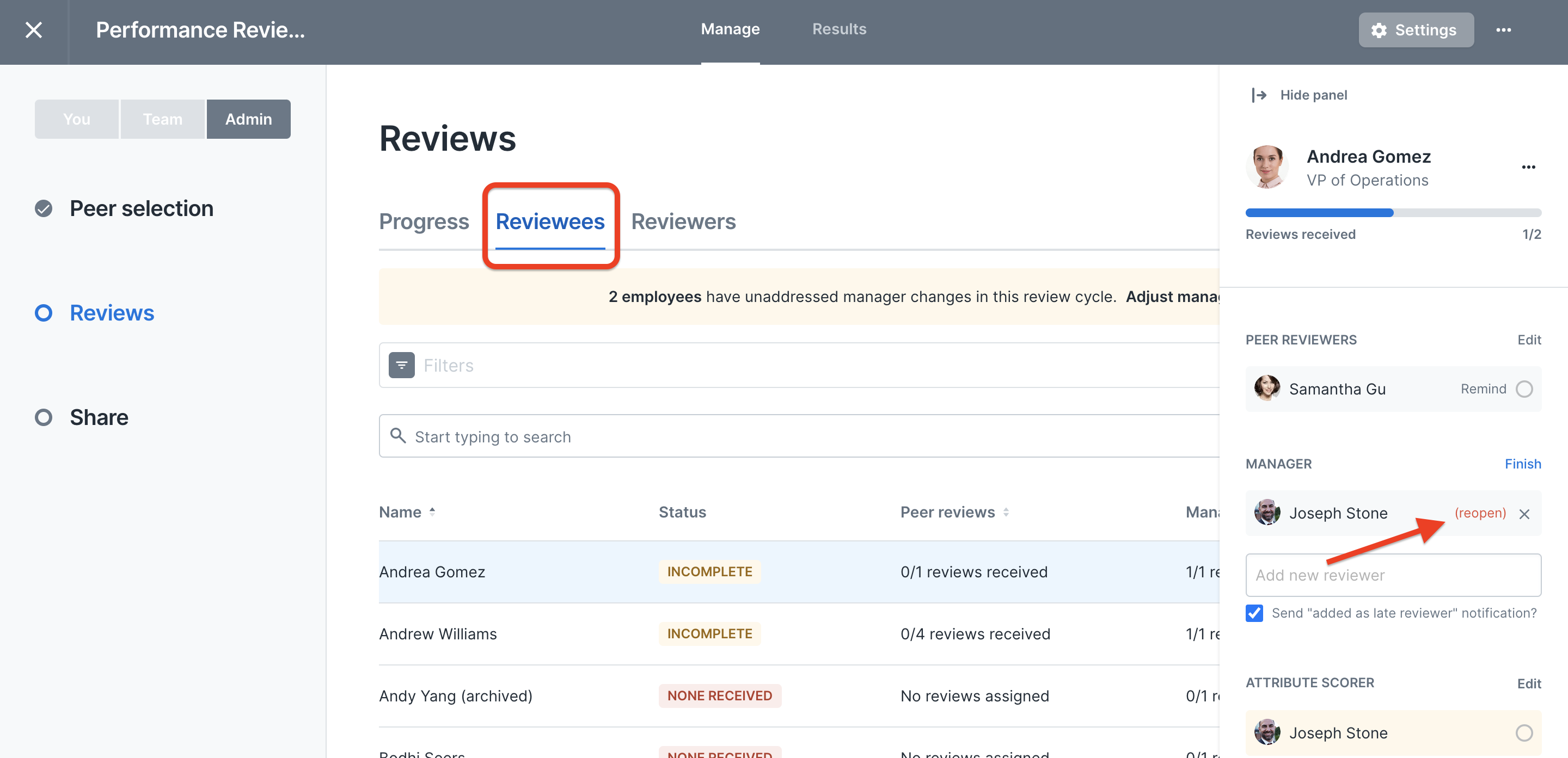 Note: Reviewees will not be notified when their review has been reopened.
You can choose whether or not to send the reviewer a notification when re-opening reviews from the Reviewees tab by checking or unchecking the box shown below before clicking "(reopen)."