Navigating the context panel while writing your review
Through the context panel, managers can view feedback their direct reports have received and the goals they are working on.
To do so, you will want to follow the steps below!
Step 1: Go into the Review Cycle
From your Home page, navigate to the review cycle.

Step 2: Select Reviews, Feedback, Goals, Competencies, Growth areas, or Updates from the panel
Once you're in the review, you'll see a list of people on the left-hand side, including your direct reports. Click on your direct report's name, and you'll notice the right-hand panel, which gives you the ability to toggle between Reviews, Feedback, Goals, Competencies (if available), Updates, and Growth areas (if available).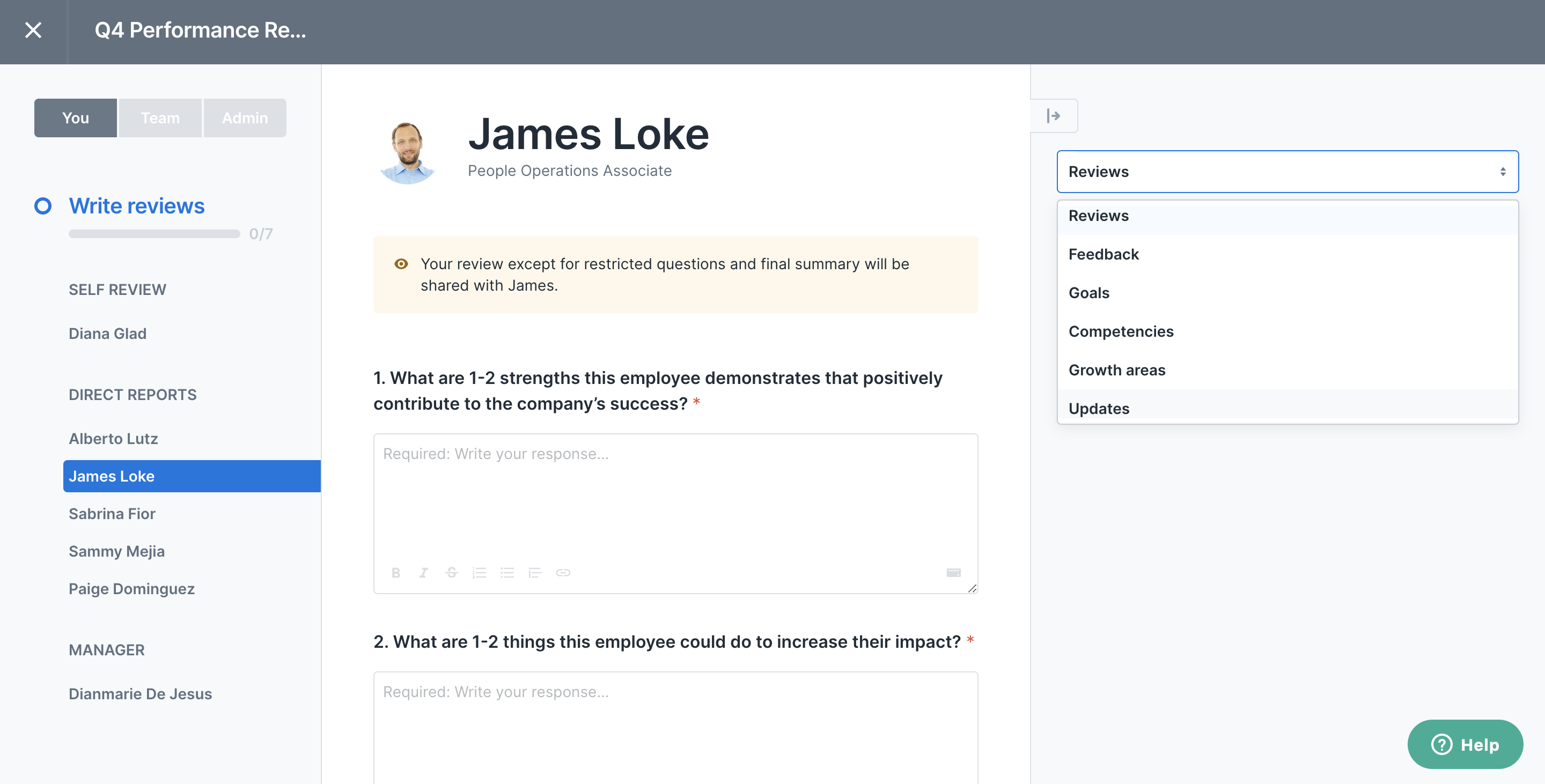 Reviews:
If you want to see your direct report's self-assessment or peer reviews, you can do so by clicking "Reviews," and under "Reviews," choose "Their self-review" or "Their peer reviews."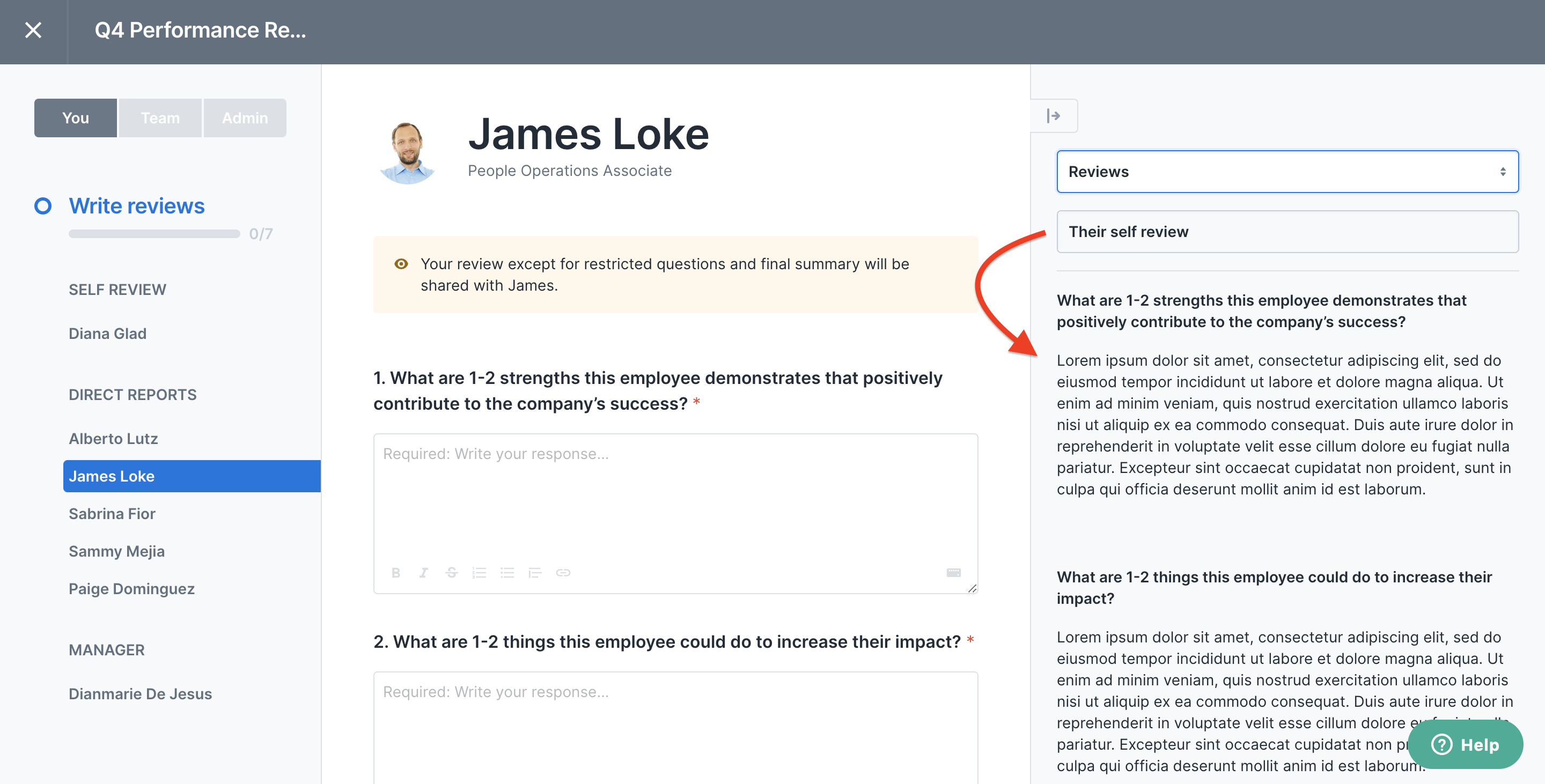 The feedback will show up in the right-hand panel so you can write your review of that person while viewing their peer or self-reviews!
Please note, if a report has two managers assigned to perform a downward review, the secondary manager will have visibility into the line manager's downward review once it has been submitted and vice versa.
Feedback:
Similarly, through the context panel, managers can see previous feedback that their direct reports have received. This way, managers can see what employees were recognized for while writing their reviews.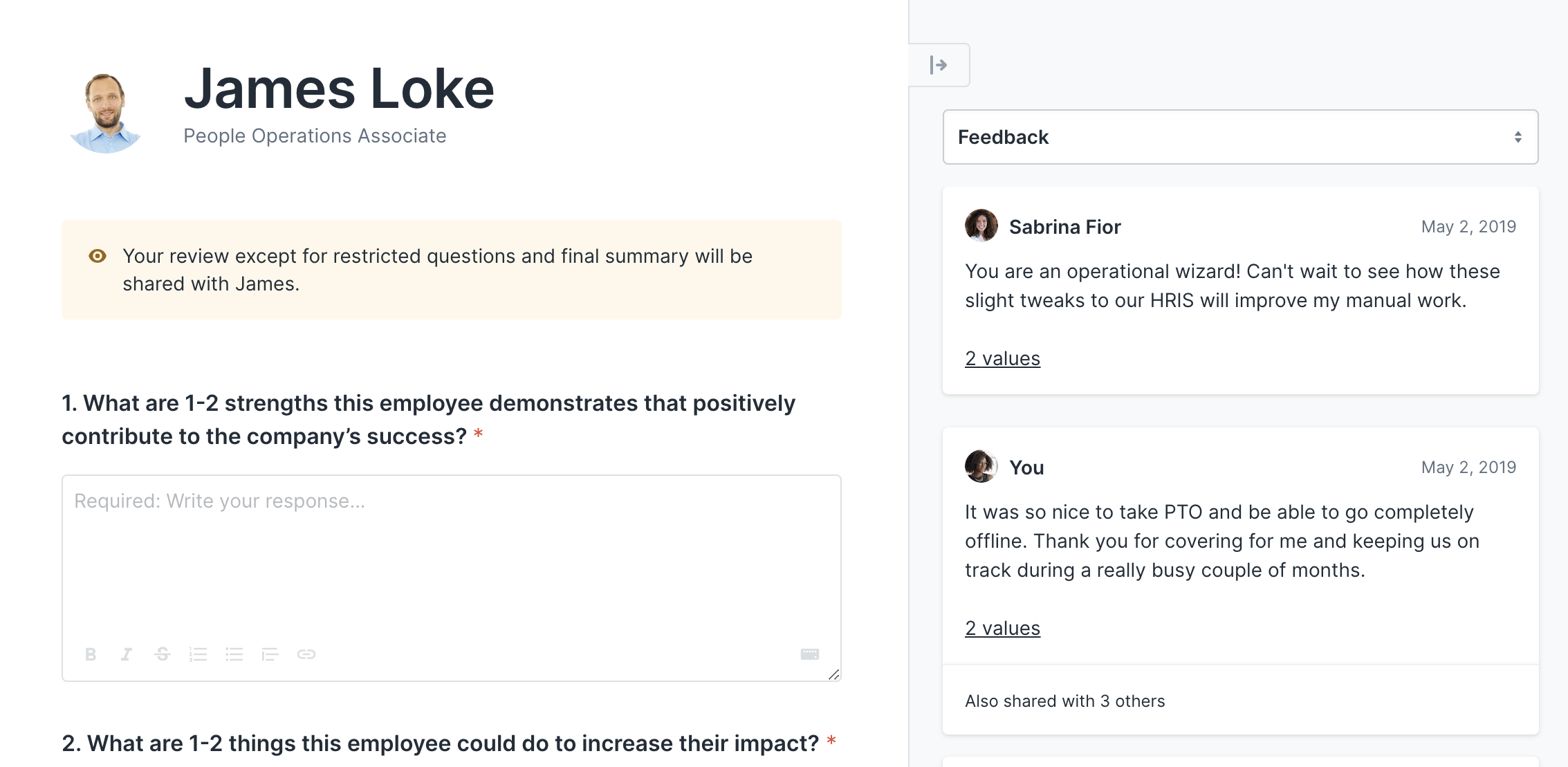 Goals:
While completing their downward reviews, managers can look at goals their direct reports are working on. To do so, navigate to the review cycle and select "Goals" from the dropdown menu. This context panel serves as a guide for managers to fully evaluate direct reports and what they hope to see in the following months.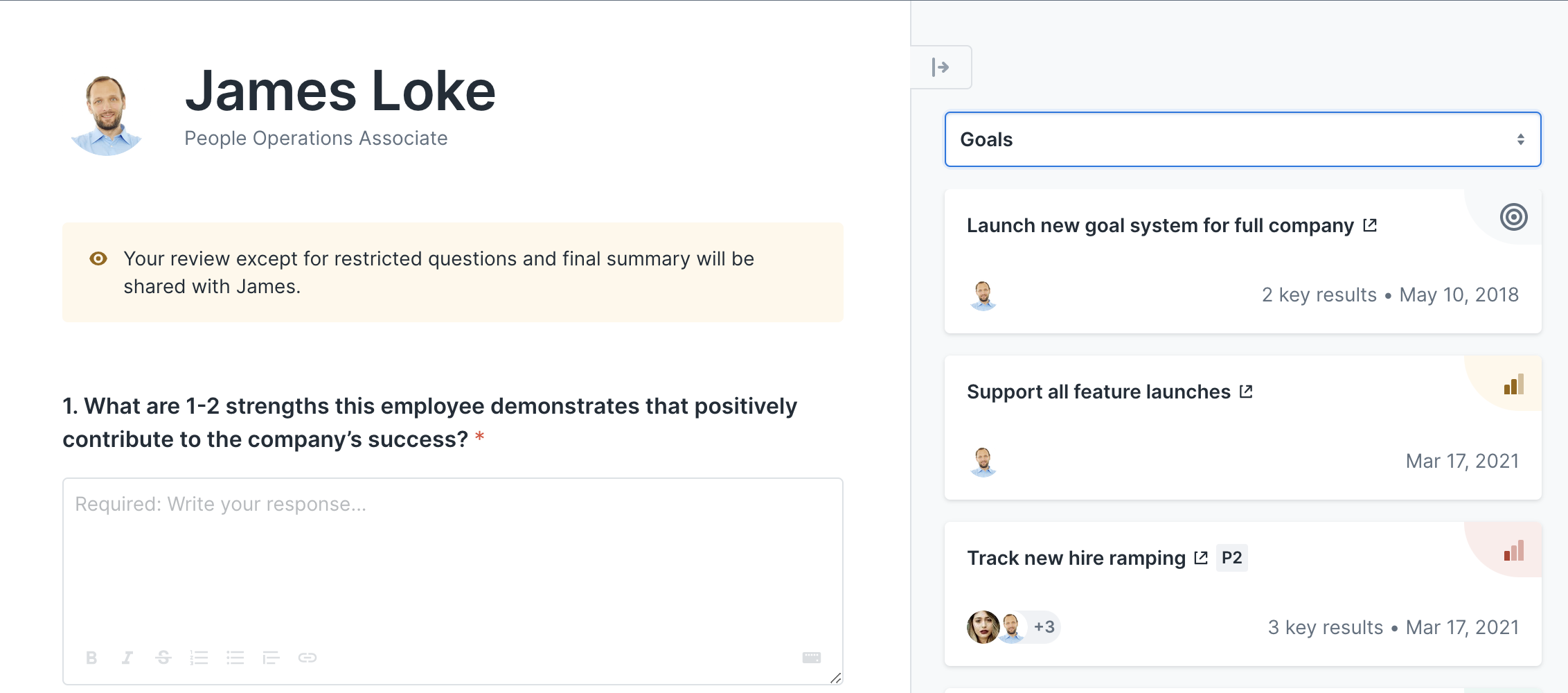 Competencies:
When completing reviews, managers can reference the report's competencies and expectations to help measure progress. Having competencies visible to the manager helps reduce bias in the review and provides tangible areas to measure against.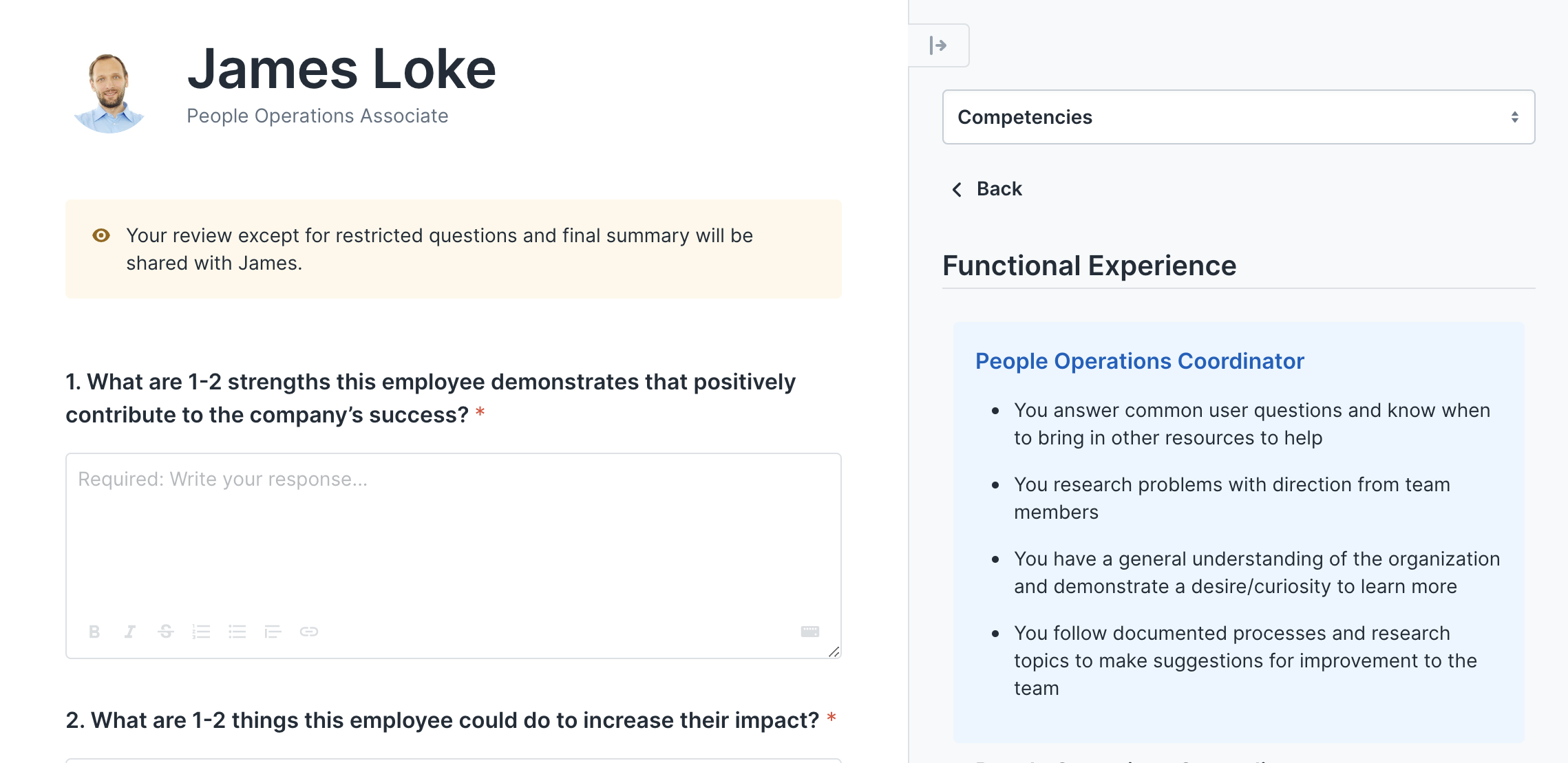 Growth Areas:
Managers can view growth areas created either by the report or the manager themselves. These growth areas include updates the reports have submitted that show progress for each area.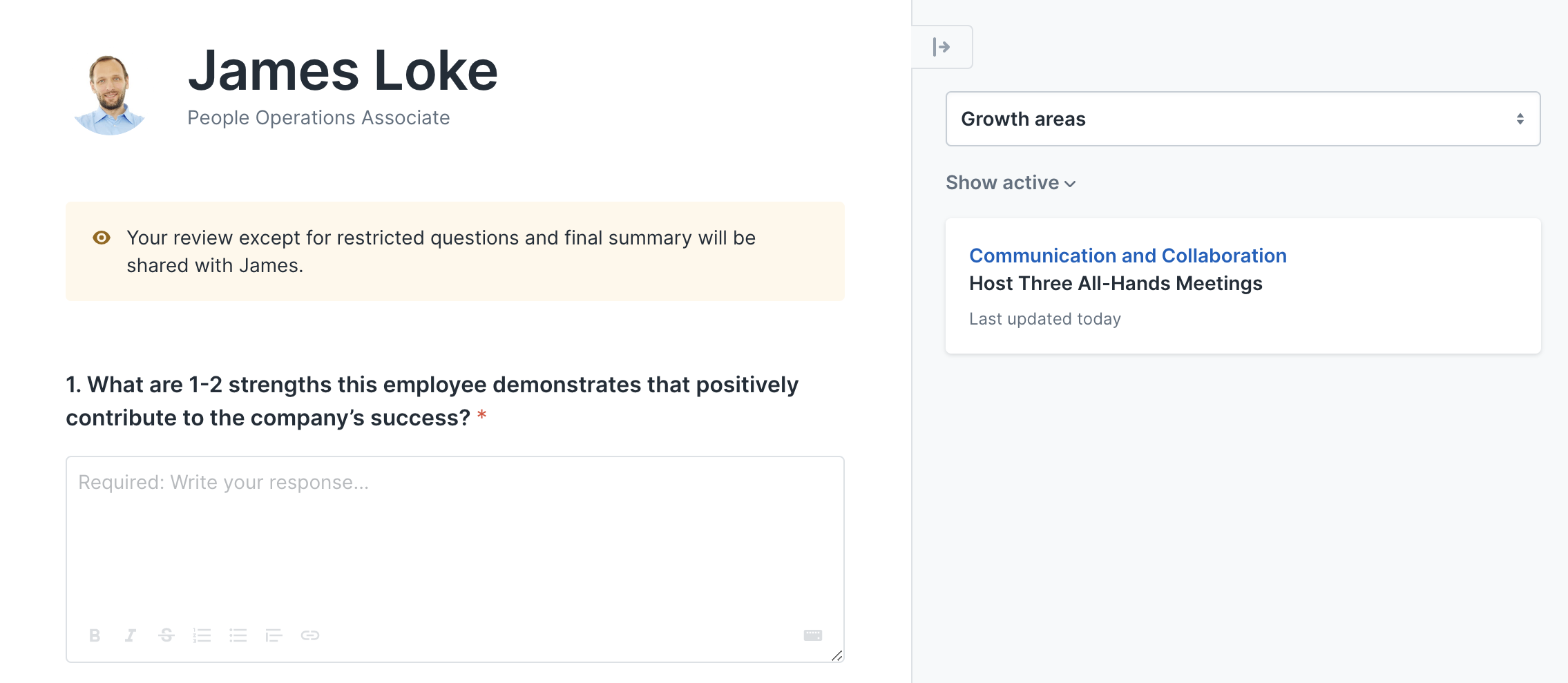 Updates:
Managers are able to view past Updates submitted by their report. This includes sentiment each Update's sentiment score.