Use automated rules to generate review cycles for each employee X days after their start date
This article covers the following topics:
Automated Rules automatically generate review cycles for individual employees based on the start date field in their Lattice profiles. This makes them ideal for facilitating one-time onboarding reviews for new hires. We'll walk through implementing a review process for each new employee belonging to a specific department after 90 days in the scenario below, starting with creating the rule itself.
Calibration and weighted scores are not included in an automated review cycle.
Create an automated rule
Step 1: Navigate to the Admin portal
Step 2: Then the Reviews page
Step 3: Followed by the Auditing page
Step 4: Select the Automated Rules tab
Step 5: Use the Create automated rule button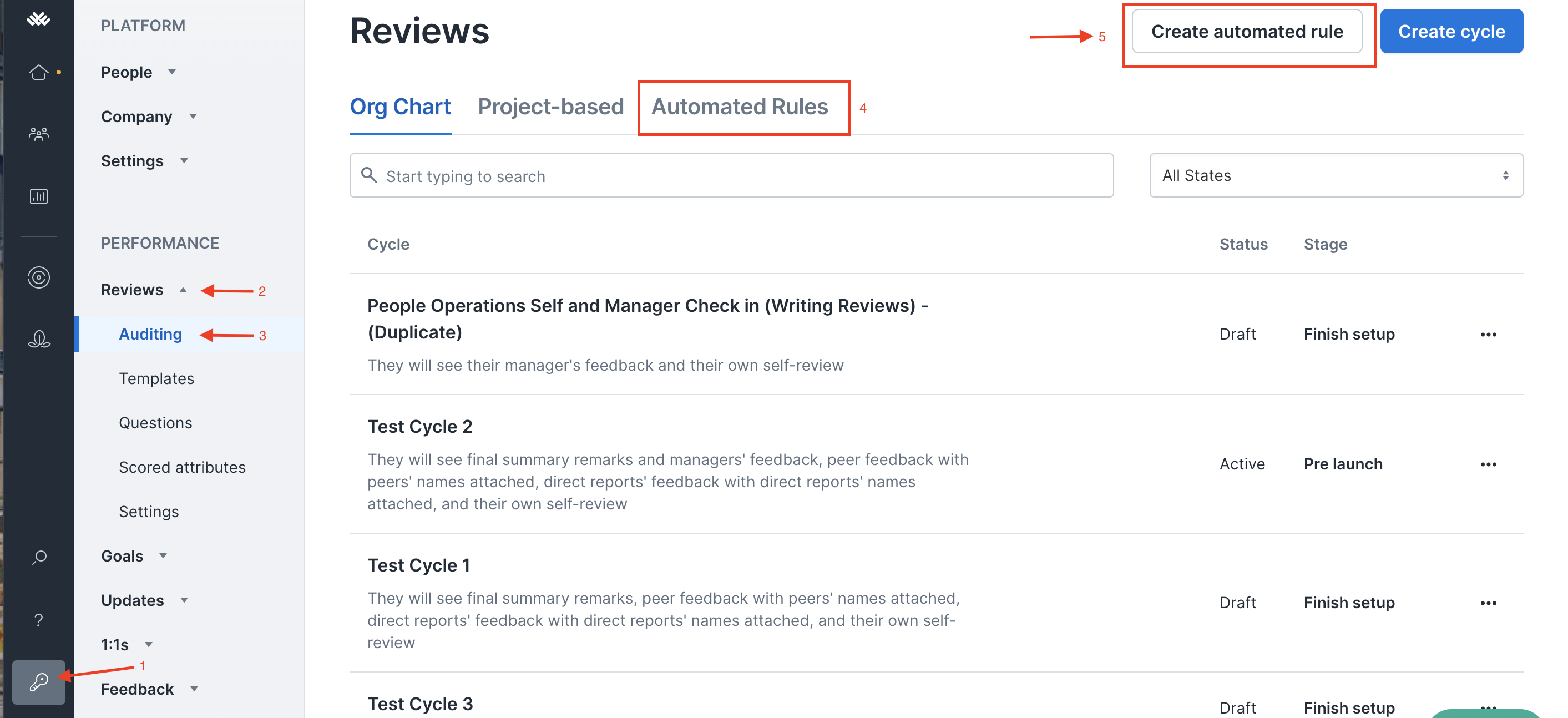 Name the rule and configure the launch criteria
Step 1: Name your rule
Step 2: Select One-time or Repeating
Step 3: Choose when the rule creates reviews
We'll name our rule 90-Day Check-In. Employees will see this name when they conduct their reviews.

Next, we'll set when we want review cycles to be automatically generated. One-time means that the rule will create a single cycle after the set amount of days. Repeating will continuously generate reviews over time after every set amount of days, and is good for anniversary reviews. We'll use one-time in the example below.
Lastly, choose when you want the rule to create each review cycle. If you have multiple reviews during the onboarding process, you can create multiple automated rules. For our purposes, we've selected 90 days after each employee's start date.
Select reviewees
Next, choose which group(s) of employees this rule applies to. You can include all employees or specific groups using filters. Use filters to select employees by department, manager, or any custom user attributes that you've added to Lattice (common examples include office location and job level).

You can apply multiple filters to make the trigger as specific as necessary. In this example, we've chosen for All employees to receive onboarding reviews. Once you select your reviewees you'll see a list of the next 10 Upcoming review cycles. If more than 10 employees start on the same day, Lattice will still create all of the necessary reviews even though not all of the names will appear in the upcoming list.
*The difference with scores in automated reviews is that there can be no calibration and no weighted scores included in an automated review cycle*
Note: When setting an automatic sequence, you will set the number of business days each phase will stay open for. Each preceding phase will end at the same time the next phase begins.