Using automated rules to generate review cycles for employee onboarding or probation reviews
Automated rules
Let's say your organization wants to run a one-time review cycle for every new employee 90 days after their start date or during their 60-90 days probationary period. You could manually create an Org Chart review, but you'd have to manually create a new review cycle for each employee at their 90-day mark.
Fortunately, you can create Automated Rules to automatically generate new review cycles for each employee based upon their start date or probationary period.
In this example, we want to launch a review cycle for each employee belonging to a specific department after 90 days. We'll walk you through creating an Automated Rule for this scenario below. To create a probation review cycle, you will follow the same steps below.
Viewing, managing, and creating automated rules
You can view, manage, and create automated rules for review cycle creation within the "Auditing" section of the Reviews tool. Once in the "Auditing" section, you will want to navigate to the "Automated Rules" heading.
Click "Create automated rule" to begin.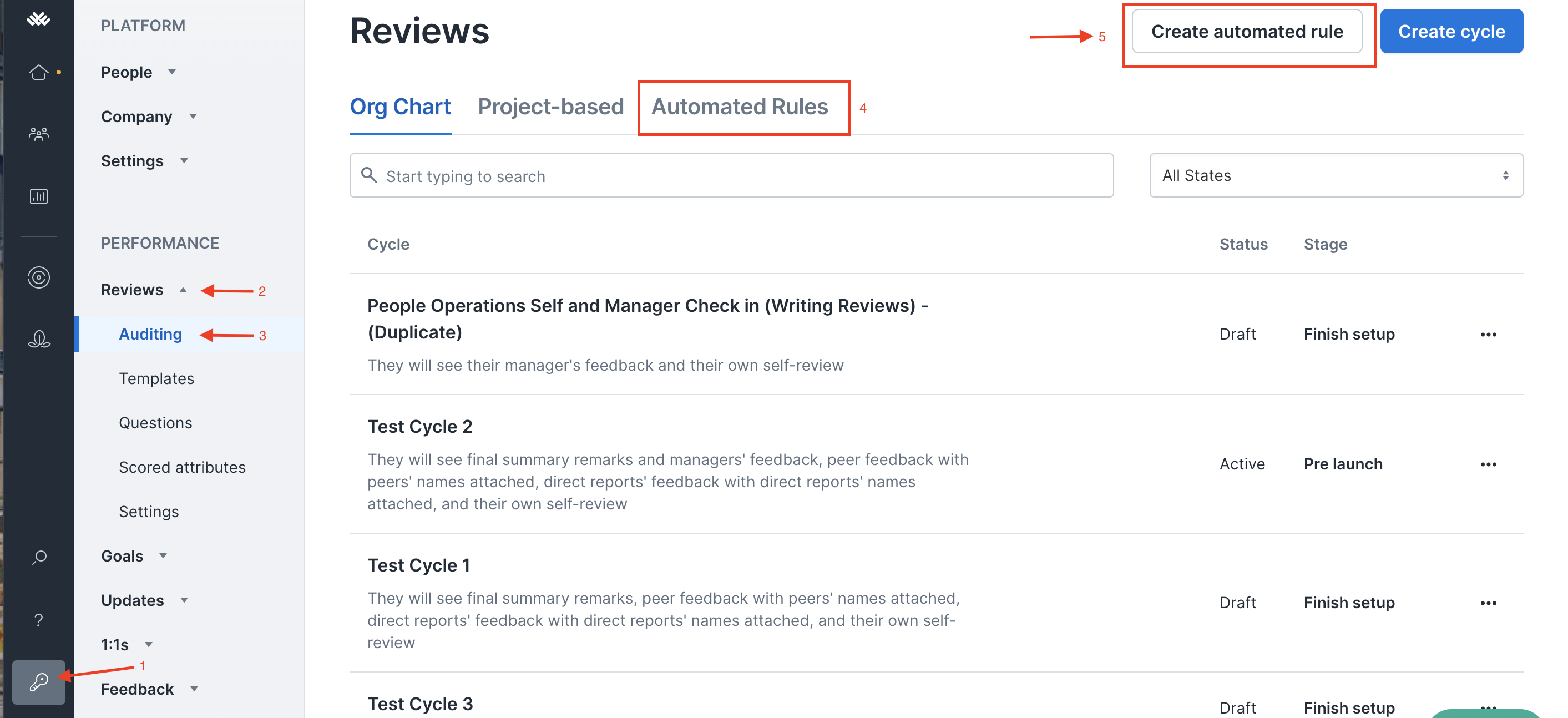 Giving a name to your automated rule and configuring the trigger
In this example, let's name our "90-Day Check-In". In the next part, we'll set when we want review cycles to be automatically generated. We want this review cycle to generate one time for this employee, so we'll select "One-time" instead of "Repeating."
From here, you will determine how long after an employee starts the review should trigger. For example, you can set the rule to trigger 90 days after an employee's start date.
Select Reviewees
In the next section, we can configure which groups of employees this trigger will apply to. As in standard review cycles, you can elect to include all employees or specific individuals based on filters. You can use filters to select employees by department, manager, or any custom fields configured for your organization (Custom Field examples here of Office Location and employee Level). You can apply multiple filters to make the trigger as specific as necessary to meet your needs. In this example, we will select "all employees" to receive onboarding reviews. You will be presented with a preview for the next 10 employees that the rule will be triggered for.
*The difference with scores in automated reviews is that there can be no calibration and no weighted scores included in an automated review cycle*
Note: When setting an automatic sequence, you will set the number of business days each phase will stay open for. Each preceding phase will end at the same time the next phase begins.
Use automated rules to streamline review cycle generation
In this instance, we created an automated rule to generate a one-time review cycle 90 days after each employee starts at our organization. If an employee started on January 5th, 2018, the draft review cycle will be created on April 6th, 2018, at 12 am.
Using an automated rule can help streamline the review process when reviews need to be done on an employee-by-employee basis.