Who can see what goals? Who can create goals? What are goal symbols?
Understanding Goals is essential to assist you in building your company goal framework. Below are a few facts that might help as your company gets started.
1. Who can create goals?
Employees can create individual and group goals, not department or company goals.
Department heads can create department goals (how to make an employee a department head).
Admins can create individual, group, department, and company goals.
This is what a company goal type looks like:

This is what a department goal type looks like:

This is what a group goal type looks like:

Individual goal types will not have a symbol next to them.
2. Who can see/view goals?
Employees will be able to see all public department and company goals by going to the Goals Homepage > Company goals.
Employees will be able to see other employees' public goals by going to their profile pages or in Goal Explore within the All saved view.
Managers and managers of managers can see all of their report's goals regardless of whether they're private. Private goals can only be seen by the individual, their manager, manager of managers, as well as admins.
Goal creators will always be able to see the goal whether or not they are the goal owner, admin, or manager
Admins will see all individual, company, and department goals regardless of being private or public.
3. Goals within Reviews
4. When will a goal live on your Goals Page?
Goals will only live on an employee's Goals page in "Individual" when they are the goal's owner.
Anyone who creates a goal can add owners to the goal or change the owner of the goal.
For example, if an Admin wants to create a department goal for a manager or an employee, they can do so by following the steps below.
Step 1: Creating the goal.
Step 2: Choosing the department and changing the owner.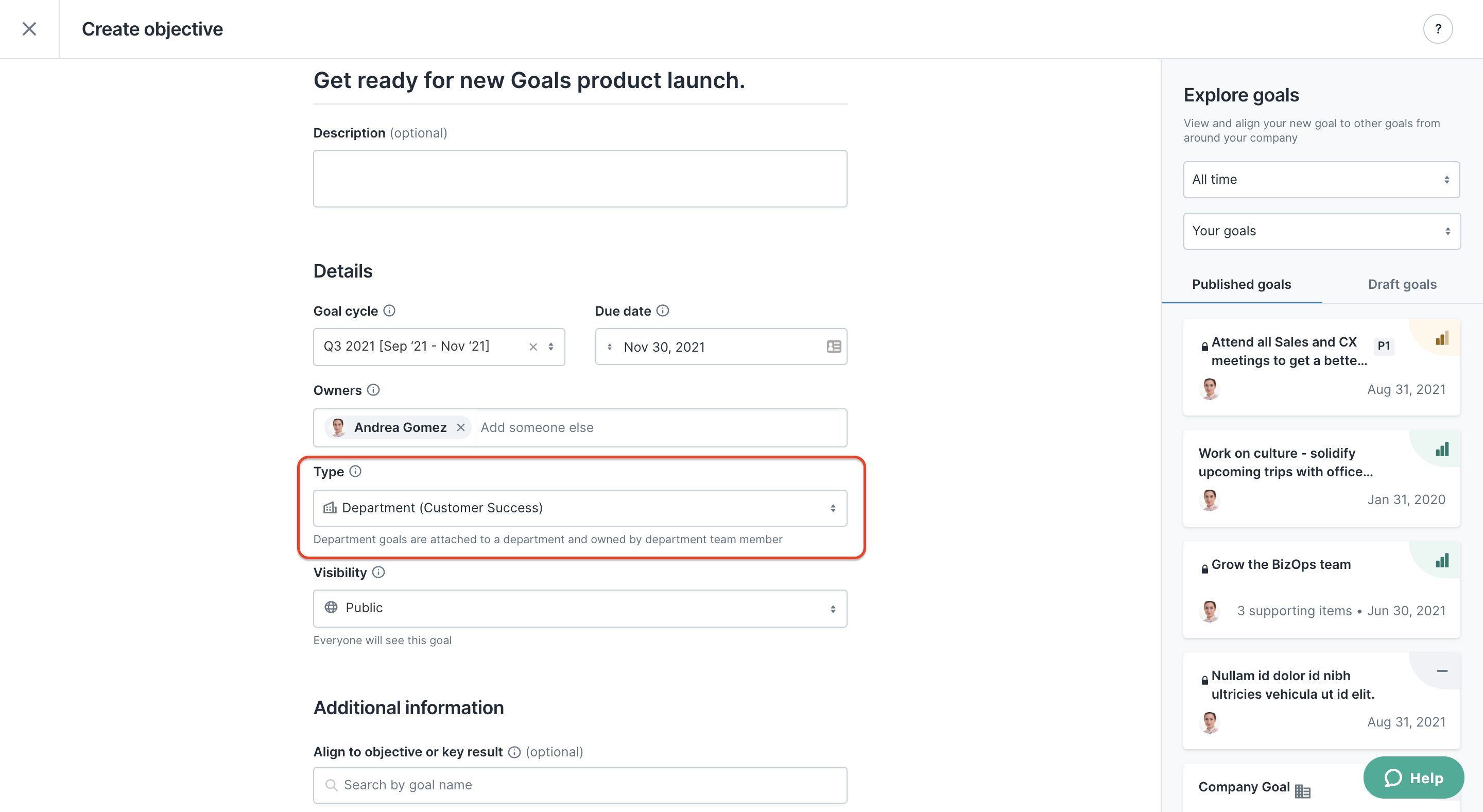 Then, the goal will live on the new owner's Goals page in "Individual."

5. Who can edit or delete goals?
Only Admins can edit and delete all goals.
Employees can edit or delete goals that they own.
Managers can edit or delete direct reports' goals.
Managers of Managers can edit or delete indirect reports' goals.
Goal creators can edit or delete goals they've made even if they don't own them.
6. Who can update a goal?
Anyone can update a public goal that they're an owner of.
Only employees who have viewing access to private goals can update them (if they are the owner, manager of owner + their managers, or Admin).
7. Completed and ended goals
The end date of a goal is when the goal is marked "complete." Goals will not auto-complete; this leaves room to exceed the goal target.
8. Using Goal tags
We suggest using goal tags to organize goals around major initiatives.
For example, suppose a company is expanding into Europe (which can be very cross-functional). In that case, Admins can create a tag titled 'European-expansion.' When an employee creates a related goal, they can apply this tag. Those with visibility access to those goals will be able to filter goals by tags.
9. Using Goal priorities
You can sort your goals by assigning a level of importance to them under the "Priority" checkbox (P1-P5). This label allows your goals to be listed in order of priority when you view them on your Profile page. P1 is the highest priority whereas P5 is the lowest.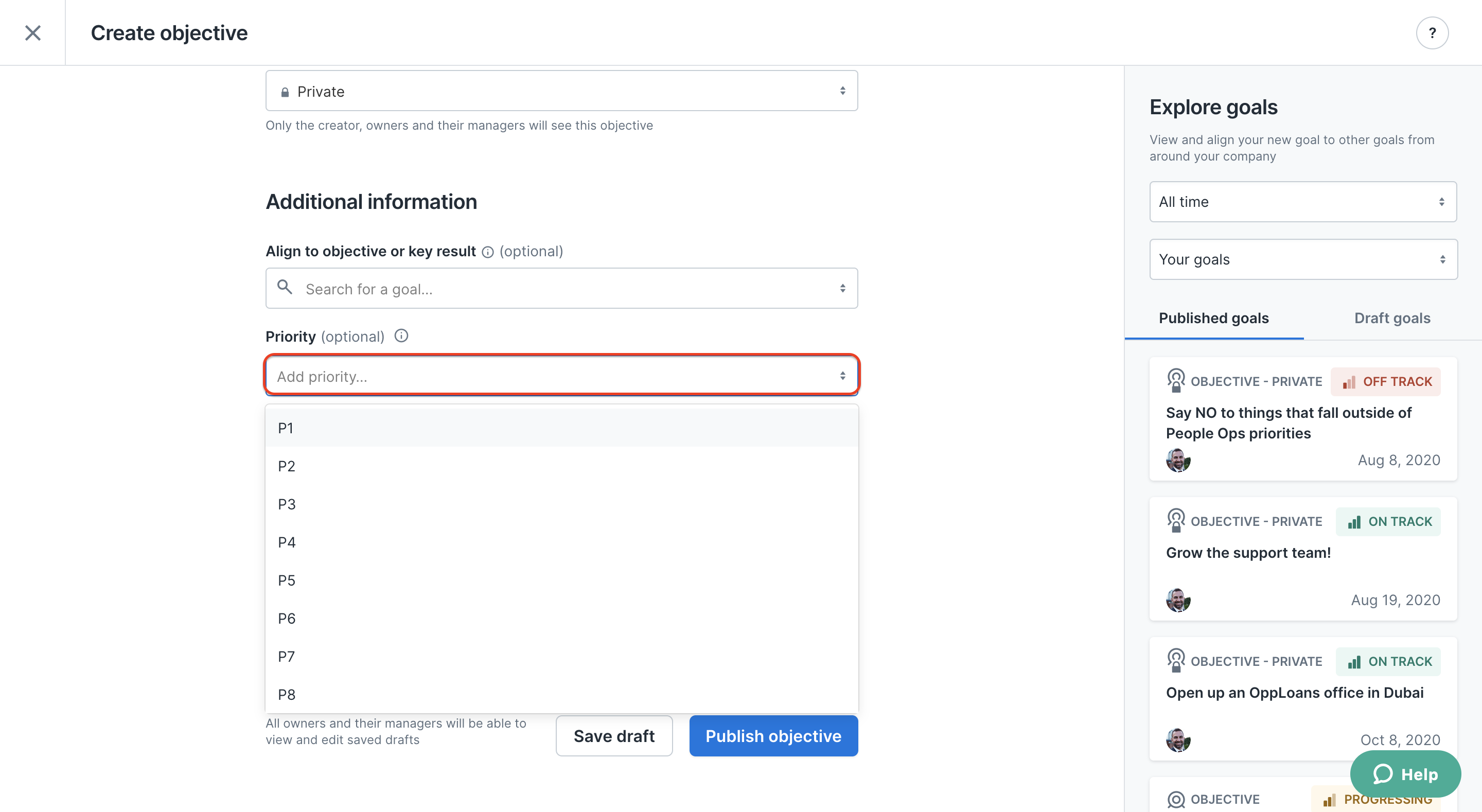 10. Filtering Goals
Goals can be filtered within the Goals Page, which can be accessed by clicking the Goals icon on the discovery navigation on the left-hand side. Goals can be filtered by different attributes such as type, priority, status, tags, visibility, and owners.

11. Exporting Goals
All users can export goals from the Goals Explore page, which will provide a list of public and private goals (that they have access to) with the following fields:
ID
OKR Type
Goal Name
Goal Cycle
Goal Type
Department
Owners
Created at (UTC)
Parent ID
Parent goal
Priority
Tags
Description
Status
State
Starting amount
Progress amount
Goal amount
Start date
Due date
Last updated
Whether it is private or public?
Supporting goal IDs
Support goals
Employee ID
Employee Email