Admins and Q&A custom role owners can create a Q&A board. With Q&A Boards, companies can create a dedicated space where employees can ask questions and get answers. Admins and custom role owners can respond to questions asked by their employees. These boards can be used in various company events, like All Hands, Town Halls, off-sites, and team meetings.
Before you start
All Lattice users have access to their company's active and closed

Q&A Boards

.
There are no limits on the following:

Number of boards that can be opened simultaneously
Number of questions that can be asked on a board
Number of users that can ask a question on a board
Numbers of admins that can manage boards
Create a Q&A board
Navigate to your Company name > Q&A boards > Create Q&A board.
Add a Board name.
Enter an Event date.
(Optional) Check to Allow questions to be asked anonymously.
Click Create.
Share Q&A board with employees
Boards can be shared with employees with a link via the Q&A boards. Only employees with active Lattice accounts can use Q&A boards. If a board link is shared with users not logged into Lattice, they will be prompted to log in.
Note: Users will not be notified when a new board is created.
Click to enter the Q&A board.
Click Copy link to share.
If you choose not to share a link, employees can view the board in Lattice by navigating to the company name > Q&A.
Interact with the Q&A board
Admins can reply to employee questions in real-time by clicking on the ellipsis menu (...) > Add reply. Replies will be visible to all employees.
Questions can also be deleted from the board by clicking on the ellipsis menu (...) > Delete question.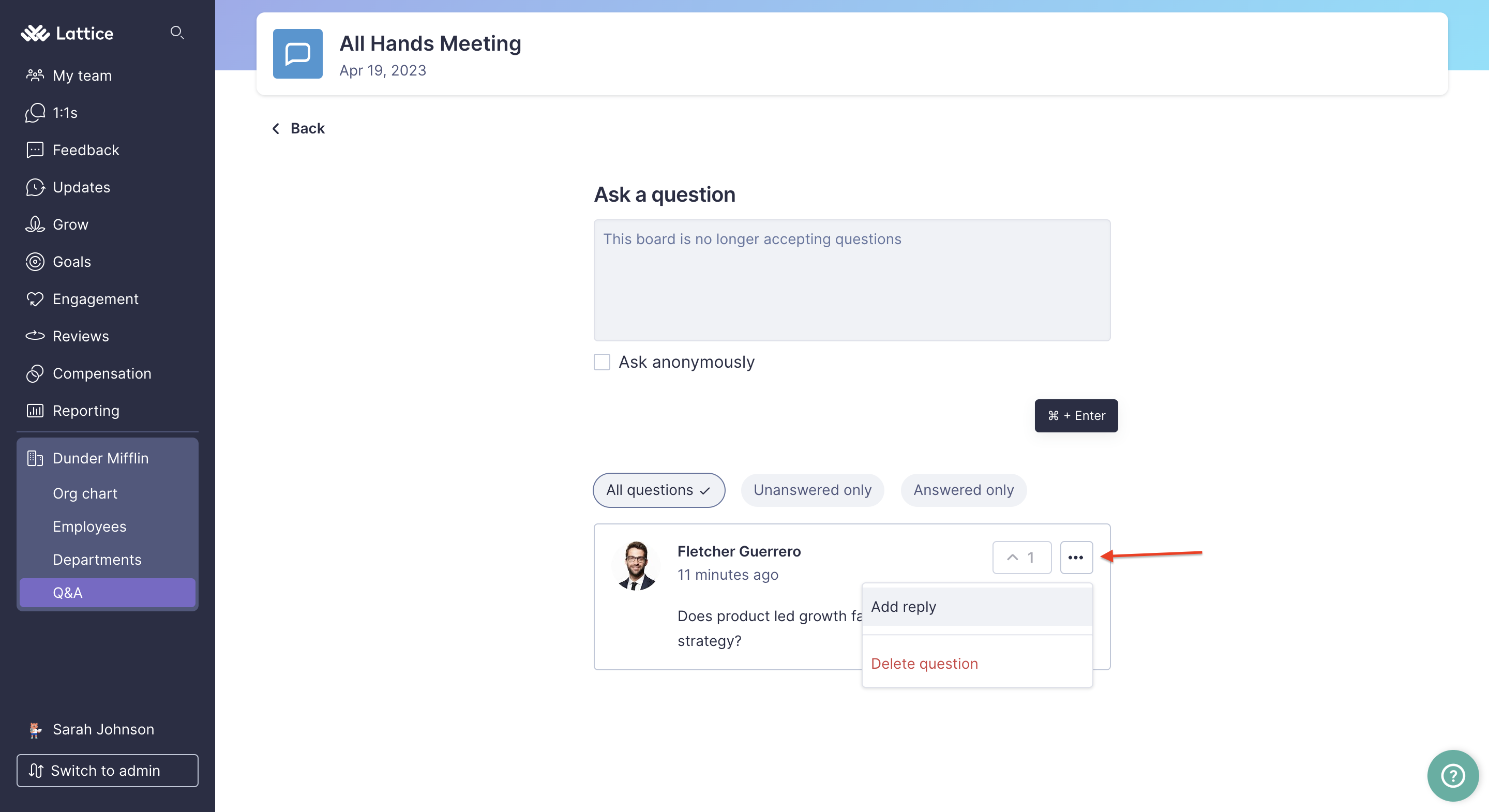 Once complete, admins can end submissions by closing the board.
Next, learn how employees interact with the Q&A board.