The My team page contains a collection of important, high-level metrics about how the team is performing. The Overview gives managers a snapshot of how direct reports progress with their goals, a quick pulse check on team morale with the sentiment score, and a summary of recent feedback and update activity.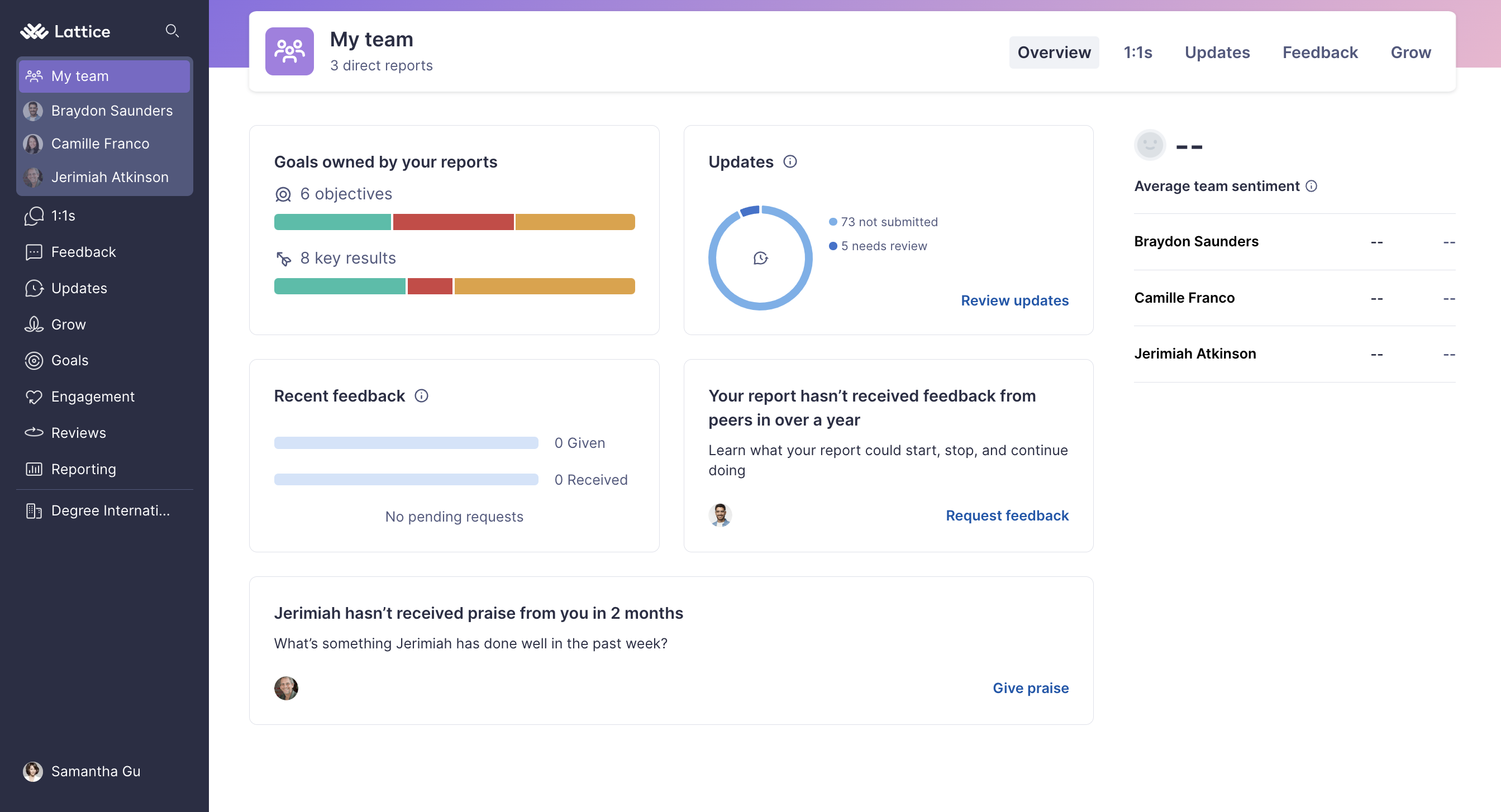 Managers can:
View

goals owned by your direct reports

or custom relationship reports.

This card only displays active goals with on track, progressing, off track, not updated statuses. It will not include drafted or ended goals. If you do not have Goals enabled you will not see this card.

View pending and submitted

updates.

Pending will count any current reports; submitted will count current reports and old direct reports until their openly submitted Updates have been reviewed. Clicking review updates will take you to all recent updates. Any custom relationship report Updates will be visible in a read-only state here. You will not see this card if you do not have Updates enabled.

View average team sentiment.

Team sentiment will display the average team sentiment of your direct reports over the most recent four updates submitted within the last two months. If you have Updates disabled, this will not show.

View

recent feedback

given and received by your direct and custom relationship reports.

Recent feedback will display data from the past 30 days on given and received feedback and pending feedback requests for your reports. Clicking on the card takes you to the Team Feedback tab.

Enable Updates for your Reports.

Alert is displayed if some of your direct reports do not have updates turned on.

View Feedback nudge for your team.


Feedback will rotate between the following feedback nudges to foster a culture of continuous feedback within your direct and custom reports.

A 3-week new hire nudge - if a report has not received feedback within the first 3 weeks of their start date

A 60-day no peer feedback nudge - if a report has not received feedback of any kind from other people in the past 60 days

A 60-day no praise nudge - if you, as a manager, have not given a report praise in 60 days, ~2 months

An anniversary nudge suggesting feedback for reports who have an anniversary approaching. This card will be displayed during the entire work week of the anniversary date.