The My team page contains a collection of important, high-level metrics about how the team is performing. The Overview gives managers a snapshot of how direct reports progress with their goals, a quick pulse check on team morale with the sentiment score, and a summary of recent feedback and update activity.
Lattice provide alerts within the page if adoption of a tool can be improved. Cards link to the Adoption Explorer where you can dig further into each tool.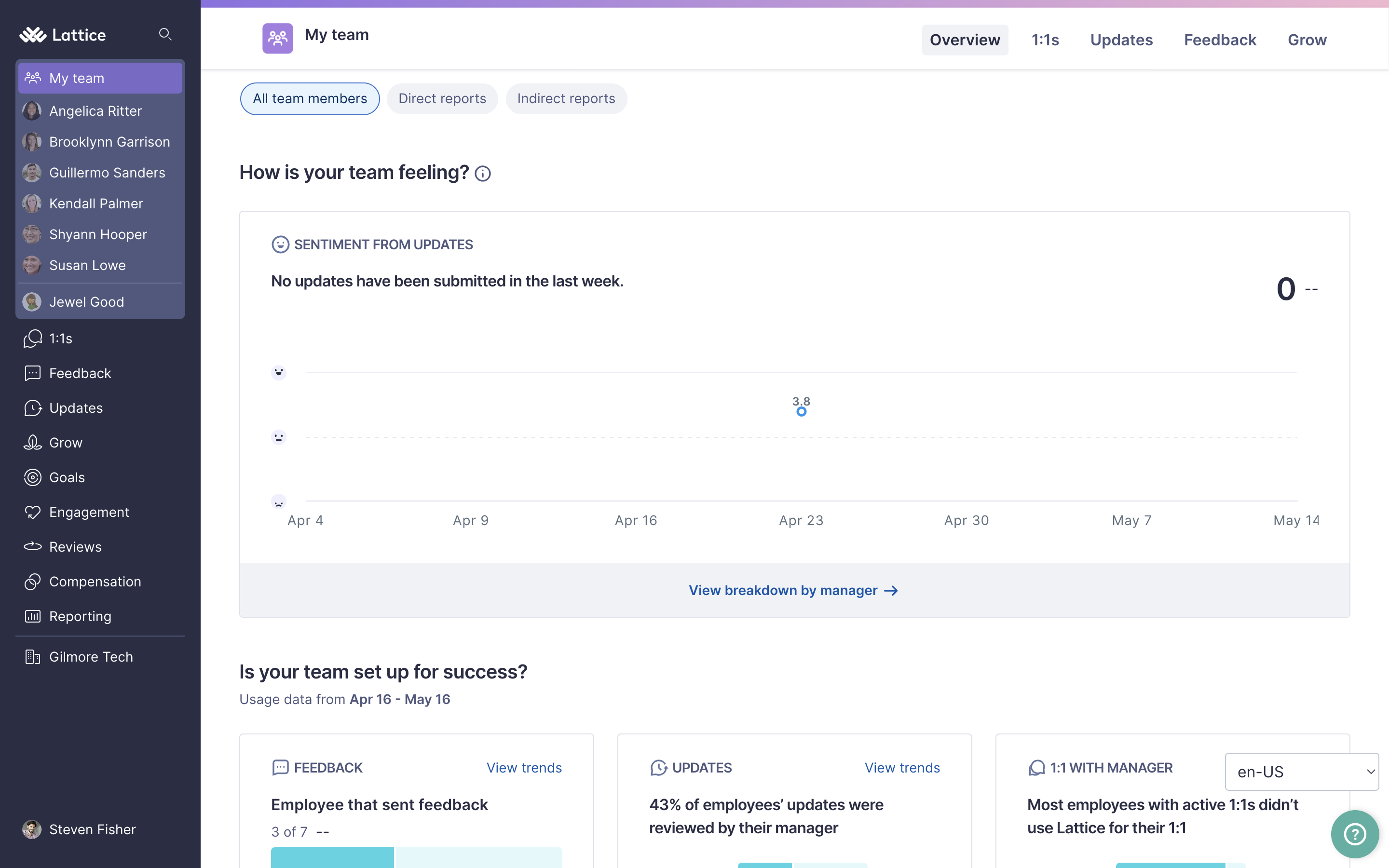 Managers can:
View average team sentiment.

Team sentiment will display the average team sentiment of your direct reports over time. If you have Updates disabled, this will not show.

View

recent feedback

given and received by your direct and custom relationship reports.

Recent feedback will display data from the past 30 days on given and received feedback and pending feedback requests for your reports. Click

View

updates.

Updates data includes percentage of employees who have submitted an update and percent of updates that have been reviewed by a manager. You will not see this card if you do not have Updates enabled.

View 1:1s.

1:1 data includes percent of employees who have set up a 1:1 and who have used a 1:1 agenda to conduct those meetings.

View

goals owned by your direct reports

or custom relationship reports.

Goals data includes percent of employees who have a goal and who have updated their goals. This card only displays active goals. It will not include drafted or ended goals. If you do not have Goals enabled you will not see this card.

View Grow growth areas.

Grow data includes percent of employees who have a growth area assigned to them and the percent who have had them updated.
Next, take a deep dive into tool analytics via the Explorer.